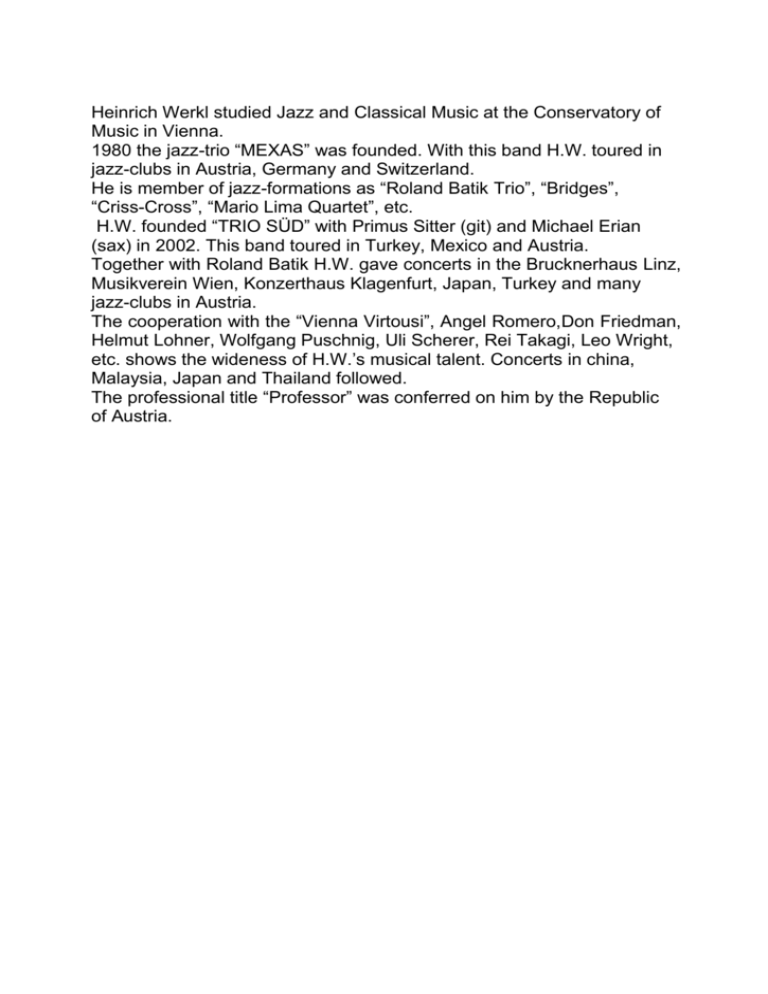 Heinrich Werkl studied Jazz and Classical Music at the Conservatory of
Music in Vienna.
1980 the jazz-trio "MEXAS" was founded. With this band H.W. toured in
jazz-clubs in Austria, Germany and Switzerland.
He is member of jazz-formations as "Roland Batik Trio", "Bridges",
"Criss-Cross", "Mario Lima Quartet", etc.
H.W. founded "TRIO SÜD" with Primus Sitter (git) and Michael Erian
(sax) in 2002. This band toured in Turkey, Mexico and Austria.
Together with Roland Batik H.W. gave concerts in the Brucknerhaus Linz,
Musikverein Wien, Konzerthaus Klagenfurt, Japan, Turkey and many
jazz-clubs in Austria.
The cooperation with the "Vienna Virtousi", Angel Romero,Don Friedman,
Helmut Lohner, Wolfgang Puschnig, Uli Scherer, Rei Takagi, Leo Wright,
etc. shows the wideness of H.W.'s musical talent. Concerts in china,
Malaysia, Japan and Thailand followed.
The professional title "Professor" was conferred on him by the Republic
of Austria.