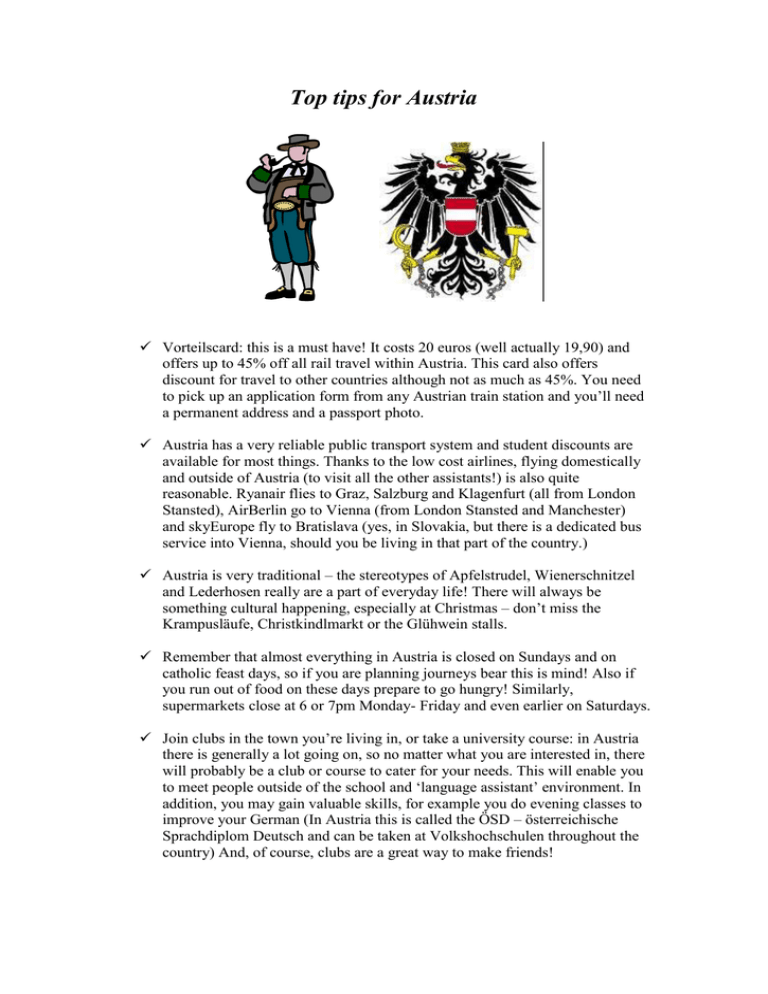 Top tips for Austria
 Vorteilscard: this is a must have! It costs 20 euros (well actually 19,90) and
offers up to 45% off all rail travel within Austria. This card also offers
discount for travel to other countries although not as much as 45%. You need
to pick up an application form from any Austrian train station and you'll need
a permanent address and a passport photo.
 Austria has a very reliable public transport system and student discounts are
available for most things. Thanks to the low cost airlines, flying domestically
and outside of Austria (to visit all the other assistants!) is also quite
reasonable. Ryanair flies to Graz, Salzburg and Klagenfurt (all from London
Stansted), AirBerlin go to Vienna (from London Stansted and Manchester)
and skyEurope fly to Bratislava (yes, in Slovakia, but there is a dedicated bus
service into Vienna, should you be living in that part of the country.)
 Austria is very traditional – the stereotypes of Apfelstrudel, Wienerschnitzel
and Lederhosen really are a part of everyday life! There will always be
something cultural happening, especially at Christmas – don't miss the
Krampusläufe, Christkindlmarkt or the Glühwein stalls.
 Remember that almost everything in Austria is closed on Sundays and on
catholic feast days, so if you are planning journeys bear this is mind! Also if
you run out of food on these days prepare to go hungry! Similarly,
supermarkets close at 6 or 7pm Monday- Friday and even earlier on Saturdays.
 Join clubs in the town you're living in, or take a university course: in Austria
there is generally a lot going on, so no matter what you are interested in, there
will probably be a club or course to cater for your needs. This will enable you
to meet people outside of the school and 'language assistant' environment. In
addition, you may gain valuable skills, for example you do evening classes to
improve your German (In Austria this is called the ÖSD – österreichische
Sprachdiplom Deutsch and can be taken at Volkshochschulen throughout the
country) And, of course, clubs are a great way to make friends!
 Language assistants in Austria teach 15 hours a week, not 12 as in Germany.
But you're also paid a bit more! 
 You will take part in a training week at the very beginning of the year, either
in Hollabrunn or Zell am See, dependant upon where in Austria you are going
to be living and working. This is a great opportunity to meet other people who
will be in the same area as you and you'll gain tips for teaching, too.
 Nachhilfe, giving extra English lessons, is a great way of earning extra money.
As a native speaker you will probably be approached to do this.
 As for mobile phones, there are lots of networks, just like in the UK. A1is
expensive, Telering is one of the cheapest, and there's also T-Mobile. If you
can afford it, buy a mobile or an Austrian SIM card – it'll help you keep in
touch with your friends!
 Another aspect that is often a worry about going to Austria is that you might
not understand the German and that you'll struggle. At first, yes, it is hard to
tune your ears into 'österreichisch', but most people manage this easily
enough without any major problems. As with anywhere, it is just a case
getting used to your surroundings and the local accent. Austrian German does
contain some words that are different from Hochdeutsch, but they mainly
revolve around food and perhaps greetings, so you should get used to it fairly
quickly. With an open mind, and being prepared to adapt to your new
surroundings there's very little problem!
 Lastly, remember to enjoy it! Austria is a beautiful country – use your new
found freedom and more importantly your wages to discover it.