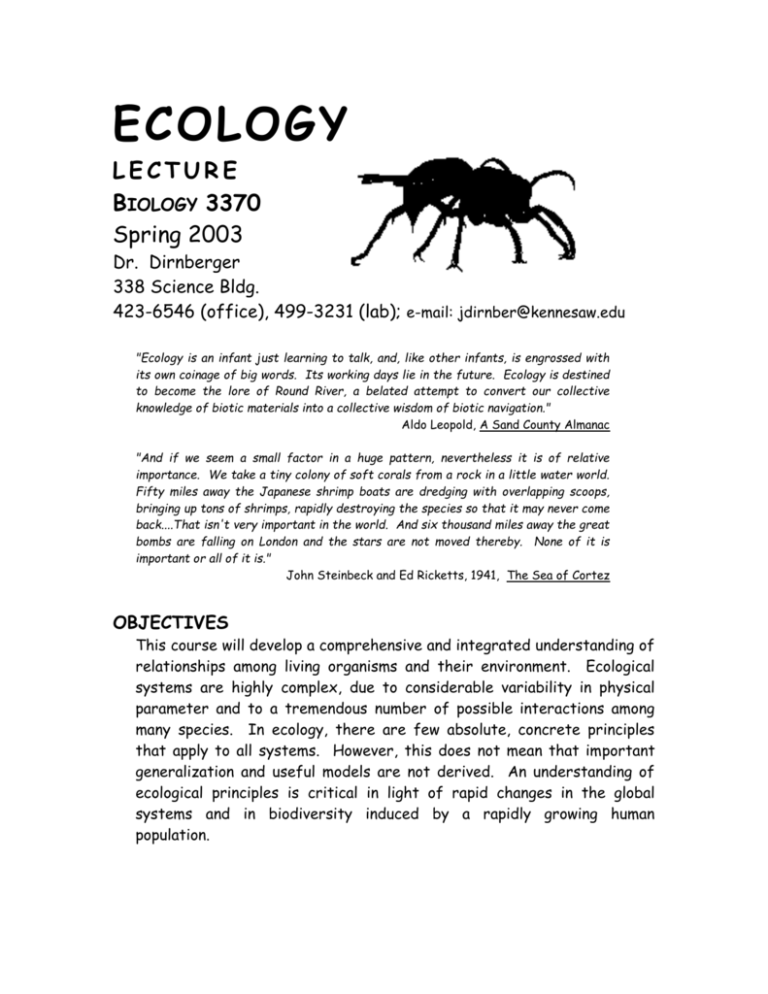 ECOLOGY
LECTURE
BIOLOGY 3370
Spring 2003
Dr. Dirnberger
338 Science Bldg.
423-6546 (office), 499-3231 (lab); e-mail: jdirnber@kennesaw.edu
"Ecology is an infant just learning to talk, and, like other infants, is engrossed with
its own coinage of big words. Its working days lie in the future. Ecology is destined
to become the lore of Round River, a belated attempt to convert our collective
knowledge of biotic materials into a collective wisdom of biotic navigation."
Aldo Leopold, A Sand County Almanac
"And if we seem a small factor in a huge pattern, nevertheless it is of relative
importance. We take a tiny colony of soft corals from a rock in a little water world.
Fifty miles away the Japanese shrimp boats are dredging with overlapping scoops,
bringing up tons of shrimps, rapidly destroying the species so that it may never come
back....That isn't very important in the world. And six thousand miles away the great
bombs are falling on London and the stars are not moved thereby. None of it is
important or all of it is."
John Steinbeck and Ed Ricketts, 1941, The Sea of Cortez
OBJECTIVES
This course will develop a comprehensive and integrated understanding of
relationships among living organisms and their environment. Ecological
systems are highly complex, due to considerable variability in physical
parameter and to a tremendous number of possible interactions among
many species. In ecology, there are few absolute, concrete principles
that apply to all systems. However, this does not mean that important
generalization and useful models are not derived. An understanding of
ecological principles is critical in light of rapid changes in the global
systems and in biodiversity induced by a rapidly growing human
population.
EXAM DATES and READINGS
Exam I
Exam II
Exam III
Final Exam
Date
6 February
18 March
17 April
Textbook
Chapters 1, 7
Chapters 8
pp. 268-77: Predation
pp294-96: Population vs. community
ecology
pp. 316-17: Intro to community
ecology
pp. 326-27: Starfish experiment
pp. 116-118: Island biogeography and
habitat fragmentation
pp. 330-34: Community dynamics
pp. 50-71: Succession and
disturbance
pp. 297-301: Diversity and stability
1 May, Thursday
– 11:00 am
MICROTHEME ASSIGNMENT
You will chose from a list of questions on issues that you will apply you
newly acquired knowledge of ecology to. The microtheme is only one
page, but will require thought and research. More details will be made
available on the class web site at a later date.
DUE DATE IS 3 April
PREREQUISITES
10 hours of biological sciences
REQUIRED BOOK:
Ecology, Stanley I. Dodson et al.
CLASS WEB PAGE:
http://science.kennesaw.edu/~jdirnber/ecology
This will link you to lecture outlines and to other resources. While these
outlines are detailed, they are not complete lecture notes (i.e. this is not
an online course).
GRADES:
Exam I
Exam II
Exam III
Final
Microtheme
100 pts
100 pts
100 pts
100 pts
50 pts
450 pts
A= 90% pts. ;
B= 80% pts ;
C= 70% pts;
D= 60% pts
The last day to withdraw from a course without academic penalty is 19
March
OFFICE HOURS:
MONDAY/WEDNESDAY 11AM-12PM
TUESDAY/THURSDAY 8-9AM
FRIDAY 9AM –12PM
If you can not make it during these times, I will be glad to make an
appointment with you. If you are having any problems with the material,
please come by and see me. Don't put it off until it is too late.
POLICIES



Late papers will result in a 5% reduction per class period. The penalty
is initiated at the beginning of each class/lab period (i.e. if the paper
is not turned in at the start of class on the day it is due, 5% is taken
off).
Keep all of your returned, graded work (exams and lab reports). You
must have these materials if you decide to contest your final course
grade.
The last day to withdraw from a course without academic penalty is
March 19th.
ACADEMIC INTEGRITY
Every KSU student is responsible for upholding the provisions of the
Student Code of Conduct, as published in the Undergraduate and
Graduate Catalogs. Section II of the Student Code of Conduct
addresses the University's policy on academic honesty, including
provisions regarding plagiarism and cheating, unauthorized access to
University materials, misrepresentation /falsification of University
records or academic work, malicious removal, retention, or destruction
of library materials, malicious/intentional misuse of computer
facilities and/or services, and misuse of student identification cards.
Incidents of alleged academic misconduct will be handled through the
established procedures of the University Judiciary Program, which
includes either an "informal" resolution by a faculty member, resulting
in a grade adjustment, or a formal hearing procedure, which may
subject a student to the Code of Conduct's minimum one semester
suspension requirement.