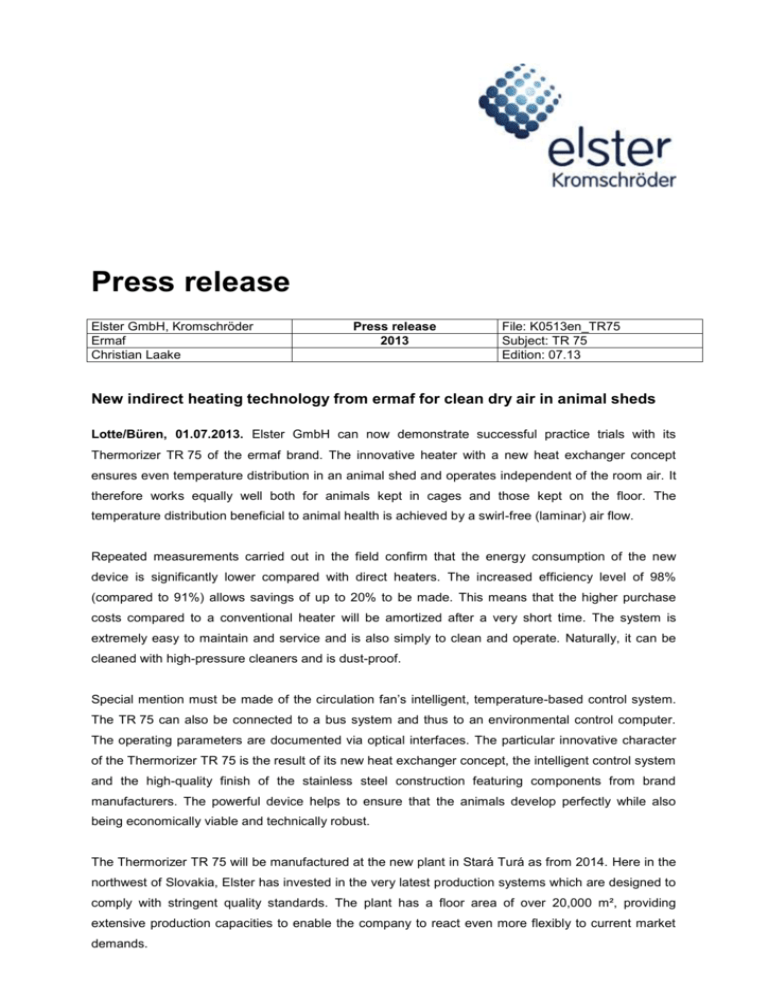 Press release
Elster GmbH, Kromschröder
Ermaf
Christian Laake
Press release
2013
File: K0513en_TR75
Subject: TR 75
Edition: 07.13
New indirect heating technology from ermaf for clean dry air in animal sheds
Lotte/Büren, 01.07.2013. Elster GmbH can now demonstrate successful practice trials with its
Thermorizer TR 75 of the ermaf brand. The innovative heater with a new heat exchanger concept
ensures even temperature distribution in an animal shed and operates independent of the room air. It
therefore works equally well both for animals kept in cages and those kept on the floor. The
temperature distribution beneficial to animal health is achieved by a swirl-free (laminar) air flow.
Repeated measurements carried out in the field confirm that the energy consumption of the new
device is significantly lower compared with direct heaters. The increased efficiency level of 98%
(compared to 91%) allows savings of up to 20% to be made. This means that the higher purchase
costs compared to a conventional heater will be amortized after a very short time. The system is
extremely easy to maintain and service and is also simply to clean and operate. Naturally, it can be
cleaned with high-pressure cleaners and is dust-proof.
Special mention must be made of the circulation fan's intelligent, temperature-based control system.
The TR 75 can also be connected to a bus system and thus to an environmental control computer.
The operating parameters are documented via optical interfaces. The particular innovative character
of the Thermorizer TR 75 is the result of its new heat exchanger concept, the intelligent control system
and the high-quality finish of the stainless steel construction featuring components from brand
manufacturers. The powerful device helps to ensure that the animals develop perfectly while also
being economically viable and technically robust.
The Thermorizer TR 75 will be manufactured at the new plant in Stará Turá as from 2014. Here in the
northwest of Slovakia, Elster has invested in the very latest production systems which are designed to
comply with stringent quality standards. The plant has a floor area of over 20,000 m², providing
extensive production capacities to enable the company to react even more flexibly to current market
demands.
Please submit editorial queries to:
Elster GmbH, ermaf Air Heater Sales, Mr. Christian Laake
T +49 541 1214-627
christian.laake@elster.com
www.ermaf.nl
About Elster GmbH
Elster GmbH, Kromschröder Osnabrück is one of the leading manufacturers of cutting-edge products
and system solutions for safeguarding, measuring and controlling gases. With domestic and
commercial gas meters, as well as safety valves and control components for heating equipment and
for industrial use, the company offers a wide range of services, supported by a global sales and
service organization.
About Elster Group
Elster Group is the world's largest supplier of metering technology for gas, water, heat and electricity
consumption and is a leader in automated meter reading (AMR). The group employs around 7,000
staff and has operations in 38 countries worldwide, focused in North and South America, Europe,
Africa, the Middle East and Asia. Elster's high-quality products and systems reflect the wealth of
knowledge and experience gained from more than 170 years in the industry.
About ERMAF
Elster GmbH is a company of the Elster Group that is active in the field of gas measurement and
control on an international level.
We are the world leader in the development, production and distribution of high-quality air heaters for
use in agriculture and horticulture under the ermaf brand.