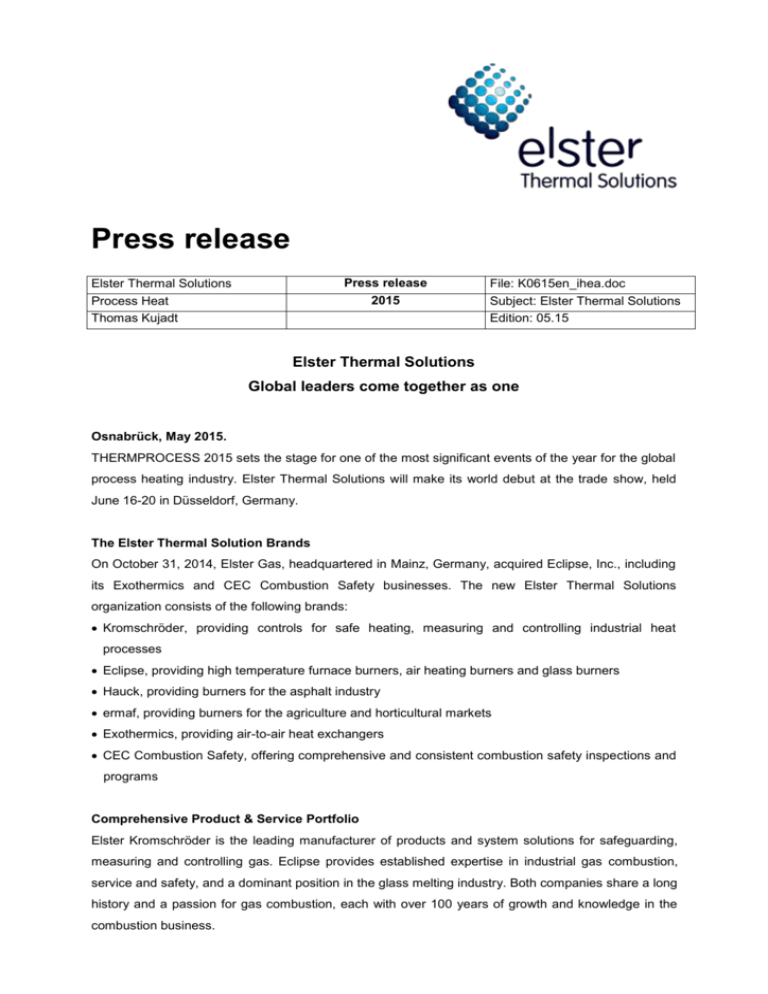 Press release
Press release
2015
Elster Thermal Solutions
Process Heat
Thomas Kujadt
File: K0615en_ihea.doc
Subject: Elster Thermal Solutions
Edition: 05.15
Elster Thermal Solutions
Global leaders come together as one
Osnabrück, May 2015.
THERMPROCESS 2015 sets the stage for one of the most significant events of the year for the global
process heating industry. Elster Thermal Solutions will make its world debut at the trade show, held
June 16-20 in Düsseldorf, Germany.
The Elster Thermal Solution Brands
On October 31, 2014, Elster Gas, headquartered in Mainz, Germany, acquired Eclipse, Inc., including
its Exothermics and CEC Combustion Safety businesses. The new Elster Thermal Solutions
organization consists of the following brands:
 Kromschröder, providing controls for safe heating, measuring and controlling industrial heat
processes
 Eclipse, providing high temperature furnace burners, air heating burners and glass burners
 Hauck, providing burners for the asphalt industry
 ermaf, providing burners for the agriculture and horticultural markets
 Exothermics, providing air-to-air heat exchangers
 CEC Combustion Safety, offering comprehensive and consistent combustion safety inspections and
programs
Comprehensive Product & Service Portfolio
Elster Kromschröder is the leading manufacturer of products and system solutions for safeguarding,
measuring and controlling gas. Eclipse provides established expertise in industrial gas combustion,
service and safety, and a dominant position in the glass melting industry. Both companies share a long
history and a passion for gas combustion, each with over 100 years of growth and knowledge in the
combustion business.
By combining the products, engineering, services, sales and safety knowledge of these organizations,
Elster Thermal Solutions is now positioned as a worldwide leader in gas combustion, with the most
extensive and comprehensive combustion portfolio in the industry. With world-class burners, controls
and combustion systems, we are aligned to meet customer needs for thermal applications spanning
across all industrial heating and drying processes.
Elster Thermal Solutions is committed to providing its customers with combustion solutions that are
safe, reliable, efficient and clean. To ensure that objective, we are also pioneering a combustion
service network that spans the globe. We offer a variety of programs to provide safety training, energy
and safety audits, efficiency and emission maintenance programs and more. In addition, we provide
global commissioning and service support, as well as combustion system safety upgrades and repairs.
Global Support
Our team of combustion experts is situated around the world, to be there when you need us most,
designing, manufacturing, and maintaining heating solutions that will protect your future. Regardless of
which region of the world you do business in; Europe, the Middle East, Africa, the Americas or Asia;
customers can be confident that Elster Thermal Solutions has local expertise available to support
them. Our manufacturing support facilities are positioned strategically throughout the globe to best
serve our customer's delivery requirements:

Rockford, IL, USA

Toledo, OH, USA

Cleveland, OH, USA

Osnabrück, Germany

Hameln, Germany

Gouda, Netherlands

Stará Turá, Slovakia

Suzhou, China

Pune, India
In summing up the scope of bringing together the new Elster Thermal Solutions organization, CEO
Martyn Vaughan simply states "the best just got better."
Please submit editorial queries to:
Elster Kromschröder, Thomas Kujadt
T +49 541 1214 293
thomas.kujadt@elster.com
www.kromschroeder.com
About Elster GmbH
Elster GmbH, Kromschröder Osnabrück is one of the leading manufacturers of cutting-edge products
and system solutions for safeguarding, measuring and controlling gases. With domestic and
commercial gas meters, as well as safety valves and control components for heating equipment and
for industrial use, the company offers a wide range of services, supported by a global sales and
service organization.
About Elster Group
Elster Group is the world's largest supplier of metering technology for gas, water, heat and electricity
consumption and is a leader in automated meter reading (AMR). The group employs around 7,000
staff and has operations in 38 countries worldwide. Elster's high-quality products and systems reflect
the wealth of knowledge and experience gained from more than 170 years in the industry.