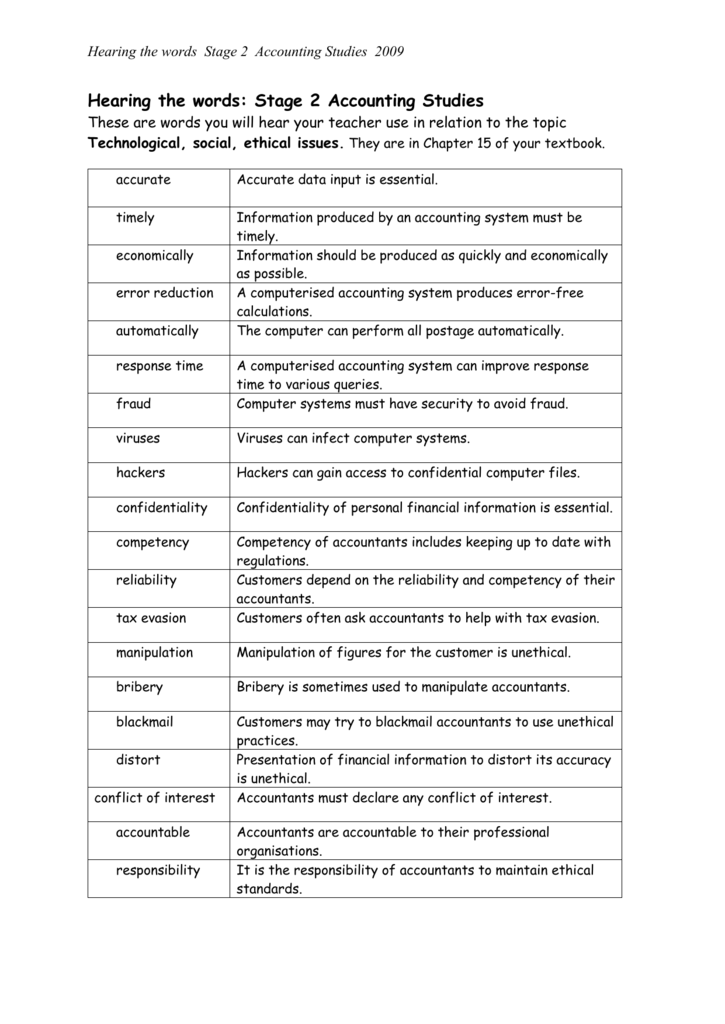 Hearing the words Stage 2 Accounting Studies 2009
Hearing the words: Stage 2 Accounting Studies
These are words you will hear your teacher use in relation to the topic
Technological, social, ethical issues. They are in Chapter 15 of your textbook.
accurate
Accurate data input is essential.
timely
Information produced by an accounting system must be
timely.
Information should be produced as quickly and economically
as possible.
A computerised accounting system produces error-free
calculations.
The computer can perform all postage automatically.
economically
error reduction
automatically
response time
fraud
A computerised accounting system can improve response
time to various queries.
Computer systems must have security to avoid fraud.
viruses
Viruses can infect computer systems.
hackers
Hackers can gain access to confidential computer files.
confidentiality
Confidentiality of personal financial information is essential.
competency
tax evasion
Competency of accountants includes keeping up to date with
regulations.
Customers depend on the reliability and competency of their
accountants.
Customers often ask accountants to help with tax evasion.
manipulation
Manipulation of figures for the customer is unethical.
bribery
Bribery is sometimes used to manipulate accountants.
blackmail
Customers may try to blackmail accountants to use unethical
practices.
Presentation of financial information to distort its accuracy
is unethical.
Accountants must declare any conflict of interest.
reliability
distort
conflict of interest
accountable
responsibility
Accountants are accountable to their professional
organisations.
It is the responsibility of accountants to maintain ethical
standards.