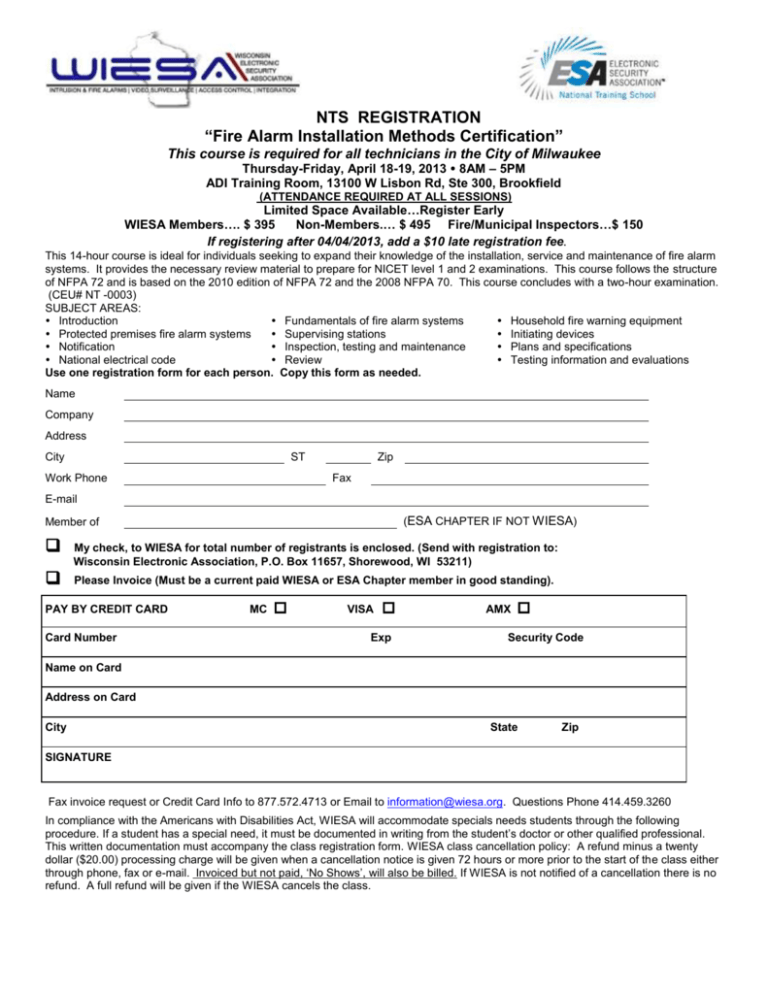 NTS REGISTRATION
"Fire Alarm Installation Methods Certification"
This course is required for all technicians in the City of Milwaukee
Thursday-Friday, April 18-19, 2013  8AM – 5PM
ADI Training Room, 13100 W Lisbon Rd, Ste 300, Brookfield
(ATTENDANCE REQUIRED AT ALL SESSIONS)
Limited Space Available…Register Early
WIESA Members…. $ 395
Non-Members.… $ 495 Fire/Municipal Inspectors…$ 150
If registering after 04/04/2013, add a $10 late registration fee.
This 14-hour course is ideal for individuals seeking to expand their knowledge of the installation, service and maintenance of fire alarm
systems. It provides the necessary review material to prepare for NICET level 1 and 2 examinations. This course follows the structure
of NFPA 72 and is based on the 2010 edition of NFPA 72 and the 2008 NFPA 70. This course concludes with a two-hour examination.
(CEU# NT -0003)
SUBJECT AREAS:
 Introduction
 Fundamentals of fire alarm systems
 Household fire warning equipment
 Protected premises fire alarm systems
 Supervising stations
 Initiating devices
 Notification
 Inspection, testing and maintenance
 Plans and specifications
 National electrical code
 Review
 Testing information and evaluations
Use one registration form for each person. Copy this form as needed.
Name
Company
Address
City
ST
Work Phone
Zip
Fax
E-mail
(ESA CHAPTER IF NOT WIESA)
Member of


My check, to WIESA for total number of registrants is enclosed. (Send with registration to:
Wisconsin Electronic Association, P.O. Box 11657, Shorewood, WI 53211)
Please Invoice (Must be a current paid WIESA or ESA Chapter member in good standing).
PAY BY CREDIT CARD
Card Number
MC
VISA AMX 
Exp
Security Code
Name on Card
Address on Card
City
State
Zip
SIGNATURE
Fax invoice request or Credit Card Info to 877.572.4713 or Email to information@wiesa.org. Questions Phone 414.459.3260
In compliance with the Americans with Disabilities Act, WIESA will accommodate specials needs students through the following
procedure. If a student has a special need, it must be documented in writing from the student's doctor or other qualified professional.
This written documentation must accompany the class registration form. WIESA class cancellation policy: A refund minus a twenty
dollar ($20.00) processing charge will be given when a cancellation notice is given 72 hours or more prior to the start of the class either
through phone, fax or e-mail. Invoiced but not paid, 'No Shows', will also be billed. If WIESA is not notified of a cancellation there is no
refund. A full refund will be given if the WIESA cancels the class.