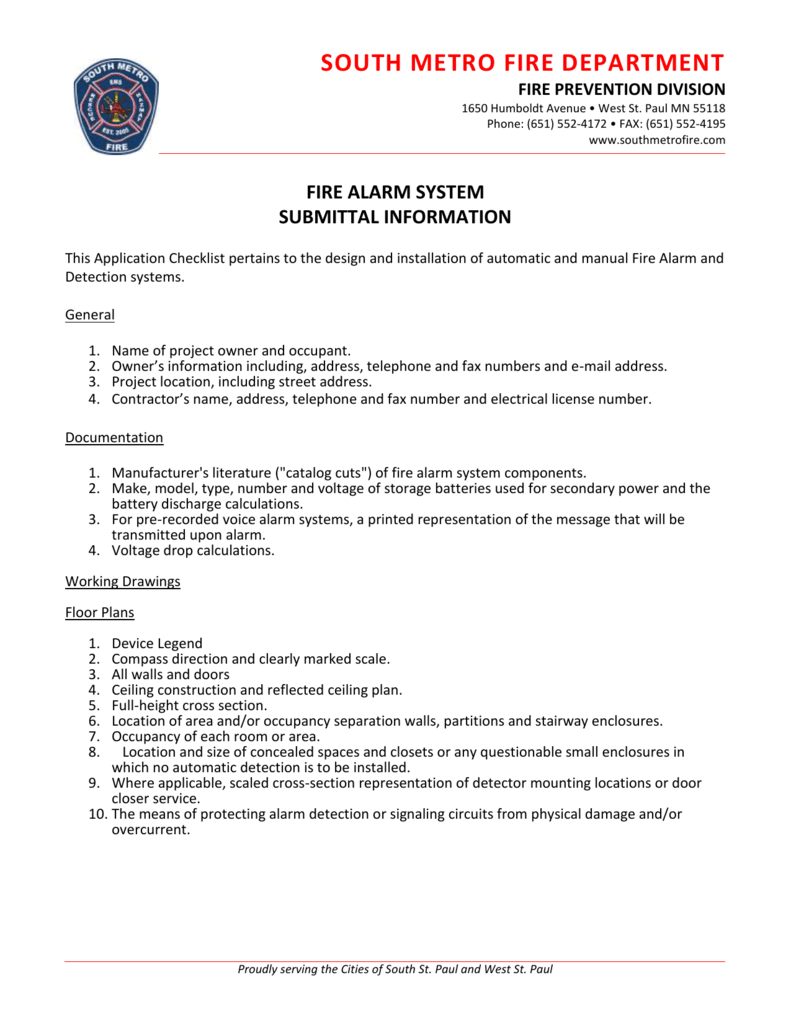 SOUTH METRO FIRE DEPARTMENT
FIRE PREVENTION DIVISION
1650 Humboldt Avenue • West St. Paul MN 55118
Phone: (651) 552-4172 • FAX: (651) 552-4195
www.southmetrofire.com
FIRE ALARM SYSTEM
SUBMITTAL INFORMATION
This Application Checklist pertains to the design and installation of automatic and manual Fire Alarm and
Detection systems.
General
1.
2.
3.
4.
Name of project owner and occupant.
Owner's information including, address, telephone and fax numbers and e-mail address.
Project location, including street address.
Contractor's name, address, telephone and fax number and electrical license number.
Documentation
1. Manufacturer's literature ("catalog cuts") of fire alarm system components.
2. Make, model, type, number and voltage of storage batteries used for secondary power and the
battery discharge calculations.
3. For pre-recorded voice alarm systems, a printed representation of the message that will be
transmitted upon alarm.
4. Voltage drop calculations.
Working Drawings
Floor Plans
1.
2.
3.
4.
5.
6.
7.
8.
Device Legend
Compass direction and clearly marked scale.
All walls and doors
Ceiling construction and reflected ceiling plan.
Full-height cross section.
Location of area and/or occupancy separation walls, partitions and stairway enclosures.
Occupancy of each room or area.
Location and size of concealed spaces and closets or any questionable small enclosures in
which no automatic detection is to be installed.
9. Where applicable, scaled cross-section representation of detector mounting locations or door
closer service.
10. The means of protecting alarm detection or signaling circuits from physical damage and/or
overcurrent.
Proudly serving the Cities of South St. Paul and West St. Paul
System Information
1. Legend showing all symbols, device descriptions, size and type of outlet box and mounting
heights.
2. Make, model, type and location of all fire alarm control panels.
3. Make, model, type and location of all fire alarm annunciator panels.
4. Make, model, type and location of all automatic detection or signaling devices.
5. Make, model, type and location of all manual initiation devices.
6. Make, model, type, location of and candela/decibel rating for all audible and/or visual alarm
devices.
7. Make, model, type and location of all fire department command centers.
8. Make, model, type and location of all door closers, smoke dampers, HVAC shutdown devices,
elevator recall devices, fire protection system monitoring devices or similar devices or equipment
that affect buildings of fire protection equipment services.
9. Make, model, type and location of all off-premises reporting devices.
10. Where applicable, the various zone designations and the areas they serve.
11. Note:
a) Maximum number of detection devices allowed on two-wire circuits.
b) Maximum number of detection devices allowed on four-wire circuits.
c) Location of sprinkler system waterflow and tamper supervision, if applicable.
d) Location of range hood fire suppression systems discharge contacts, if applicable.
12. The source of primary power and its wiring riser diagram.
13. The source of secondary power.
14. The signal initiating circuits and wiring diagram, including calculations of all signal circuits for
loads, wire size and length.
15. Location of end-of-line resistors.
16. For digital alarm communication transmitters, the configuration of the two separate transmission
lines.