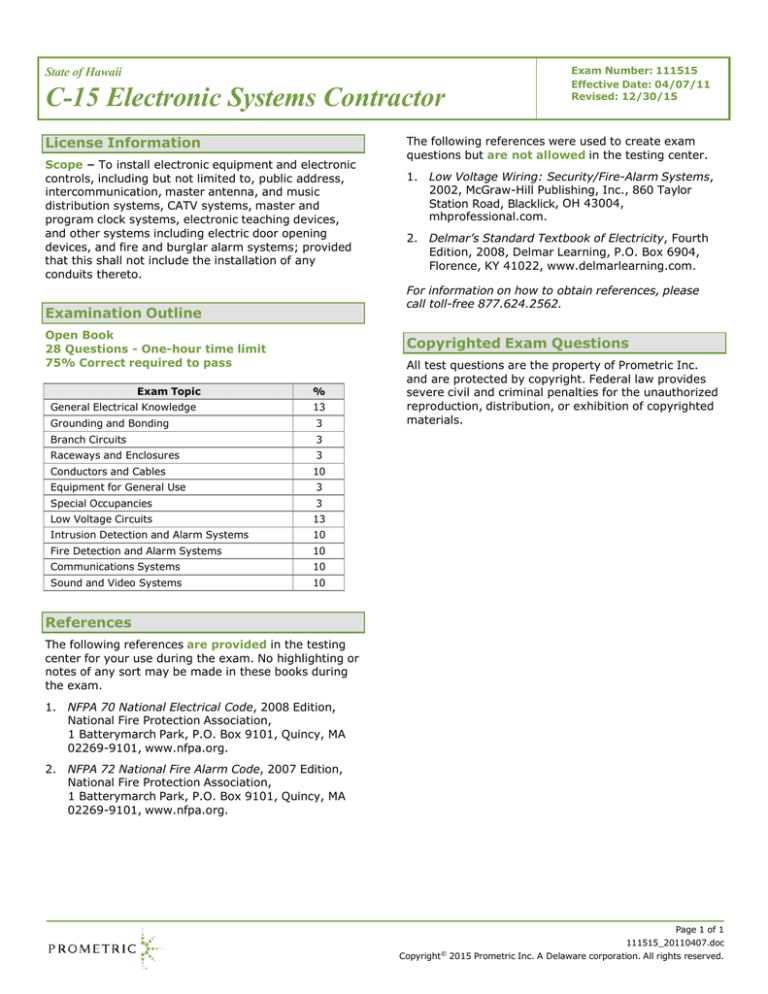 State of Hawaii
C-15 Electronic Systems Contractor
License Information
Scope – To install electronic equipment and electronic
controls, including but not limited to, public address,
intercommunication, master antenna, and music
distribution systems, CATV systems, master and
program clock systems, electronic teaching devices,
and other systems including electric door opening
devices, and fire and burglar alarm systems; provided
that this shall not include the installation of any
conduits thereto.
Open Book
28 Questions - One-hour time limit
75% Correct required to pass
Exam Topic
%
13
3
Branch Circuits
3
Conductors and Cables
Equipment for General Use
1. Low Voltage Wiring: Security/Fire-Alarm Systems,
2002, McGraw-Hill Publishing, Inc., 860 Taylor
Station Road, Blacklick, OH 43004,
mhprofessional.com.
2. Delmar's Standard Textbook of Electricity, Fourth
Edition, 2008, Delmar Learning, P.O. Box 6904,
Florence, KY 41022, www.delmarlearning.com.
Copyrighted Exam Questions
Grounding and Bonding
Raceways and Enclosures
The following references were used to create exam
questions but are not allowed in the testing center.
For information on how to obtain references, please
call toll-free 877.624.2562.
Examination Outline
General Electrical Knowledge
Exam Number: 111515
Effective Date: 04/07/11
Revised: 12/30/15
All test questions are the property of Prometric Inc.
and are protected by copyright. Federal law provides
severe civil and criminal penalties for the unauthorized
reproduction, distribution, or exhibition of copyrighted
materials.
3
10
3
Special Occupancies
3
Low Voltage Circuits
13
Intrusion Detection and Alarm Systems
10
Fire Detection and Alarm Systems
10
Communications Systems
10
Sound and Video Systems
10
References
The following references are provided in the testing
center for your use during the exam. No highlighting or
notes of any sort may be made in these books during
the exam.
1. NFPA 70 National Electrical Code, 2008 Edition,
National Fire Protection Association,
1 Batterymarch Park, P.O. Box 9101, Quincy, MA
02269-9101, www.nfpa.org.
2. NFPA 72 National Fire Alarm Code, 2007 Edition,
National Fire Protection Association,
1 Batterymarch Park, P.O. Box 9101, Quincy, MA
02269-9101, www.nfpa.org.
Page 1 of 1
111515_20110407.doc
Copyright© 2015 Prometric Inc. A Delaware corporation. All rights reserved.