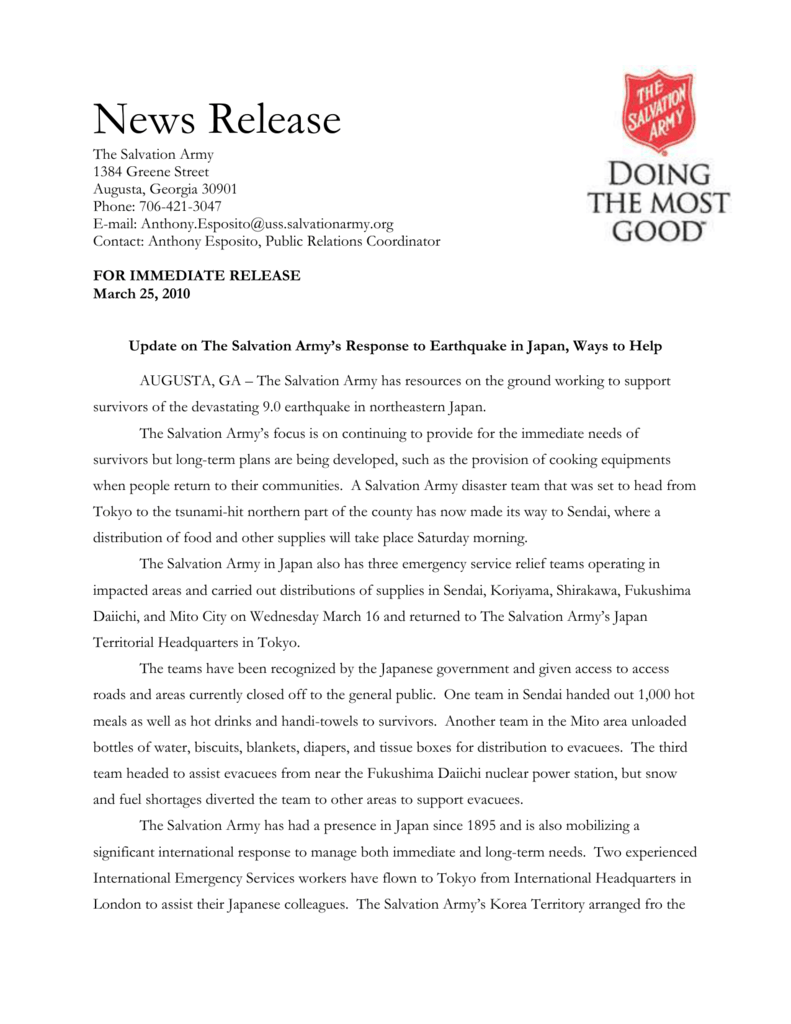 News Release
The Salvation Army
1384 Greene Street
Augusta, Georgia 30901
Phone: 706-421-3047
E-mail: [email protected]
Contact: Anthony Esposito, Public Relations Coordinator
FOR IMMEDIATE RELEASE
March 25, 2010
Update on The Salvation Army's Response to Earthquake in Japan, Ways to Help
AUGUSTA, GA – The Salvation Army has resources on the ground working to support
survivors of the devastating 9.0 earthquake in northeastern Japan.
The Salvation Army's focus is on continuing to provide for the immediate needs of
survivors but long-term plans are being developed, such as the provision of cooking equipments
when people return to their communities. A Salvation Army disaster team that was set to head from
Tokyo to the tsunami-hit northern part of the county has now made its way to Sendai, where a
distribution of food and other supplies will take place Saturday morning.
The Salvation Army in Japan also has three emergency service relief teams operating in
impacted areas and carried out distributions of supplies in Sendai, Koriyama, Shirakawa, Fukushima
Daiichi, and Mito City on Wednesday March 16 and returned to The Salvation Army's Japan
Territorial Headquarters in Tokyo.
The teams have been recognized by the Japanese government and given access to access
roads and areas currently closed off to the general public. One team in Sendai handed out 1,000 hot
meals as well as hot drinks and handi-towels to survivors. Another team in the Mito area unloaded
bottles of water, biscuits, blankets, diapers, and tissue boxes for distribution to evacuees. The third
team headed to assist evacuees from near the Fukushima Daiichi nuclear power station, but snow
and fuel shortages diverted the team to other areas to support evacuees.
The Salvation Army has had a presence in Japan since 1895 and is also mobilizing a
significant international response to manage both immediate and long-term needs. Two experienced
International Emergency Services workers have flown to Tokyo from International Headquarters in
London to assist their Japanese colleagues. The Salvation Army's Korea Territory arranged fro the
K-Water Corporation to provide 100,000 bottles of water to be sent to Japan – 30,000 bottles by the
end of the week, followed by the rest within a short time. The Korean Disaster Relief Association
will also be sending 5,000 first-aid kits.
In a touching show of solidarity, 1,500 young Salvationists in Haiti – who themselves were
recently impacted by a devastating earthquake – held a rally in Fond-des-Negres to pray for victims
and survivors in Japan.
The Salvation Army is calling on everyone to pray for the survivors and victims of the Japan
earthquake. Monetary donations are the most critical need as supplies and personnel are mobilized.
These funds offer the greatest flexibility and enable local disaster responders to purchase exactly
what is needed as close to the disaster zone as possible.
There are five ways people can contribute money to The Salvation Army's disaster relief
efforts in Japan:

Text the words "JAPAN" or "QUAKE" to 80888 to make a $10 donation

By phone: 1-800-SAL-ARMY

Online at: https://donate.salvationarmyusa.org

To give locally: Send your check, marked "Japan relief" in the "for" column to
The Salvation Army of Augusta
1384 Greene Street
Augusta, GA 30901

By mail nationally: Send your check, marked "Japan earthquake relief" to
The Salvation Army World Services Office
International Relief Fund
P.O. Box 630728
Baltimore, MD 21263-0728
At this time, The Salvation Army is not accepting donations of goods or household items
(gifts-in-kind) from the general public for disaster relief operations in Japan. The Salvation Army is
extremely grateful for the generosity that has already poured in to help us meet both immediate and
long-term needs.
For more information about The Salvation Army of Augusta, contact Anthony Esposito,
Public Relations Coordinator, at 706-421-3047.
###
About The Salvation Army
The Salvation Army, an evangelical part of the universal Christian church established in London in
1865, has been supporting those in need in His name without discrimination for 130 years in the
United States. Nearly 30 million Americans receive assistance from The Salvation Army each year
through the broadest array of social services that range from providing food for the hungry, relief
for disaster victims, assistance for the disabled, outreach to the elderly and ill, clothing and shelter to
the homeless and opportunities for underprivileged children. 82 cents of every dollar The Salvation
Army spends is used to support those services in 5,000 communities nationwide. For more
information, go to www.salvationarmyusa.org.