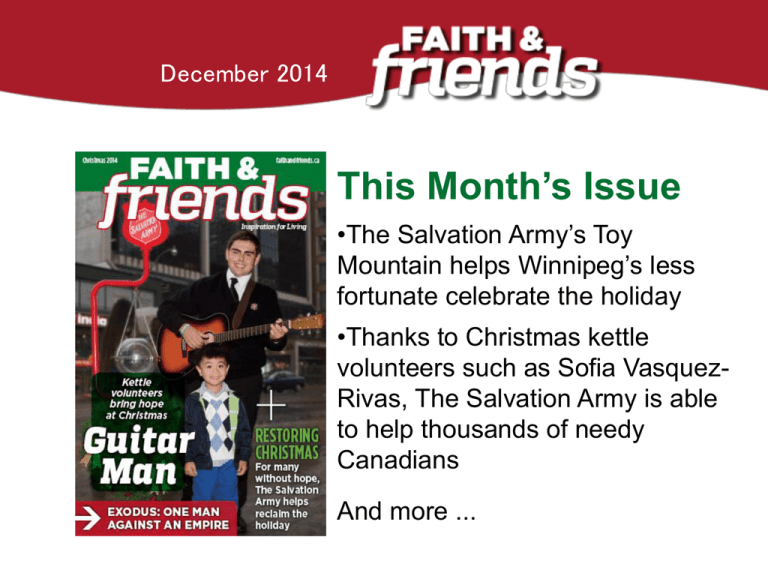 April 2010
December 2014
This Month's Issue
•The Salvation Army's Toy
Mountain helps Winnipeg's less
fortunate celebrate the holiday
•Thanks to Christmas kettle
volunteers such as Sofia VasquezRivas, The Salvation Army is able
to help thousands of needy
Canadians
And more ...
December
2012
April 2010
December
January
June 2014
"Can I Play
Your Guitar?"
Eric Day was faced with
a Christmastime
dilemma: should he
hand over his precious
possession to a
stranger?
April 2010
December
June 2013
2014
Caring Enough
to Give
Every year, The
Salvation Army fills a
need at Christmas. But
they can't do it alone
April 2010
December 2014
This Month's Issue
•In the midst of turmoil,
Claudette Hillier learned that
God keeps his promises
•Our sixth doctrine shows us
who God is, says Major Ray
Harris
•In the story of Christ's birth,
which character are you most
like?
And more ...
April 2010
September
December
November
October
June
April
July
2014
2014
2014
2013
2014
April2013
2014
Have We Seen
the Light?
Take time this
Christmas to
acknowledge that
Jesus, Light of the
World, has come, says
General André Cox
April 2010
December
April 2014
2014
2013
From the
Realms of
Glory
Angels in the
Christmas story
teach us the
significance of
Christ's birth
April 2010
December 2014
Come On,
Ring Those
Bells
Dust off your Red
Shields. It's kettle
time!
April 2010
Pick Up Your Copy Today
Edge
April
2010
for Kids December 2014
• Read about Mary's
special visit from an
angel
This month:
• Learn about the Wise
Men who visited Baby
Jesus
• Celebrate the birth of
Christ
• Find our why Jesus is
the best Christmas
present ever
Plus stories, puzzles,
colouring, jokes and
more!