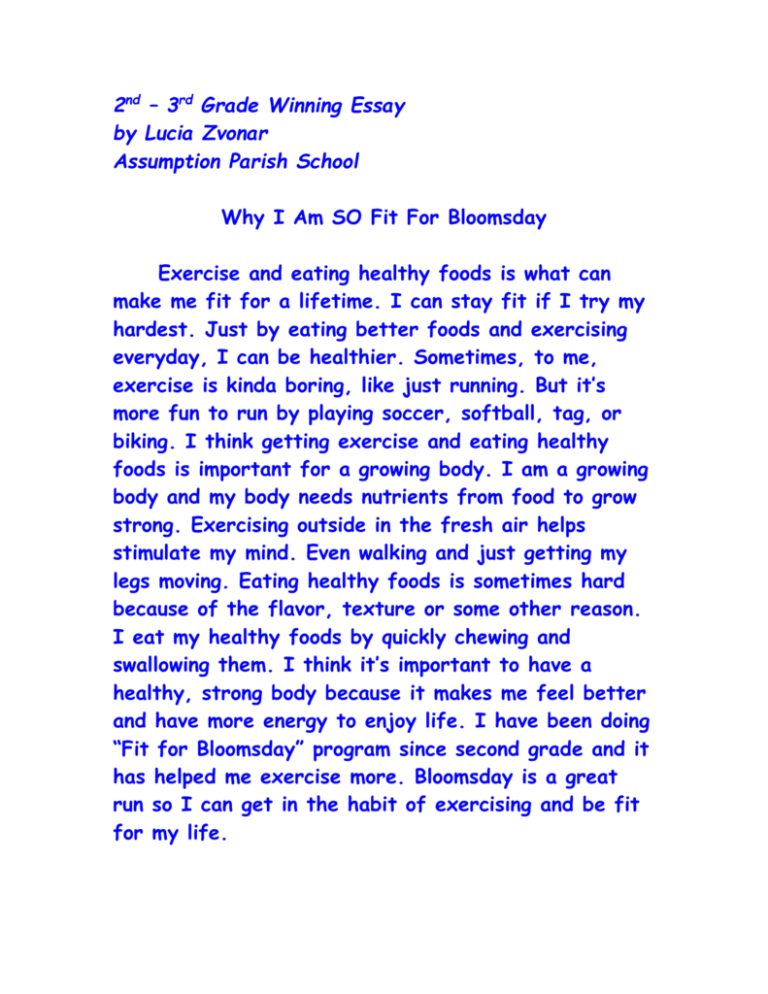 2nd – 3rd Grade Winning Essay
by Lucia Zvonar
Assumption Parish School
Why I Am SO Fit For Bloomsday
Exercise and eating healthy foods is what can
make me fit for a lifetime. I can stay fit if I try my
hardest. Just by eating better foods and exercising
everyday, I can be healthier. Sometimes, to me,
exercise is kinda boring, like just running. But it's
more fun to run by playing soccer, softball, tag, or
biking. I think getting exercise and eating healthy
foods is important for a growing body. I am a growing
body and my body needs nutrients from food to grow
strong. Exercising outside in the fresh air helps
stimulate my mind. Even walking and just getting my
legs moving. Eating healthy foods is sometimes hard
because of the flavor, texture or some other reason.
I eat my healthy foods by quickly chewing and
swallowing them. I think it's important to have a
healthy, strong body because it makes me feel better
and have more energy to enjoy life. I have been doing
"Fit for Bloomsday" program since second grade and it
has helped me exercise more. Bloomsday is a great
run so I can get in the habit of exercising and be fit
for my life.