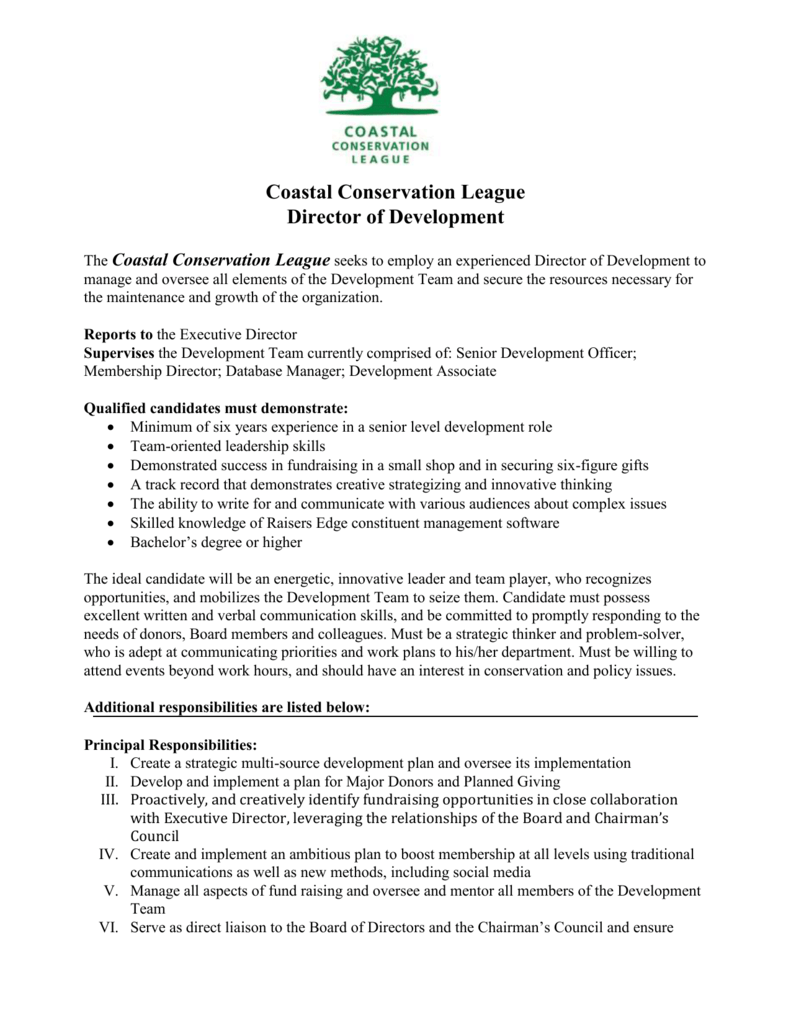 Coastal Conservation League
Director of Development
The Coastal Conservation League seeks to employ an experienced Director of Development to
manage and oversee all elements of the Development Team and secure the resources necessary for
the maintenance and growth of the organization.
Reports to the Executive Director
Supervises the Development Team currently comprised of: Senior Development Officer;
Membership Director; Database Manager; Development Associate
Qualified candidates must demonstrate:
 Minimum of six years experience in a senior level development role
 Team-oriented leadership skills
 Demonstrated success in fundraising in a small shop and in securing six-figure gifts
 A track record that demonstrates creative strategizing and innovative thinking
 The ability to write for and communicate with various audiences about complex issues
 Skilled knowledge of Raisers Edge constituent management software
 Bachelor's degree or higher
The ideal candidate will be an energetic, innovative leader and team player, who recognizes
opportunities, and mobilizes the Development Team to seize them. Candidate must possess
excellent written and verbal communication skills, and be committed to promptly responding to the
needs of donors, Board members and colleagues. Must be a strategic thinker and problem-solver,
who is adept at communicating priorities and work plans to his/her department. Must be willing to
attend events beyond work hours, and should have an interest in conservation and policy issues.
Additional responsibilities are listed below:
Principal Responsibilities:
I. Create a strategic multi-source development plan and oversee its implementation
II. Develop and implement a plan for Major Donors and Planned Giving
III. Proactively, and creatively identify fundraising opportunities in close collaboration
with Executive Director, leveraging the relationships of the Board and Chairman's
Council
IV. Create and implement an ambitious plan to boost membership at all levels using traditional
communications as well as new methods, including social media
V. Manage all aspects of fund raising and oversee and mentor all members of the Development
Team
VI. Serve as direct liaison to the Board of Directors and the Chairman's Council and ensure
support for all committees of the Board
Duties to include:
 Identify marketing and messaging opportunities
 Initiate strategic partnerships with community partners
 Work closely with Director of Finance to create and manage department budgets (revenues
and expenses) and provide timely reports
 Ensure optimal maintenance of Foundation relationships and timely submission of grant
proposals and reports
 Ensure appropriate level of knowledge of Microsoft Office and Raiser's Edge software and
other programs as warranted throughout the Development Team
To apply, please submit cover letter and resume to [email protected] Telephone calls will not be
accepted. Salary is commensurate with proven skills and experience. Full benefits provided.
The Coastal Conservation League is an equal opportunity employer whose mission is to protect the
threatened resources of the South Carolina coastal plain - its natural landscapes, abundant wildlife,
clean water, and quality of life – by working with citizens and government on pro-active,
comprehensive solutions to environmental challenges.