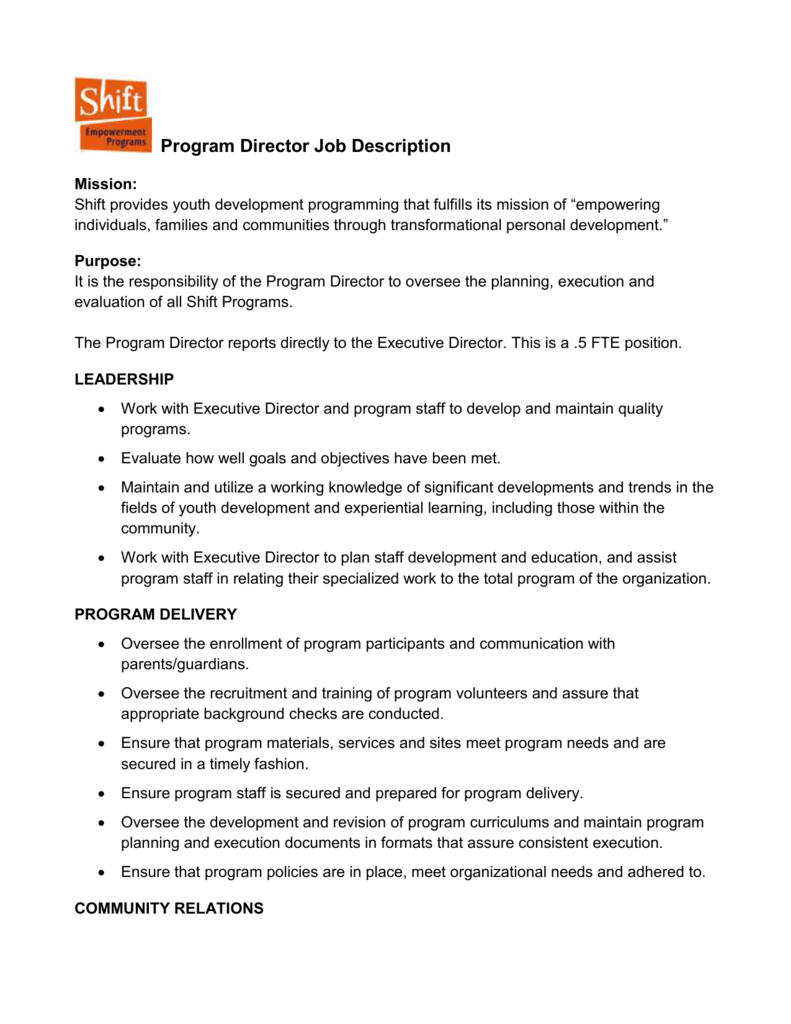 Program Director Job Description
Mission:
Shift provides youth development programming that fulfills its mission of "empowering
individuals, families and communities through transformational personal development."
Purpose:
It is the responsibility of the Program Director to oversee the planning, execution and
evaluation of all Shift Programs.
The Program Director reports directly to the Executive Director. This is a .5 FTE position.
LEADERSHIP

Work with Executive Director and program staff to develop and maintain quality
programs.

Evaluate how well goals and objectives have been met.

Maintain and utilize a working knowledge of significant developments and trends in the
fields of youth development and experiential learning, including those within the
community.

Work with Executive Director to plan staff development and education, and assist
program staff in relating their specialized work to the total program of the organization.
PROGRAM DELIVERY

Oversee the enrollment of program participants and communication with
parents/guardians.

Oversee the recruitment and training of program volunteers and assure that
appropriate background checks are conducted.

Ensure that program materials, services and sites meet program needs and are
secured in a timely fashion.

Ensure program staff is secured and prepared for program delivery.

Oversee the development and revision of program curriculums and maintain program
planning and execution documents in formats that assure consistent execution.

Ensure that program policies are in place, meet organizational needs and adhered to.
COMMUNITY RELATIONS

Serve as an effective spokesperson for the organization; represent the programs and
point of view of the organization to agencies, organizations, schools and the public.

Establish sound working relationships and cooperative arrangements with community
groups and organizations.

Assist the Executive Director with communications through the website, social media
and printed materials.
FUNDRAISING

Assist the Executive Director and Board of Directors in the execution of the fundraising
plan.

Connect youth and adult participants to fundraising activities when appropriate.

Maintain participant contact information and data in formats that are relevant to
fundraising contacts and communications.
QUALIFICATIONS

Self-starter with excellent written and verbal communication skills.

Experience with experiential learning, facilitated group work and youth development
required. Knowledge of therapeutic modes and best practices preferred.

Collaborative work style.

Existing computer skills and willingness to strengthen knowledge as needed. Needed
skills include word processing, desktop publishing, spreadsheets, desktop publishing,
database, website maintenance and social media.

Minimum of a bachelor's degree in social services related field preferred.