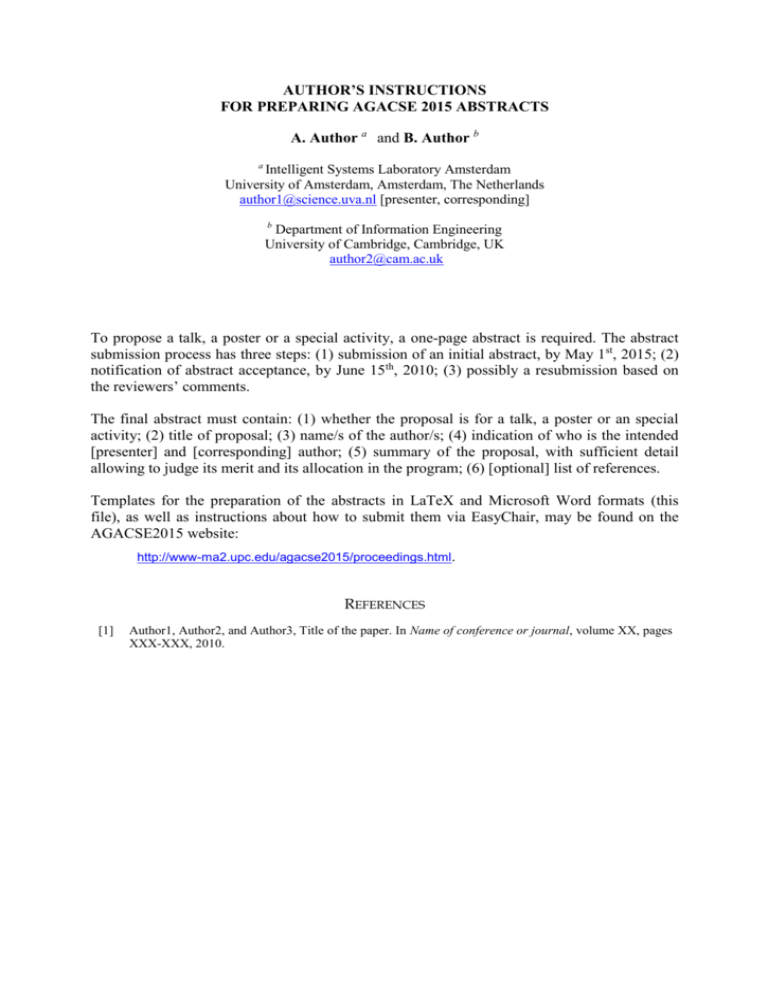 AUTHOR'S INSTRUCTIONS
FOR PREPARING AGACSE 2015 ABSTRACTS
A. Author a and B. Author b
a
Intelligent Systems Laboratory Amsterdam
University of Amsterdam, Amsterdam, The Netherlands
author1@science.uva.nl [presenter, corresponding]
b
Department of Information Engineering
University of Cambridge, Cambridge, UK
author2@cam.ac.uk
To propose a talk, a poster or a special activity, a one-page abstract is required. The abstract
submission process has three steps: (1) submission of an initial abstract, by May 1st, 2015; (2)
notification of abstract acceptance, by June 15th, 2010; (3) possibly a resubmission based on
the reviewers' comments.
The final abstract must contain: (1) whether the proposal is for a talk, a poster or an special
activity; (2) title of proposal; (3) name/s of the author/s; (4) indication of who is the intended
[presenter] and [corresponding] author; (5) summary of the proposal, with sufficient detail
allowing to judge its merit and its allocation in the program; (6) [optional] list of references.
Templates for the preparation of the abstracts in LaTeX and Microsoft Word formats (this
file), as well as instructions about how to submit them via EasyChair, may be found on the
AGACSE2015 website:
http://www-ma2.upc.edu/agacse2015/proceedings.html.
REFERENCES
[1]
Author1, Author2, and Author3, Title of the paper. In Name of conference or journal, volume XX, pages
XXX-XXX, 2010.