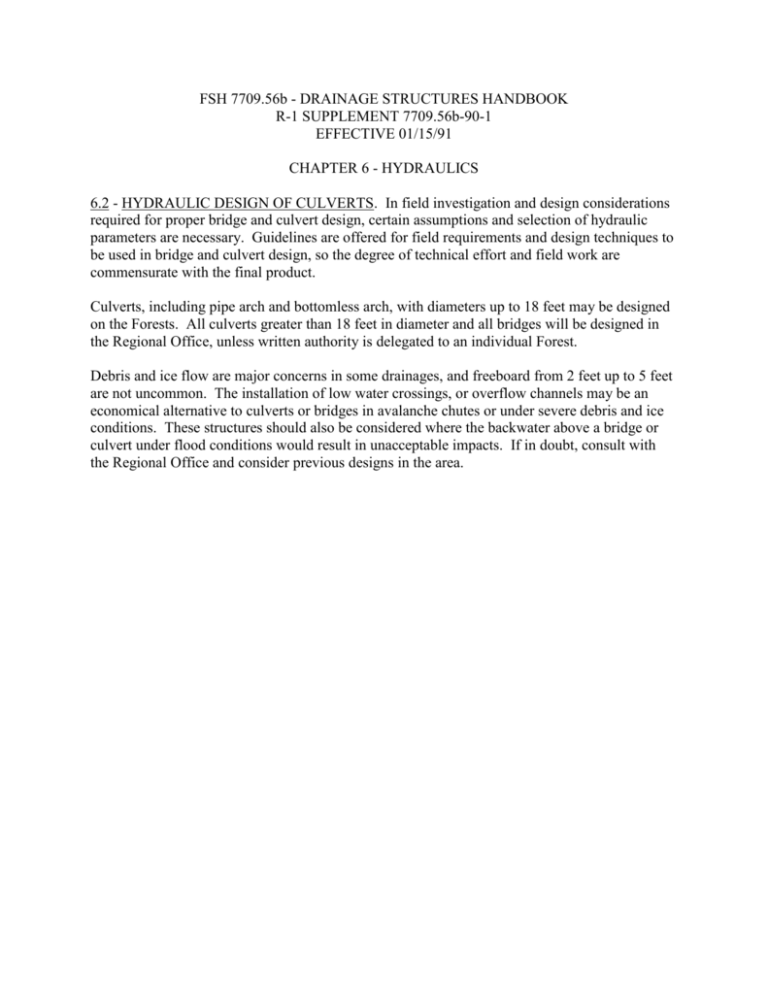 FSH 7709.56b - DRAINAGE STRUCTURES HANDBOOK
R-1 SUPPLEMENT 7709.56b-90-1
EFFECTIVE 01/15/91
CHAPTER 6 - HYDRAULICS
6.2 - HYDRAULIC DESIGN OF CULVERTS. In field investigation and design considerations
required for proper bridge and culvert design, certain assumptions and selection of hydraulic
parameters are necessary. Guidelines are offered for field requirements and design techniques to
be used in bridge and culvert design, so the degree of technical effort and field work are
commensurate with the final product.
Culverts, including pipe arch and bottomless arch, with diameters up to 18 feet may be designed
on the Forests. All culverts greater than 18 feet in diameter and all bridges will be designed in
the Regional Office, unless written authority is delegated to an individual Forest.
Debris and ice flow are major concerns in some drainages, and freeboard from 2 feet up to 5 feet
are not uncommon. The installation of low water crossings, or overflow channels may be an
economical alternative to culverts or bridges in avalanche chutes or under severe debris and ice
conditions. These structures should also be considered where the backwater above a bridge or
culvert under flood conditions would result in unacceptable impacts. If in doubt, consult with
the Regional Office and consider previous designs in the area.