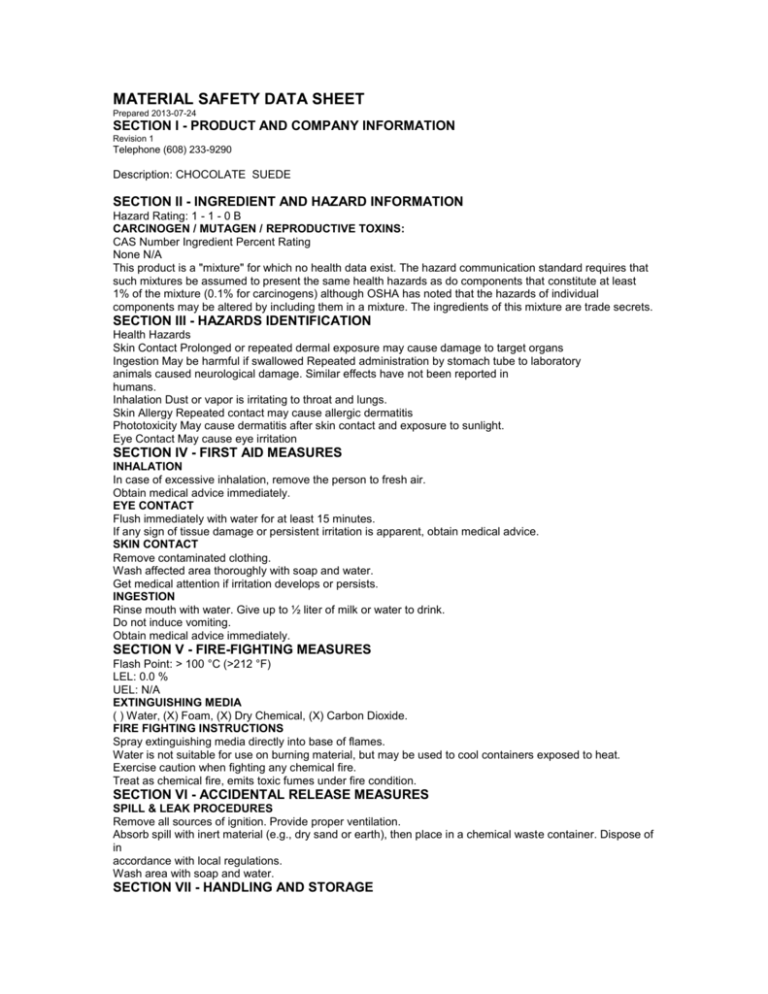 MATERIAL SAFETY DATA SHEET
Prepared 2013-07-24
SECTION I - PRODUCT AND COMPANY INFORMATION
Revision 1
Telephone (608) 233-9290
Description: CHOCOLATE SUEDE
SECTION II - INGREDIENT AND HAZARD INFORMATION
Hazard Rating: 1 - 1 - 0 B
CARCINOGEN / MUTAGEN / REPRODUCTIVE TOXINS:
CAS Number Ingredient Percent Rating
None N/A
This product is a "mixture" for which no health data exist. The hazard communication standard requires that
such mixtures be assumed to present the same health hazards as do components that constitute at least
1% of the mixture (0.1% for carcinogens) although OSHA has noted that the hazards of individual
components may be altered by including them in a mixture. The ingredients of this mixture are trade secrets.
SECTION III - HAZARDS IDENTIFICATION
Health Hazards
Skin Contact Prolonged or repeated dermal exposure may cause damage to target organs
Ingestion May be harmful if swallowed Repeated administration by stomach tube to laboratory
animals caused neurological damage. Similar effects have not been reported in
humans.
Inhalation Dust or vapor is irritating to throat and lungs.
Skin Allergy Repeated contact may cause allergic dermatitis
Phototoxicity May cause dermatitis after skin contact and exposure to sunlight.
Eye Contact May cause eye irritation
SECTION IV - FIRST AID MEASURES
INHALATION
In case of excessive inhalation, remove the person to fresh air.
Obtain medical advice immediately.
EYE CONTACT
Flush immediately with water for at least 15 minutes.
If any sign of tissue damage or persistent irritation is apparent, obtain medical advice.
SKIN CONTACT
Remove contaminated clothing.
Wash affected area thoroughly with soap and water.
Get medical attention if irritation develops or persists.
INGESTION
Rinse mouth with water. Give up to ½ liter of milk or water to drink.
Do not induce vomiting.
Obtain medical advice immediately.
SECTION V - FIRE-FIGHTING MEASURES
Flash Point: > 100 °C (>212 °F)
LEL: 0.0 %
UEL: N/A
EXTINGUISHING MEDIA
( ) Water, (X) Foam, (X) Dry Chemical, (X) Carbon Dioxide.
FIRE FIGHTING INSTRUCTIONS
Spray extinguishing media directly into base of flames.
Water is not suitable for use on burning material, but may be used to cool containers exposed to heat.
Exercise caution when fighting any chemical fire.
Treat as chemical fire, emits toxic fumes under fire condition.
SECTION VI - ACCIDENTAL RELEASE MEASURES
SPILL & LEAK PROCEDURES
Remove all sources of ignition. Provide proper ventilation.
Absorb spill with inert material (e.g., dry sand or earth), then place in a chemical waste container. Dispose of
in
accordance with local regulations.
Wash area with soap and water.
SECTION VII - HANDLING AND STORAGE
Not meant for consumption, may be harmful if swallowed.
Avoid skin contact.
Handle in accordance with good occupational hygiene and safety practices in well ventilated areas.
STORAGE
Keep containers tight and upright to prevent leakage.
Keep containers closed when not in use.
Do Not Store Over 140°F (60°C).
Keep from freezing.
SECTION VIII - EXPOSURE CONTROLS/PERSONAL PROTECTION
VENTILATION: Use local exhaust ventilation meeting ACGIH design criteria.
PERSONAL PROTECTIVE EQUIPMENT
Oil or chemical resistant gloves.
Splash-resistant safety glasses.
SECTION IX - PHYSICAL AND CHEMICAL PROPERTIES
Appearance Clear
Physical State Liquid
Vapor Density Not Available
Vapor Pressure 0.053 mmHg @20°C
VOC 0.6 %
Evaporation Rate Not Available
Boiling Range 205 to 324 °C
% Weight Crystal 0.00
Color PALE YELLOW
Odor CHOCOLATE/HERBAL
Solubility OIL SOLUBLE
Specific Gravity Not Available
SECTION X - STABILITY AND REACTIVITY
This product is stable in most media.
CONDITIONS TO AVOID
Avoid heat, sparks and flame.
Avoid strong oxidizing agents.
Avoid accidental discharge to sewers and natural waters.
Hazardous Polymerization: Hazardous polymerization will not occur.
SECTION XI - TOXICOLOGICAL INFORMATION
This product has not been subjected to toxicological testing but has been blended from materials with
established
toxicological bibliographies.
SECTION XII - ECOLOGICAL INFORMATION
Prevent contamination of soil, ground and surface water.
No ecological studies have been carried out on this product.
SECTION XIII - DISPOSAL CONSIDERATIONS
Dispose of in accordance with State, Local and Federal Regulations.
SECTION XIV - TRANSPORT INFORMATION
Agency Proper Shipping Name UN Number Packing Grp HazardClass Marine Pollutants
DOT Not regulated, Non Hazardous
IATA Not regulated, Non Hazardous
IMDG Not regulated, Non Hazardous
SECTION XV - REGULATORY INFORMATION
TSCA: We certify that all components of this product are registered or exempt under regulations of the Toxic
Substances Control Act.
California Proposition 65: This fragrance contains the following known carcinogens and reproductive toxins
that are
currently identified by the State of California Safe Drinking Water and Enforcement Act of 1986:
- None
SARA 313: This proprietary mixture contains the following controlled chemicals subject to the reporting
requirements
of section 313 of Title III of the Superfund Amendments and Reauthorization Act of 1986 and 40 CFR Parts
372.
- None
SECTION XVI - OTHER INFORMATION
The information in this MSDS was obtained from current and reputable sources. However, the data is
provided without any warranty, express or implied, regarding its correctness or accuracy. It is the user's
responsibility both to determine safe conditions for use of this product and to assume liability for loss, injury,
damage or expense resulting from improper use of this product.