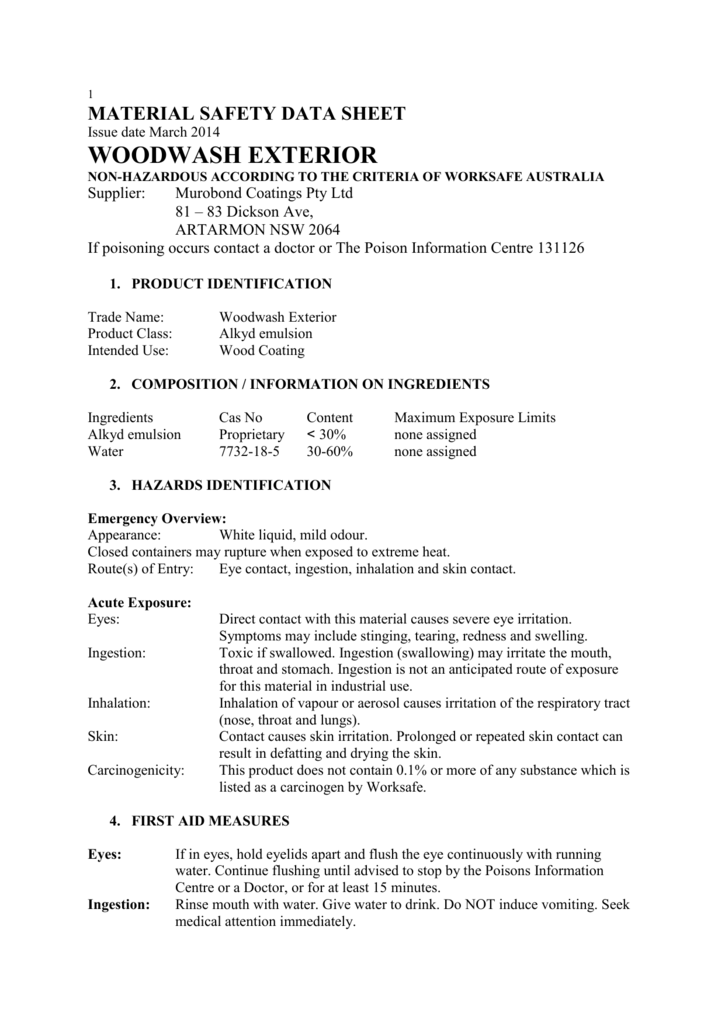 1
MATERIAL SAFETY DATA SHEET
Issue date March 2014
WOODWASH EXTERIOR
NON-HAZARDOUS ACCORDING TO THE CRITERIA OF WORKSAFE AUSTRALIA
Supplier:
Murobond Coatings Pty Ltd
81 – 83 Dickson Ave,
ARTARMON NSW 2064
If poisoning occurs contact a doctor or The Poison Information Centre 131126
1. PRODUCT IDENTIFICATION
Trade Name:
Product Class:
Intended Use:
Woodwash Exterior
Alkyd emulsion
Wood Coating
2. COMPOSITION / INFORMATION ON INGREDIENTS
Ingredients
Alkyd emulsion
Water
Cas No
Proprietary
7732-18-5
Content
< 30%
30-60%
Maximum Exposure Limits
none assigned
none assigned
3. HAZARDS IDENTIFICATION
Emergency Overview:
Appearance:
White liquid, mild odour.
Closed containers may rupture when exposed to extreme heat.
Route(s) of Entry:
Eye contact, ingestion, inhalation and skin contact.
Acute Exposure:
Eyes:
Ingestion:
Inhalation:
Skin:
Carcinogenicity:
Direct contact with this material causes severe eye irritation.
Symptoms may include stinging, tearing, redness and swelling.
Toxic if swallowed. Ingestion (swallowing) may irritate the mouth,
throat and stomach. Ingestion is not an anticipated route of exposure
for this material in industrial use.
Inhalation of vapour or aerosol causes irritation of the respiratory tract
(nose, throat and lungs).
Contact causes skin irritation. Prolonged or repeated skin contact can
result in defatting and drying the skin.
This product does not contain 0.1% or more of any substance which is
listed as a carcinogen by Worksafe.
4. FIRST AID MEASURES
Eyes:
Ingestion:
If in eyes, hold eyelids apart and flush the eye continuously with running
water. Continue flushing until advised to stop by the Poisons Information
Centre or a Doctor, or for at least 15 minutes.
Rinse mouth with water. Give water to drink. Do NOT induce vomiting. Seek
medical attention immediately.
2
Inhalation:
Skin:
First aid is not generally required. If in doubt contact the Poisons Information
Centre (Ph. 131126) or a doctor.
If skin or hair contact occurs, remove contaminated clothing and flush skin
and hair with running water. Wash clothing before re-use.
.
5. FIRE FIGTHING MEASURES
Flash Point:
>93°C
General Hazards: Containers of this material may build up pressure if exposed to heat.
Fire fighting extinguishing media: Use carbon dioxide, foam, dry chemical or water fog to
extinguish fire.
Fire fighting equipment: Wear self-contained breathing apparatus (SCBA) and full
firefighting protective clothing. Thoroughly decontaminate all protective equipment after use.
Fire fighting instructions: Evacuate all persons from the fire area to a safe location. Move
non-burning material, as feasible to a safe location as soon as possible. Fire fighters should be
protected from potential explosion hazard while extinguishing the blaze. Use water spray to
cool fire-exposed containers.
Fire & explosion hazards: This material will not burn unless it is evaporated to dryness.
Hazardous combustion products: Combustion may produce carbon monoxide, carbon dioxide
and irritating or toxic vapours and gases.
6. ACCIDENTAL RELEASE
Small spills: Absorb the liquid with inert material such as dry sand or earth and place it in a
chemical waste container.
Large spills: Persons not wearing protective equipment should be evacuated from the area of
spill until cleanup has been completed. Stop leak at source when it is safe to do so. Dike and
pump the liquid into waste containers.
7. HANDLING & STORAGE
Avoid prolonged or repeated inhalation of heated vapours or spray mists.
8. EXPOSURE CONTROLS / PERSONAL PROTECTION
Exposure Guidelines (ACGIH 1992-1993):
Respiratory Protection : A respirator meeting the requirements of AS/NZS1715 & 1716
must be worn to prevent the inhalation of vapours or spray mists when the TLV is exceeded.
Ventilation: General ventilation is required during normal use. Local ventilation may be
required during certain operations to keep exposure level below the limits listed in Section 2
of this data sheet.
Protective Gloves: Neoprene or rubber gloves required.
Eye Protection: Wear face shield or chemical goggles
Other Protective Equipment: Wear protective clothing to prevent skin contact.
3
9. PHYSICAL AND CHEMICAL PROPERTIES
Appearance & Odour:
Liquid, aromatic odour, clear base; may be tinted to a colour.
Boiling Point:
100ºC
Flash Point:
Not applicable
Vapour Density:
>1 (Air=1)
Specific Gravity:
1.00
Evaporation Rate:
< 1 (n-Butyl Acetate=1)
Flammability Limits:
Not applicable
Volatile Organic Compounds: <30g/litre
10. STABILITY & REACTIVITY
Stability:
Stable
Hazardous Polymerisation: Will not occur
Incompatibility:
Avoid contact with strong oxidising agents
Condition to avoid:
Warm storage
Hazardous Decomposition Products: Incomplete combustion can yield carbon monoxide and
toxic vapours.
11. TOXICOLOGICAL INFORMATION
Effects of overexposure:
SKIN: Contact with skin may result in mild irritation.
INHALATION: Excessive exposure to vapours or spray mist can result in headache or
nausea.
INGESTION: Ingestion can result in nausea, vomiting and diarrhoea.
Acute / Chronic Toxicity: This product does not contain 0.1% or more of any substance
which is listed as a carcinogen by Worksafe.
12. ECOLOGICAL INFORMATION
Free of Hazardous Air Pollutants (HAPS).
Avoid contaminating Waterways.
13. DISPOSAL INFORMATION
Refer to State / Territory Land Waste Management Authority. Normally suitable for
incineration by approved agent.
14. TRANSPORT INFORMATION
Not classified as Dangerous Goods by the criteria of the Australian Dangerous Goods Code
(ADG Code), IMDG & IATA.
15. REGULATORY INFORMATION
Non Hazardous according to the criteria of Worksafe Australia.
Hazard Category: None
4
S-Phrases:
S23 Do not breathe in vapour spray or mist.
S24/25 Avoid contact with skin & eyes.
S36/37/39 Wear suitable protective clothing, gloves and eye / face protection.
S45 In case of accident or if you feel unwell, seek medical advice immediately
16. OTHER INFORMATION
All components within this product are listed on the AICS.
Reason Issued: Compliance to "Hazardous Substances – Code of Practice (2000)"
Prepared By: Murobond Coatings Pty Ltd
Supersedes Date:
This information is provided in good faith and is correct to the best of Murobond's
knowledge at the date of issue. Murobond makes no representation as to its
completeness or accuracy. Customers should determine the suitability or otherwise of this
product for their intended purpose before using. Murobond disclaims responsibility for
damage of any kind resulting from the use of this information.
THERE ARE NO WARRANTIES OR REPRESENTATIONS, EXPRESSED OR IMPLIED,
INCLUDING THOSE OF MERCHANTABILITY OR FITNESS FOR A PARTICULAR
PURPOSE WITH RESPECT TO THIS INFORMATION OR TO THE PRODUCT IT
DESCRIBES.