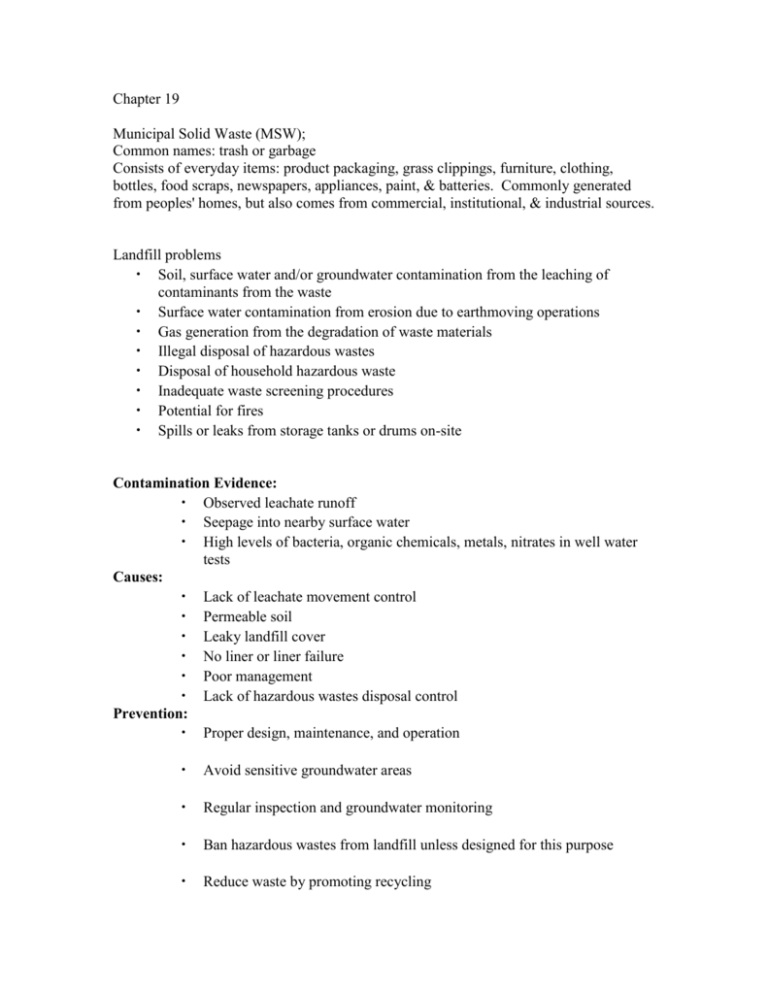 Chapter 19
Municipal Solid Waste (MSW);
Common names: trash or garbage
Consists of everyday items: product packaging, grass clippings, furniture, clothing,
bottles, food scraps, newspapers, appliances, paint, & batteries. Commonly generated
from peoples' homes, but also comes from commercial, institutional, & industrial sources.
Landfill problems
• Soil, surface water and/or groundwater contamination from the leaching of
contaminants from the waste
• Surface water contamination from erosion due to earthmoving operations
• Gas generation from the degradation of waste materials
• Illegal disposal of hazardous wastes
• Disposal of household hazardous waste
• Inadequate waste screening procedures
• Potential for fires
• Spills or leaks from storage tanks or drums on-site
Contamination Evidence:
• Observed leachate runoff
• Seepage into nearby surface water
• High levels of bacteria, organic chemicals, metals, nitrates in well water
tests
Causes:
• Lack of leachate movement control
• Permeable soil
• Leaky landfill cover
• No liner or liner failure
• Poor management
• Lack of hazardous wastes disposal control
Prevention:
• Proper design, maintenance, and operation
•
Avoid sensitive groundwater areas
•
Regular inspection and groundwater monitoring
•
Ban hazardous wastes from landfill unless designed for this purpose
•
Reduce waste by promoting recycling
What is waste to energy?
What is landfill gas?
Composting?