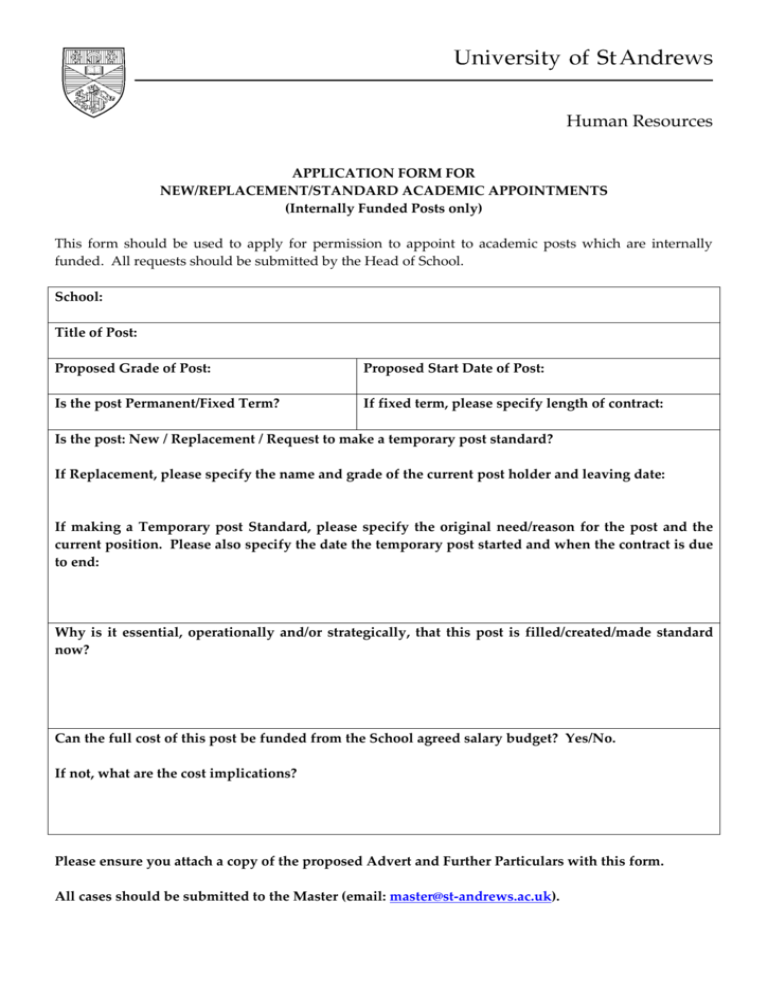 Human Resources
APPLICATION FORM FOR
NEW/REPLACEMENT/STANDARD ACADEMIC APPOINTMENTS
(Internally Funded Posts only)
This form should be used to apply for permission to appoint to academic posts which are internally
funded. All requests should be submitted by the Head of School.
School:
Title of Post:
Proposed Grade of Post:
Proposed Start Date of Post:
Is the post Permanent/Fixed Term?
If fixed term, please specify length of contract:
Is the post: New / Replacement / Request to make a temporary post standard?
If Replacement, please specify the name and grade of the current post holder and leaving date:
If making a Temporary post Standard, please specify the original need/reason for the post and the
current position. Please also specify the date the temporary post started and when the contract is due
to end:
Why is it essential, operationally and/or strategically, that this post is filled/created/made standard
now?
Can the full cost of this post be funded from the School agreed salary budget? Yes/No.
If not, what are the cost implications?
Please ensure you attach a copy of the proposed Advert and Further Particulars with this form.
All cases should be submitted to the Master (email: master@st-andrews.ac.uk).