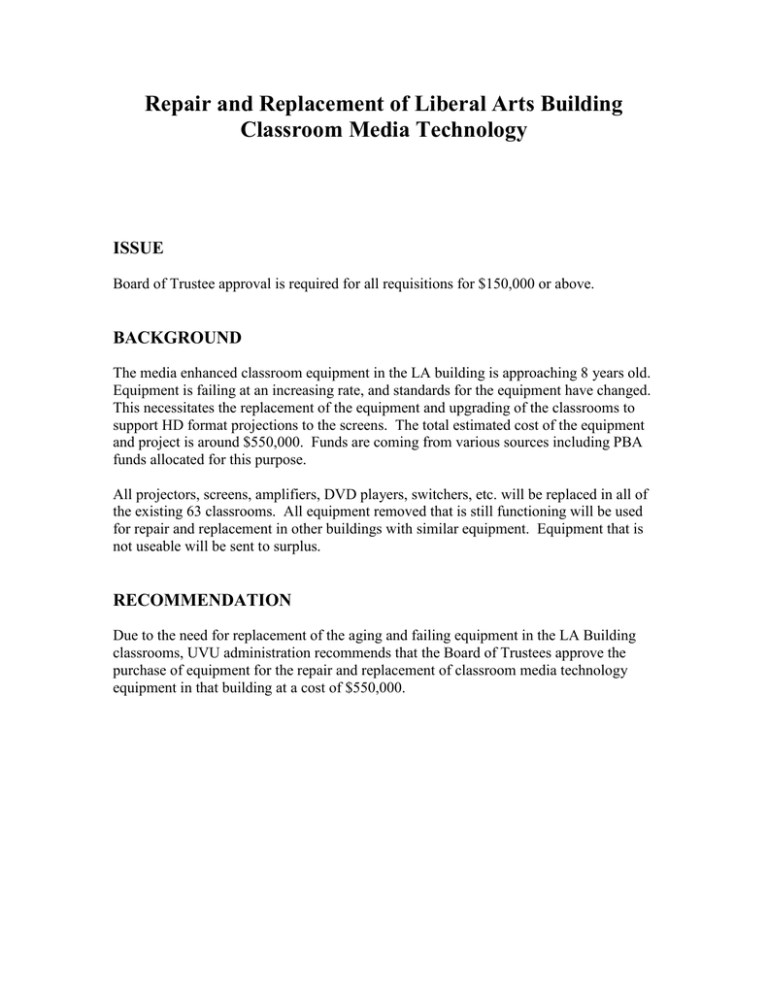 Repair and Replacement of Liberal Arts Building
Classroom Media Technology
ISSUE
Board of Trustee approval is required for all requisitions for $150,000 or above.
BACKGROUND
The media enhanced classroom equipment in the LA building is approaching 8 years old.
Equipment is failing at an increasing rate, and standards for the equipment have changed.
This necessitates the replacement of the equipment and upgrading of the classrooms to
support HD format projections to the screens. The total estimated cost of the equipment
and project is around $550,000. Funds are coming from various sources including PBA
funds allocated for this purpose.
All projectors, screens, amplifiers, DVD players, switchers, etc. will be replaced in all of
the existing 63 classrooms. All equipment removed that is still functioning will be used
for repair and replacement in other buildings with similar equipment. Equipment that is
not useable will be sent to surplus.
RECOMMENDATION
Due to the need for replacement of the aging and failing equipment in the LA Building
classrooms, UVU administration recommends that the Board of Trustees approve the
purchase of equipment for the repair and replacement of classroom media technology
equipment in that building at a cost of $550,000.