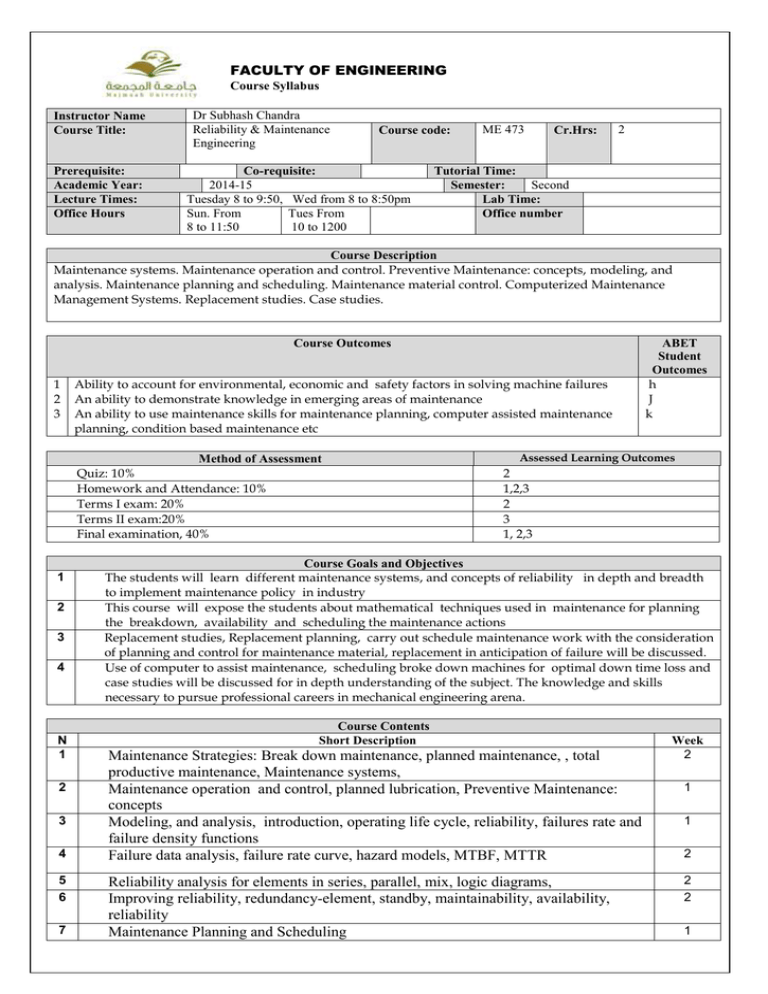 FACULTY OF ENGINEERING
Course Syllabus
Instructor Name
Course Title:
Prerequisite:
Academic Year:
Lecture Times:
Office Hours
Dr Subhash Chandra
Reliability & Maintenance
Engineering
Course code:
Co-requisite:
2014-15
Tuesday 8 to 9:50, Wed from 8 to 8:50pm
Sun. From
Tues From
8 to 11:50
10 to 1200
ME 473
Cr.Hrs:
2
Tutorial Time:
Second
Semester:
Lab Time:
Office number
Course Description
Maintenance systems. Maintenance operation and control. Preventive Maintenance: concepts, modeling, and
analysis. Maintenance planning and scheduling. Maintenance material control. Computerized Maintenance
Management Systems. Replacement studies. Case studies.
Course Outcomes
1
2
3
Ability to account for environmental, economic and safety factors in solving machine failures
An ability to demonstrate knowledge in emerging areas of maintenance
An ability to use maintenance skills for maintenance planning, computer assisted maintenance
planning, condition based maintenance etc
Method of Assessment
Quiz: 10%
Homework and Attendance: 10%
Terms I exam: 20%
Terms II exam:20%
Final examination, 40%
1
2
3
4
N
1
2
3
4
5
6
7
ABET
Student
Outcomes
h
J
k
Assessed Learning Outcomes
2
1,2,3
2
3
1, 2,3
Course Goals and Objectives
The students will learn different maintenance systems, and concepts of reliability in depth and breadth
to implement maintenance policy in industry
This course will expose the students about mathematical techniques used in maintenance for planning
the breakdown, availability and scheduling the maintenance actions
Replacement studies, Replacement planning, carry out schedule maintenance work with the consideration
of planning and control for maintenance material, replacement in anticipation of failure will be discussed.
Use of computer to assist maintenance, scheduling broke down machines for optimal down time loss and
case studies will be discussed for in depth understanding of the subject. The knowledge and skills
necessary to pursue professional careers in mechanical engineering arena.
Course Contents
Short Description
Maintenance Strategies: Break down maintenance, planned maintenance, , total
productive maintenance, Maintenance systems,
Maintenance operation and control, planned lubrication, Preventive Maintenance:
concepts
Modeling, and analysis, introduction, operating life cycle, reliability, failures rate and
failure density functions
Failure data analysis, failure rate curve, hazard models, MTBF, MTTR
Reliability analysis for elements in series, parallel, mix, logic diagrams,
Improving reliability, redundancy-element, standby, maintainability, availability,
reliability
Maintenance Planning and Scheduling
Week
2
1
1
2
2
2
1
8
9
10
Maintenance material control, Spare parts management, and inventory control
Replacement studies and replacement Analysis
Computer assisted maintenance Planning and case study
Textbook:
1
2
1
Books
T1: Chandra Subhash, Maintenance Engineering and Management, Katson Publication, reprint 2013
R1: Johan P Bentely, An introduction to reliability and quality, Engineering, Longman Scientific and
Technical
R2Planning & Control of Maintenance Systems, Modeling and Analysis, Duffuaa, S O, Raouf, A &
Campbell, J D, John Wiley & Sons, New York, 1999
R3: Terry Wirman World Class Maintenance Management, Industrial press, 1990.
R4: Alan Devies, Handbook of condition monitoring, Chapman & Hall
R5: Gopal Krishnam P, Maintenance and spare parts management, PHI, New Delhi, 1982.