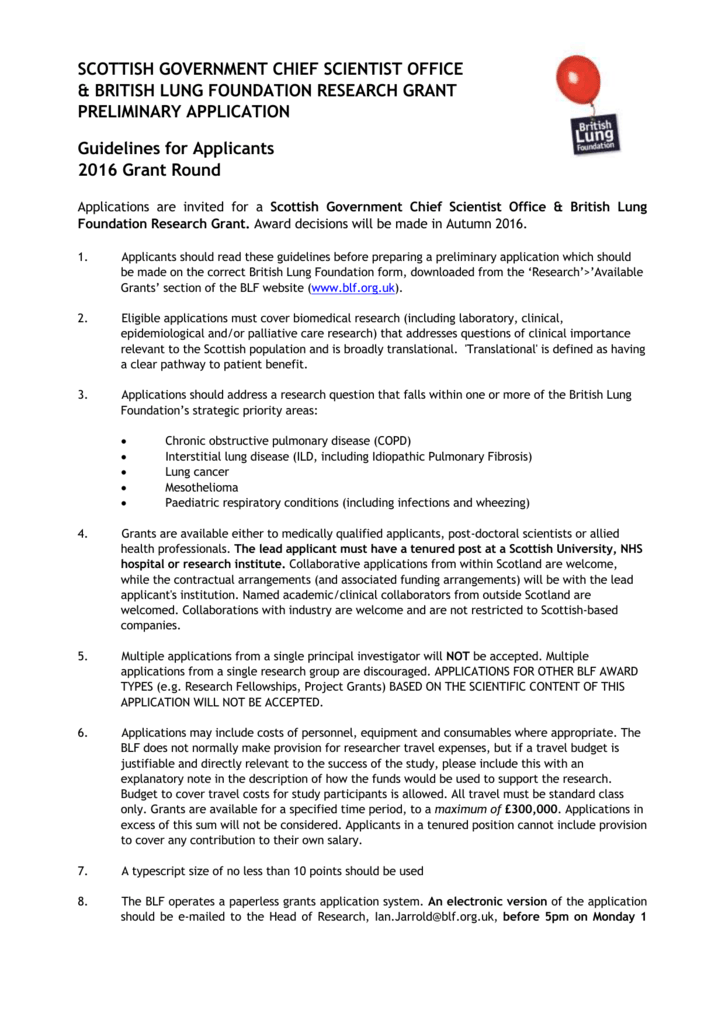 SCOTTISH GOVERNMENT CHIEF SCIENTIST OFFICE
& BRITISH LUNG FOUNDATION RESEARCH GRANT
PRELIMINARY APPLICATION
Guidelines for Applicants
2016 Grant Round
Applications are invited for a Scottish Government Chief Scientist Office & British Lung
Foundation Research Grant. Award decisions will be made in Autumn 2016.
1.
Applicants should read these guidelines before preparing a preliminary application which should
be made on the correct British Lung Foundation form, downloaded from the 'Research'>'Available
Grants' section of the BLF website (www.blf.org.uk).
2.
Eligible applications must cover biomedical research (including laboratory, clinical,
epidemiological and/or palliative care research) that addresses questions of clinical importance
relevant to the Scottish population and is broadly translational. 'Translational' is defined as having
a clear pathway to patient benefit.
3.
Applications should address a research question that falls within one or more of the British Lung
Foundation's strategic priority areas:





Chronic obstructive pulmonary disease (COPD)
Interstitial lung disease (ILD, including Idiopathic Pulmonary Fibrosis)
Lung cancer
Mesothelioma
Paediatric respiratory conditions (including infections and wheezing)
4.
Grants are available either to medically qualified applicants, post-doctoral scientists or allied
health professionals. The lead applicant must have a tenured post at a Scottish University, NHS
hospital or research institute. Collaborative applications from within Scotland are welcome,
while the contractual arrangements (and associated funding arrangements) will be with the lead
applicant's institution. Named academic/clinical collaborators from outside Scotland are
welcomed. Collaborations with industry are welcome and are not restricted to Scottish-based
companies.
5.
Multiple applications from a single principal investigator will NOT be accepted. Multiple
applications from a single research group are discouraged. APPLICATIONS FOR OTHER BLF AWARD
TYPES (e.g. Research Fellowships, Project Grants) BASED ON THE SCIENTIFIC CONTENT OF THIS
APPLICATION WILL NOT BE ACCEPTED.
6.
Applications may include costs of personnel, equipment and consumables where appropriate. The
BLF does not normally make provision for researcher travel expenses, but if a travel budget is
justifiable and directly relevant to the success of the study, please include this with an
explanatory note in the description of how the funds would be used to support the research.
Budget to cover travel costs for study participants is allowed. All travel must be standard class
only. Grants are available for a specified time period, to a maximum of £300,000. Applications in
excess of this sum will not be considered. Applicants in a tenured position cannot include provision
to cover any contribution to their own salary.
7.
A typescript size of no less than 10 points should be used
8.
The BLF operates a paperless grants application system. An electronic version of the application
should be e-mailed to the Head of Research, [email protected], before 5pm on Monday 1
February 2016 in the form of a single Microsoft Word or Adobe pdf document. Please note that
it is very important that you send the application as a SINGLE ELECTRONIC FILE. All details should
be included in a single file and no further attachments should be sent. In order to meet BLF email
file size requirements, electronic application file size should be under 3MB where possible.
9.
Late or incomplete application forms will not be accepted. Similarly, applications containing
more than the requested information will not be accepted.
10.
Preliminary applicants will be informed whether they have been short-listed and invited to submit
a full application or not by mid-March 2016. Applicants will be given approximately 6 weeks to
complete and submit a full application form. Award decisions will be made in Autumn 2016.