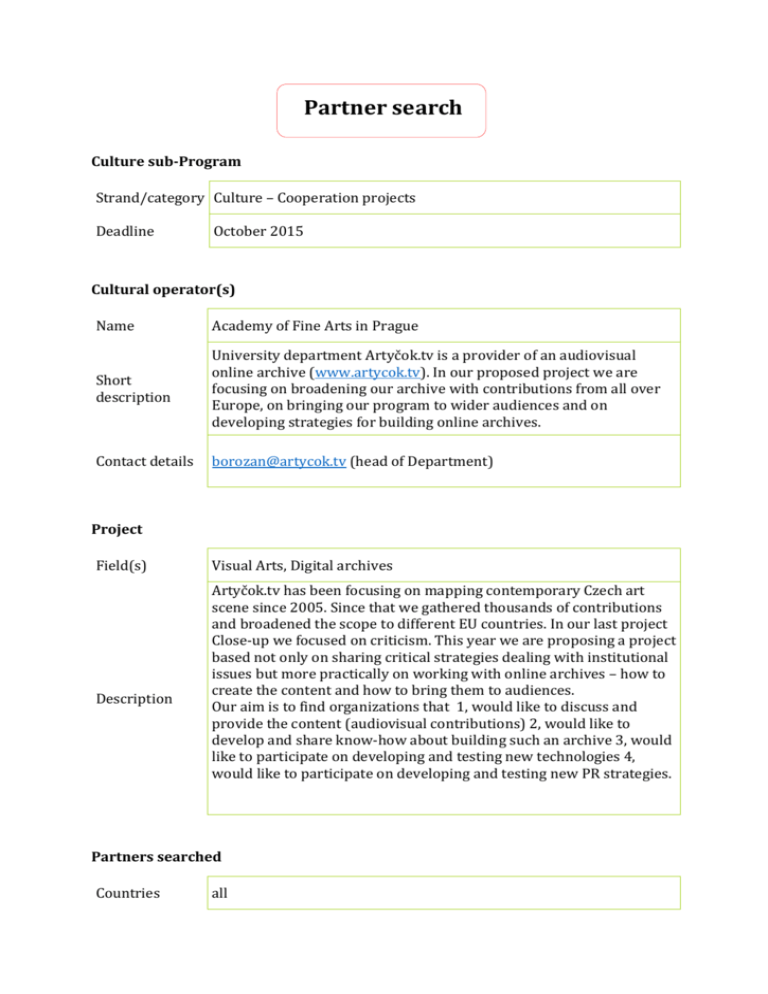 Partner search
Culture sub-Program
Strand/category Culture – Cooperation projects
Deadline
October 2015
Cultural operator(s)
Name
Academy of Fine Arts in Prague
Short
description
University department Artyčok.tv is a provider of an audiovisual
online archive (www.artycok.tv). In our proposed project we are
focusing on broadening our archive with contributions from all over
Europe, on bringing our program to wider audiences and on
developing strategies for building online archives.
Contact details
borozan@artycok.tv (head of Department)
Project
Field(s)
Description
Visual Arts, Digital archives
Artyčok.tv has been focusing on mapping contemporary Czech art
scene since 2005. Since that we gathered thousands of contributions
and broadened the scope to different EU countries. In our last project
Close-up we focused on criticism. This year we are proposing a project
based not only on sharing critical strategies dealing with institutional
issues but more practically on working with online archives – how to
create the content and how to bring them to audiences.
Our aim is to find organizations that 1, would like to discuss and
provide the content (audiovisual contributions) 2, would like to
develop and share know-how about building such an archive 3, would
like to participate on developing and testing new technologies 4,
would like to participate on developing and testing new PR strategies.
Partners searched
Countries
all
Profile
Museum, Cultural Centre, University, etc. involved in contemporary
visual art
Other
…
Our department has an experience in EU Culture Programme 20072013 (received the grant for 2010-2012 and again for 2013-2015).
We are a stable, ten years working team of university scholars and
artists. We are not only looking for a partner but also would like to be
a partner for an organization who is working on similar topics (online
archives of contemporary art, audience development for these
archives, new technologies for online archives, audiovisual mapping
of contemporary local art scenes etc.).