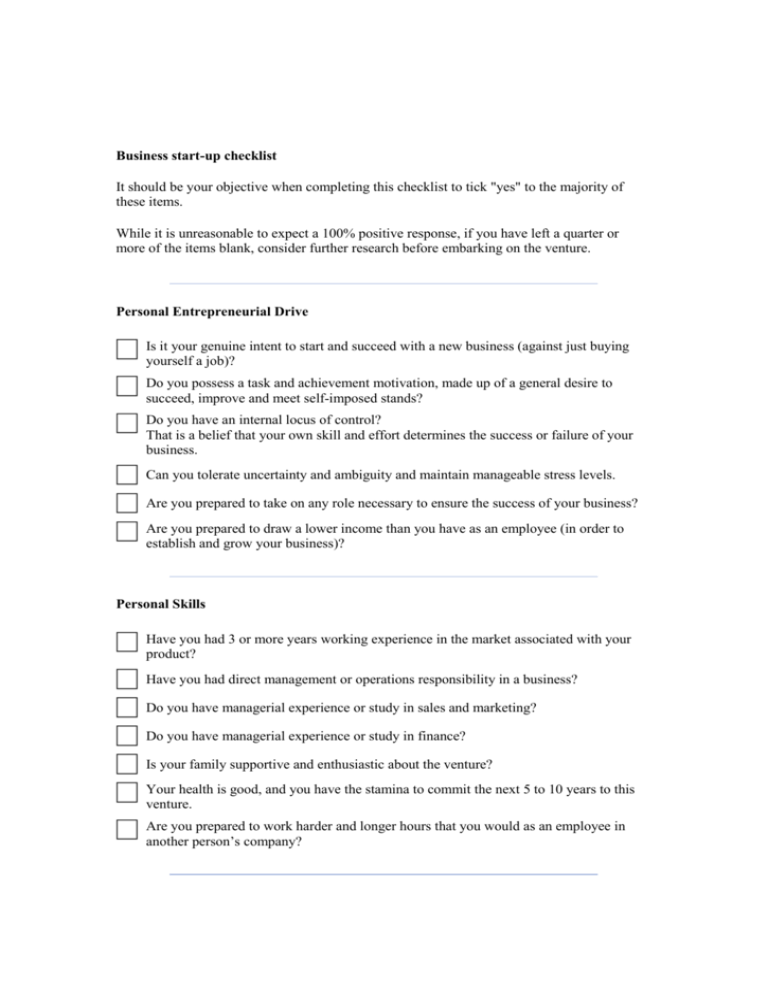 Business start-up checklist
It should be your objective when completing this checklist to tick "yes" to the majority of
these items.
While it is unreasonable to expect a 100% positive response, if you have left a quarter or
more of the items blank, consider further research before embarking on the venture.
Personal Entrepreneurial Drive
Is it your genuine intent to start and succeed with a new business (against just buying
yourself a job)?
Do you possess a task and achievement motivation, made up of a general desire to
succeed, improve and meet self-imposed stands?
Do you have an internal locus of control?
That is a belief that your own skill and effort determines the success or failure of your
business.
Can you tolerate uncertainty and ambiguity and maintain manageable stress levels.
Are you prepared to take on any role necessary to ensure the success of your business?
Are you prepared to draw a lower income than you have as an employee (in order to
establish and grow your business)?
Personal Skills
Have you had 3 or more years working experience in the market associated with your
product?
Have you had direct management or operations responsibility in a business?
Do you have managerial experience or study in sales and marketing?
Do you have managerial experience or study in finance?
Is your family supportive and enthusiastic about the venture?
Your health is good, and you have the stamina to commit the next 5 to 10 years to this
venture.
Are you prepared to work harder and longer hours that you would as an employee in
another person's company?
Operational
Have you spoken to 10 or more people knowledgeable about matters relating to this
business?
Have you calculated required net profit for reasonable business viability?
Have you calculated gross sales income required to achieve this level of profitability?
Have you planned a system of financial record keeping?
Have you completed market research?
Have you calculated your start-up capital requirements?
Would you provide security, for example your home, for borrowed finance?
Have you secured alternative funds if needed?
Have you acquainted your solicitor, bank manager and accountant with your plans?
Are you aware of any legislation or legal factors that apply to your product and have you
prepared to comply with them?
Do you know how much materials/stock you require for operation?
Do you know the commercial terms and trading conditions within the industry and
market for your product: credit terms, discounts, deliveries?
If your business grows rapidly, have you considered how to finance expansion and
obtain more support staff?
Do you have more than one critical customer or salesperson for your product?
Are you certain of the sources of supply for your product?
Have you arranged the appropriate insurances for you and your business (include
professional indemnity or 3rd party liability insurance)?
Marketing Checklist
Have you defined the customer base for your product and the size of the potential
market?
Have you clearly identified your market and the competitors you will be facing?
Is your product actually ready for release to the market?
Have you examined the profiles of other or similar industries or markets to compare
your ideas?
Do you know the methods of promotion and advertising required for your product and
the costs involved?
Are there customers ready to buy your product as soon as it is released?
Is a pricing strategy decided for your product: competitive pricing policy or penetration
pricing policy?
If need be, have you investigated the various marketing distribution methods: direct
sales, franchising, wholesaling, etc?
Have you planned for customer support or after sales service for your product?
Financial Checklist
Are you able to meet all the financial needs of the enterprise from your own resources?
Do you know the difference between cash flow and profit?
Are you borrowing no more than 40-60% of start-up capital? (The larger the capital
amount the lower the percentage should be).
Do you understand the taxation issues affecting your business?
Have you completed projections for the first 3-5 years?
Do you know approximately what your break even sales figure?
Are you aware that a bank will normally require a Director's Guarantee and/or other
forms of security if they lend money to your business?
Have you determined how soon you require the business to support you and make a
return on the investment that has been made?
If necessary, can you support yourself/family for up to 12-months without drawing on
the business?
Do you understand the terms and importance of: cost-of-money, cash flow, liability,
contingency, creditor/debtor, sales tax, consumer protection, limited liability company,
consignment, workers liability, lessor/lessee, overheads, mark-up, gross margin, cost-ofgoods and profit?