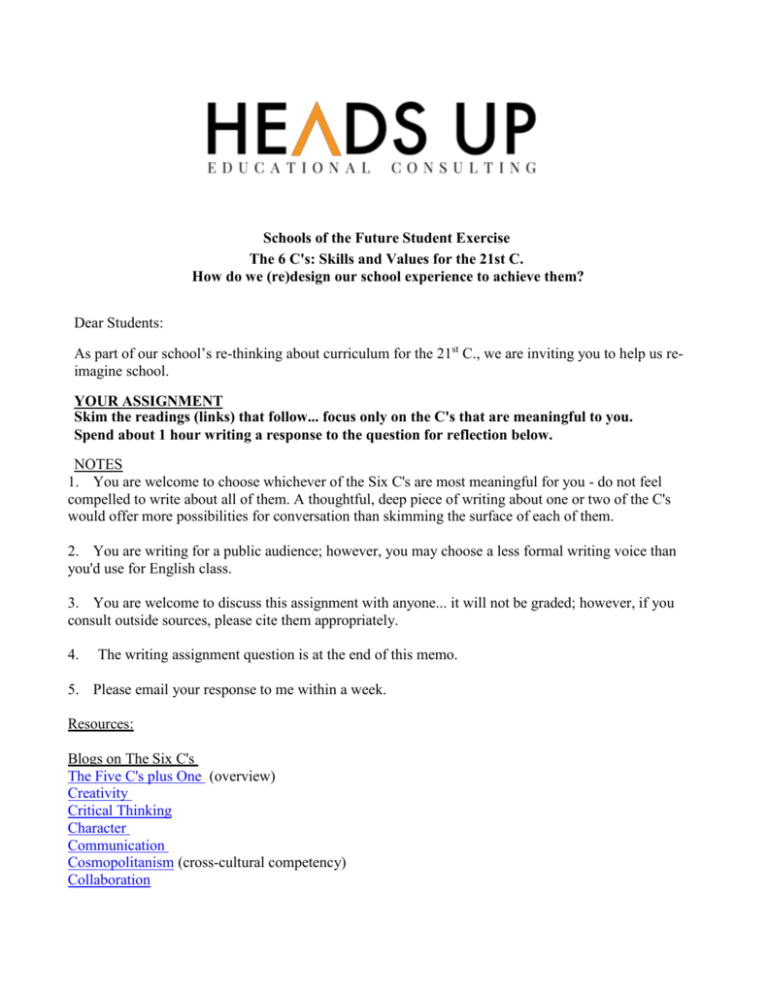 Schools of the Future Student Exercise
The 6 C's: Skills and Values for the 21st C.
How do we (re)design our school experience to achieve them?
Dear Students:
As part of our school's re-thinking about curriculum for the 21st C., we are inviting you to help us reimagine school.
YOUR ASSIGNMENT
Skim the readings (links) that follow... focus only on the C's that are meaningful to you.
Spend about 1 hour writing a response to the question for reflection below.
NOTES
1. You are welcome to choose whichever of the Six C's are most meaningful for you - do not feel
compelled to write about all of them. A thoughtful, deep piece of writing about one or two of the C's
would offer more possibilities for conversation than skimming the surface of each of them.
2. You are writing for a public audience; however, you may choose a less formal writing voice than
you'd use for English class.
3. You are welcome to discuss this assignment with anyone... it will not be graded; however, if you
consult outside sources, please cite them appropriately.
4.
The writing assignment question is at the end of this memo.
5. Please email your response to me within a week.
Resources:
Blogs on The Six C's
The Five C's plus One (overview)
Creativity
Critical Thinking
Character
Communication
Cosmopolitanism (cross-cultural competency)
Collaboration
A New Definition of Rigor: The Six C's
Andrew W. Niblock, Director of Lower School, Hamden Hall Country Day School
In the twentieth century, rigor in school was typically defined by the sheer volume of content that a
student needed to master. Academic success was most often measured using traditional paper-and
pencil exams, many of which were quickly and inexpensively scored by machines.
In the twenty-first century, school leaders imagine a revised definition of rigor; one that is not
defined exclusively by workload and is not easily measured using traditional assessments. The new
rigor is a response to dramatic changes made possible by technology, in how people live, work and
learn.
Historically, a central purpose of schooling was to impart the Three R's: Reading, Writing and
'Rithmetic. This was an information-accumulation education; all other skills learned in school were
considered to be secondary. However, Pat Bassett, President of NAIS (the National Association of
Independent Schools) suggests that a new century requires a new definition of purpose; one that
recognizes the "Six C's": Creativity, Character, Critical Thinking, Communication, Cosmopolitanism,
and Collaboration.
What does rigor look like in an independent school that is informed by the "Six C's?"
Source: http://caisct.wordpress.com/2012/09/04/a-new-definition-of-rigor-the-six-cs/
QUESTION FOR REFLECTION
How would you (re)imagine teaching and learning at our school so that the six skills listed above
(known as the Six C's) would become essential learning outcomes for all students?