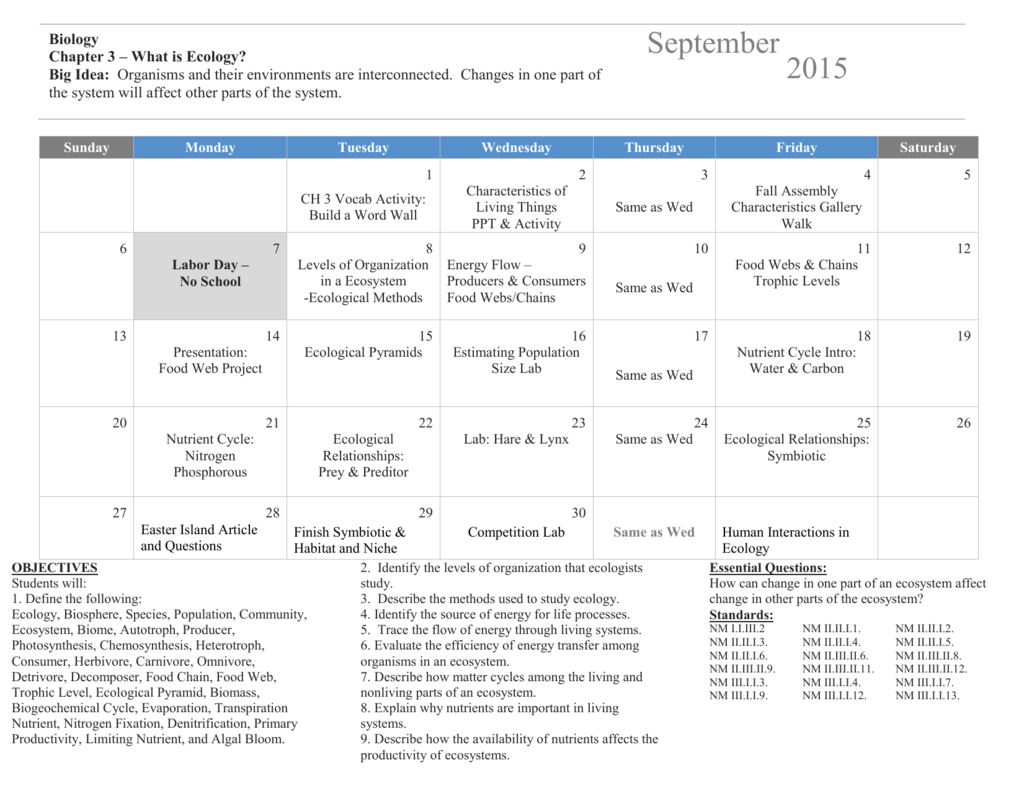 Biology
Chapter 3 – What is Ecology?
Big Idea: Organisms and their environments are interconnected. Changes in one part of
the system will affect other parts of the system.
Sunday
Monday
Tuesday
Wednesday
1
CH 3 Vocab Activity:
Build a Word Wall
6
7
Labor Day –
No School
13
14
Presentation:
Food Web Project
20
21
Nutrient Cycle:
Nitrogen
Phosphorous
27
Thursday
22
Ecological
Relationships:
Prey & Preditor
4
5
10
11
Food Webs & Chains
Trophic Levels
12
17
18
19
25
Ecological Relationships:
Symbiotic
26
Fall Assembly
Characteristics Gallery
Walk
Same as Wed
Nutrient Cycle Intro:
Water & Carbon
Same as Wed
23
Lab: Hare & Lynx
Saturday
3
Same as Wed
16
Estimating Population
Size Lab
2015
Friday
2
Characteristics of
Living Things
PPT & Activity
8
9
Levels of Organization Energy Flow –
in a Ecosystem
Producers & Consumers
-Ecological Methods
Food Webs/Chains
15
Ecological Pyramids
September
24
Same as Wed
28
29
30
Competition Lab
Finish Symbiotic &
Same as Wed
Habitat and Niche
2. Identify the levels of organization that ecologists
OBJECTIVES
Students will:
study.
1. Define the following:
3. Describe the methods used to study ecology.
Ecology, Biosphere, Species, Population, Community,
4. Identify the source of energy for life processes.
Ecosystem, Biome, Autotroph, Producer,
5. Trace the flow of energy through living systems.
Photosynthesis, Chemosynthesis, Heterotroph,
6. Evaluate the efficiency of energy transfer among
Consumer, Herbivore, Carnivore, Omnivore,
organisms in an ecosystem.
Detrivore, Decomposer, Food Chain, Food Web,
7. Describe how matter cycles among the living and
Trophic Level, Ecological Pyramid, Biomass,
nonliving parts of an ecosystem.
Biogeochemical Cycle, Evaporation, Transpiration
8. Explain why nutrients are important in living
Nutrient, Nitrogen Fixation, Denitrification, Primary
systems.
Productivity, Limiting Nutrient, and Algal Bloom.
9. Describe how the availability of nutrients affects the
productivity of ecosystems.
Easter Island Article
and Questions
Human Interactions in
Ecology
Essential Questions:
How can change in one part of an ecosystem affect
change in other parts of the ecosystem?
Standards:
NM I.I.III.2
NM II.II.I.3.
NM II.II.I.6.
NM II.III.II.9.
NM III.I.I.3.
NM III.I.I.9.
NM II.II.I.1.
NM II.II.I.4.
NM II.III.II.6.
NM II.III.II.11.
NM III.I.I.4.
NM III.I.I.12.
NM II.II.I.2.
NM II.II.I.5.
NM II.III.II.8.
NM II.III.II.12.
NM III.I.I.7.
NM III.I.I.13.