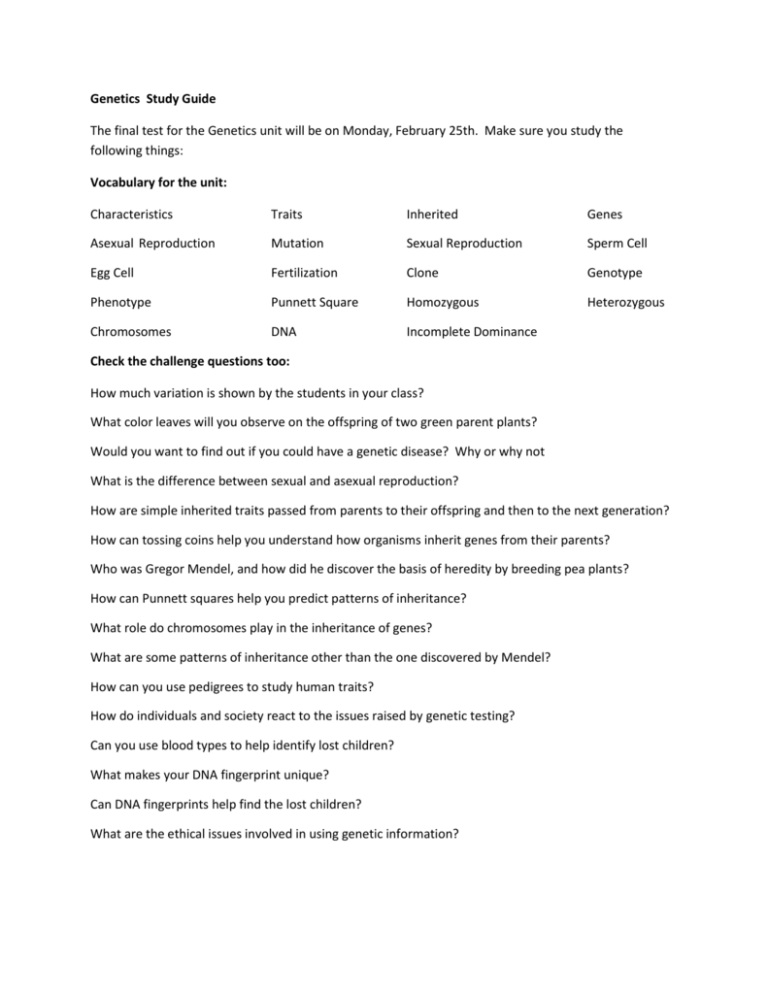 Genetics Study Guide
The final test for the Genetics unit will be on Monday, February 25th. Make sure you study the
following things:
Vocabulary for the unit:
Characteristics
Traits
Inherited
Genes
Asexual Reproduction
Mutation
Sexual Reproduction
Sperm Cell
Egg Cell
Fertilization
Clone
Genotype
Phenotype
Punnett Square
Homozygous
Heterozygous
Chromosomes
DNA
Incomplete Dominance
Check the challenge questions too:
How much variation is shown by the students in your class?
What color leaves will you observe on the offspring of two green parent plants?
Would you want to find out if you could have a genetic disease? Why or why not
What is the difference between sexual and asexual reproduction?
How are simple inherited traits passed from parents to their offspring and then to the next generation?
How can tossing coins help you understand how organisms inherit genes from their parents?
Who was Gregor Mendel, and how did he discover the basis of heredity by breeding pea plants?
How can Punnett squares help you predict patterns of inheritance?
What role do chromosomes play in the inheritance of genes?
What are some patterns of inheritance other than the one discovered by Mendel?
How can you use pedigrees to study human traits?
How do individuals and society react to the issues raised by genetic testing?
Can you use blood types to help identify lost children?
What makes your DNA fingerprint unique?
Can DNA fingerprints help find the lost children?
What are the ethical issues involved in using genetic information?