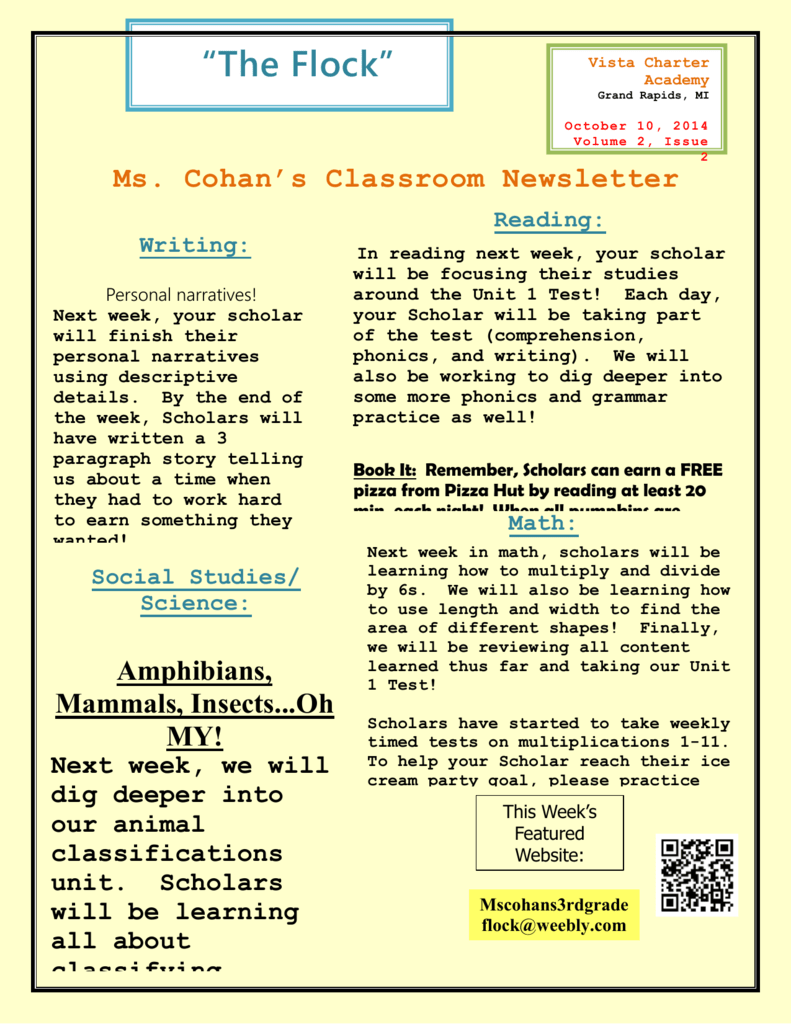 "The Flock"
Vista Charter
Academy
Grand Rapids, MI
Octo ber 10 , 2 01 4
Volu me 2, Iss ue
2
Ms. Cohan's Classroom Newsletter
Reading:
Writing:
Personal narratives!
Next week, your scholar
will finish their
personal narratives
using descriptive
details. By the end of
the week, Scholars will
have written a 3
paragraph story telling
us about a time when
they had to work hard
to earn something they
wanted!
Social Studies/
Science:
Amphibians,
Mammals, Insects...Oh
MY!
Next week, we will
dig deeper into
our animal
classifications
unit. Scholars
will be learning
all about
classifying
certain animals
In reading next week, your scholar
will be focusing their studies
around the Unit 1 Test! Each day,
your Scholar will be taking part
of the test (comprehension,
phonics, and writing). We will
also be working to dig deeper into
some more phonics and grammar
practice as well!
Book It: Remember, Scholars can earn a FREE
pizza from Pizza Hut by reading at least 20
min. each night! When all pumpkins are
Math:
colored in, I will hand
them their coupon!
Next week in math, scholars will be
learning how to multiply and divide
by 6s. We will also be learning how
to use length and width to find the
area of different shapes! Finally,
we will be reviewing all content
learned thus far and taking our Unit
1 Test!
Scholars have started to take weekly
timed tests on multiplications 1-11.
To help your Scholar reach their ice
cream party goal, please practice
quick facts with them. Dollar Tree
This Week's
has a ton of these
flash cards for
Featured
$1!!
Website:
Mscohans3rdgrade
[email protected]
Ms. Cohan's Classroom Newsletter Page 2
After School Tutoring
Every other Friday, I will be
holding After School Tutoring for
any/ every Scholar to attend. This
is NOT mandatory; however, if you
feel that your child could use a
little more one on one time
learning/ review content, this is
the perfect opportunity! Sessions
will be held from 4:00pm-5:00pm.
You would need to pick your child
up from school no later than
5:00pm! IF you are interested,
please contact me at:
[email protected]

Important Dates:
Friday Tutor Dates:
8/24
9/7
9/21
** Scholars are participating in Book It
again! For every 20 min. read, your child
may color in 1 pumpkin on his/her sheet.
Once they reach 20 pumpkins, they will
receive a coupon for free pizza at Pizza
Hut! They received these on Thursday! :)
I-Ready:
www.Login.i-ready.com
Your Scholar can access IReady at home! Their
username and passwords are
written in their agendas!
Reminders to Parents
1. Please make sure you're signing
your Scholar's reading log each
night! They should be ready a
minimum of 15min. a night! For
every 15 min., your Scholars should
be recording 1 step on their log! Your
children know it is their
responsibility to complete the
reading. Please help to encourage
this as reading each night boosts
literacy scores and everyday
language!
Thank You Students!
Special thanks are due the following
students:
Kelvin- for working so hard this week! I can
really tell that you have been following our
social contract by putting 100% effort in!
Patrick- for moving his colors up this week!
Yay!
Jacquelin- for working hard during math
rotations! You are a great role model for others
in class!