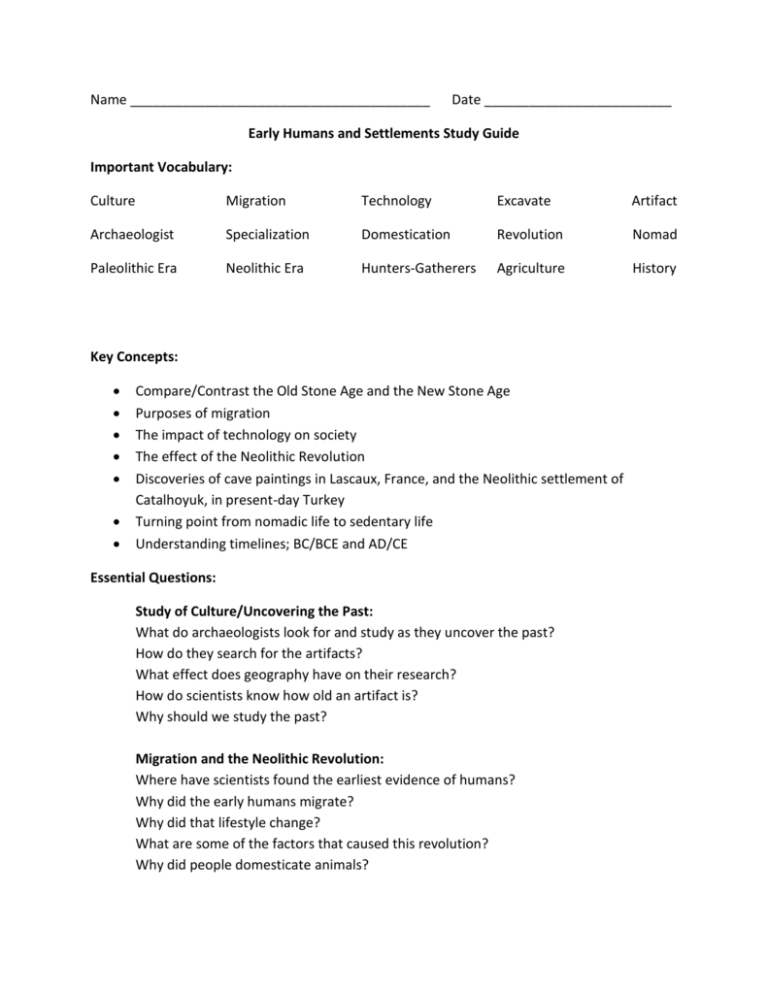 Name ________________________________________
Date _________________________
Early Humans and Settlements Study Guide
Important Vocabulary:
Culture
Migration
Technology
Excavate
Artifact
Archaeologist
Specialization
Domestication
Revolution
Nomad
Paleolithic Era
Neolithic Era
Hunters-Gatherers
Agriculture
History
Key Concepts:







Compare/Contrast the Old Stone Age and the New Stone Age
Purposes of migration
The impact of technology on society
The effect of the Neolithic Revolution
Discoveries of cave paintings in Lascaux, France, and the Neolithic settlement of
Catalhoyuk, in present-day Turkey
Turning point from nomadic life to sedentary life
Understanding timelines; BC/BCE and AD/CE
Essential Questions:
Study of Culture/Uncovering the Past:
What do archaeologists look for and study as they uncover the past?
How do they search for the artifacts?
What effect does geography have on their research?
How do scientists know how old an artifact is?
Why should we study the past?
Migration and the Neolithic Revolution:
Where have scientists found the earliest evidence of humans?
Why did the early humans migrate?
Why did that lifestyle change?
What are some of the factors that caused this revolution?
Why did people domesticate animals?
Technology and its Impact on Human Lives:
How did technology advance from the Old Stone Age to the New Stone Age?
How can we tell if an object was made during the Paleolithic Era or the Neolithic Era?
In what ways does technology help improve human lives?
How did technology impact job specialization?
Why did job specialization lead to social classes?
How do I study?




Refer to your notes and handouts
Log-on to Mr. Quartararo's Website (manhassetschools.org) and click on Social Studies
Notes 2015-2016.
Log-on to your Discovery Education Accounts: www.discoveryeducation.com and review
any of the readings, video segments, and images from Chapters 1 (Human Origins) and 2
(Agriculture and Settlement)
*(unsername is firstname_lastname@mufsdlive.org; password is Manhasset)
Review a little each night instead of waiting for the last minute!
ASK QUESTIONS TO YOUR TEACHER!!!!!!