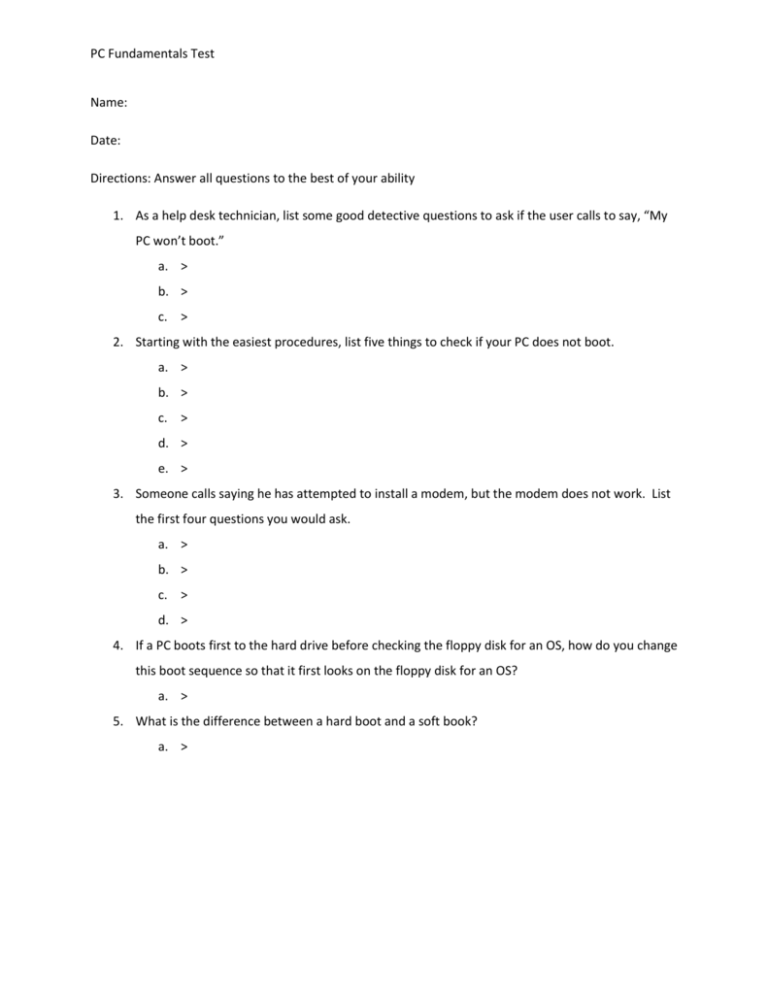 PC Fundamentals Test
Name:
Date:
Directions: Answer all questions to the best of your ability
1. As a help desk technician, list some good detective questions to ask if the user calls to say, "My
PC won't boot."
a. >
b. >
c. >
2. Starting with the easiest procedures, list five things to check if your PC does not boot.
a. >
b. >
c. >
d. >
e. >
3. Someone calls saying he has attempted to install a modem, but the modem does not work. List
the first four questions you would ask.
a. >
b. >
c. >
d. >
4. If a PC boots first to the hard drive before checking the floppy disk for an OS, how do you change
this boot sequence so that it first looks on the floppy disk for an OS?
a. >
5. What is the difference between a hard boot and a soft book?
a. >
PC Fundamentals Test
6. List at least seven tools that are used by a PC technician
a. >
b. >
c. >
d. >
e. >
f.
>
g. >
7. To protect against ESD, a support tech can use a ground bracelet, or:
a. >
b. >
c. >
8. Give me four good reasons why it is good to keep good backups of data and system files?
a. >
b. >
c. >
d. >
9. To protect a system against attack it is good to use a ?
a. >
10. In a paragraph format, tell me what a PC preventative maintenance plan includes, why it is
important, who is responsible and what your plan may include?
Please print your TEST when complete.