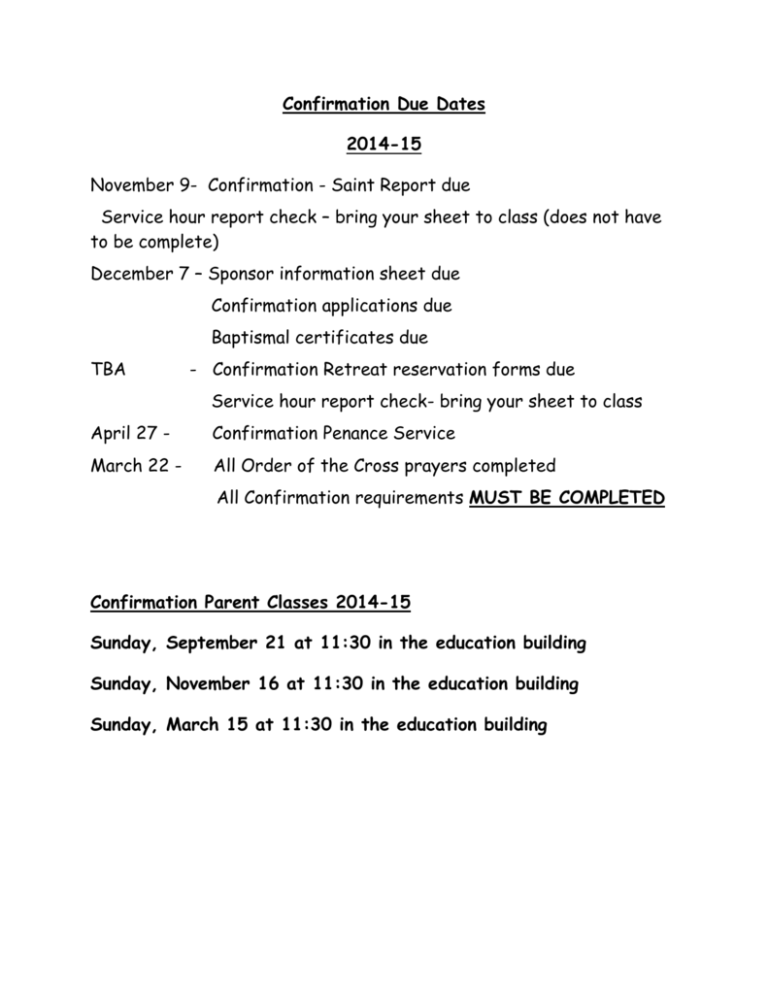 Confirmation Due Dates
2014-15
November 9- Confirmation - Saint Report due
Service hour report check – bring your sheet to class (does not have
to be complete)
December 7 – Sponsor information sheet due
Confirmation applications due
Baptismal certificates due
TBA
- Confirmation Retreat reservation forms due
Service hour report check- bring your sheet to class
April 27 -
Confirmation Penance Service
March 22 -
All Order of the Cross prayers completed
All Confirmation requirements MUST BE COMPLETED
Confirmation Parent Classes 2014-15
Sunday, September 21 at 11:30 in the education building
Sunday, November 16 at 11:30 in the education building
Sunday, March 15 at 11:30 in the education building
Order of the Cross Schedule-2014-15
September 21
Kindergarten and First Grade completed
October 19
Second Grade completed
November 2
Third Grade completed
December 1
Fourth Grade completed
January 4
Fifth Grade completed
January 26
Sixth Grade completed
February 9
Seventh Grade completed
March 2
Eighth Grade completed
March 23
Ninth Grade completed
March 23
Entire Order of the Cross completed
Service Opportunity Dates
September 14 -
Parish Picnic
October 5 -
Class Project: Set up for Holiday Bazaar
Following 10:30 Mass – Pizza lunch
October 11 -
Holiday Bazaar – contact Maria Reedy
October
Trunk or Treat ?
November 1-
Knights of Columbus Pancake Breakfast
November 22 -
Salvation Army Bell Ringing- Walmart (see more dates)
November
Chimes for Charity Shopping Tour- Walmart
December 12 -
Our Lady of Guadalupe celebration ?
December 13 -
Salvation Army children's party
Immaculate Conception gym – 1:00
December
Sorting for Chimes baskets
December
Packing of Chimes baskets
December
Delivering of Chimes baskets
December 24 -
Youth Christmas program – before 6pm Mass ?
Youth Band or Choir ?
March 11 -
Youth Stations of the Cross
Salvation Army Bell Ringing Dates
Fridays -
Saturdays
November 22
November 28
December 5
December 13
November 29
December 6
December 13
December 20
Fridays only if there are enough volunteers
Contact Nina Pierce
Service Hour Opportunities
Trunk or Treat
Knights of Columbus Pancake Breakfast
Chimes for Charity Shopping Tour – Walmart
Salvation Army Bell Ringer
Knights of Columbus Tootsie Roll Drive
Sort Chimes for Charity baskets
Pack Chimes for Charity baskets
Deliver Chimes for Charity baskets
Helping Hands- baskets
Spring cleanup on church grounds
Easter cleaning of Church
Fall Bazaar
Vacation Bible School
Salvation Army Christmas party for children
Help with Youth Christmas program
Participate in Christmas youth band (if available)
Visit nursing homes
Special Olympics
Help homebound with chores or just visit and talk with them
Serve as an altar server
All service hours MUST be supervised by a parent.