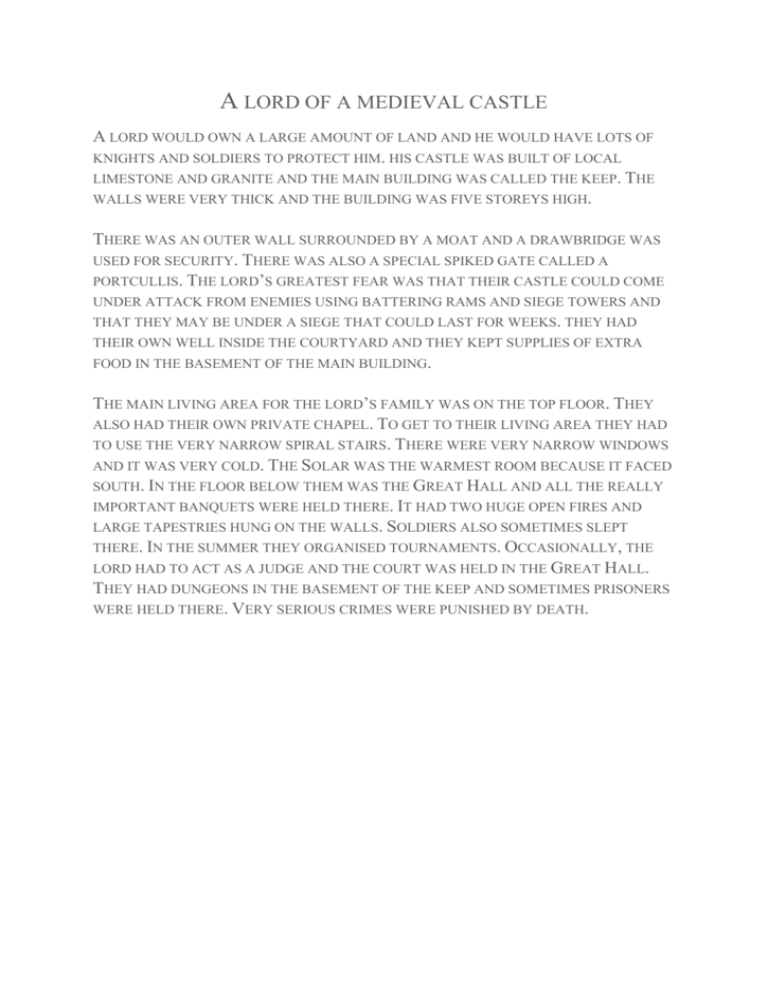 A LORD OF A MEDIEVAL CASTLE
A LORD WOULD OWN A LARGE AMOUNT OF LAND AND HE WOULD HAVE LOTS OF
KNIGHTS AND SOLDIERS TO PROTECT HIM. HIS CASTLE WAS BUILT OF LOCAL
LIMESTONE AND GRANITE AND THE MAIN BUILDING WAS CALLED THE KEEP. THE
WALLS WERE VERY THICK AND THE BUILDING WAS FIVE STOREYS HIGH.
THERE WAS AN OUTER WALL SURROUNDED BY A MOAT AND A DRAWBRIDGE WAS
USED FOR SECURITY. THERE WAS ALSO A SPECIAL SPIKED GATE CALLED A
PORTCULLIS. THE LORD'S GREATEST FEAR WAS THAT THEIR CASTLE COULD COME
UNDER ATTACK FROM ENEMIES USING BATTERING RAMS AND SIEGE TOWERS AND
THAT THEY MAY BE UNDER A SIEGE THAT COULD LAST FOR WEEKS. THEY HAD
THEIR OWN WELL INSIDE THE COURTYARD AND THEY KEPT SUPPLIES OF EXTRA
FOOD IN THE BASEMENT OF THE MAIN BUILDING.
THE MAIN LIVING AREA FOR THE LORD'S FAMILY WAS ON THE TOP FLOOR. THEY
ALSO HAD THEIR OWN PRIVATE CHAPEL. TO GET TO THEIR LIVING AREA THEY HAD
TO USE THE VERY NARROW SPIRAL STAIRS. THERE WERE VERY NARROW WINDOWS
AND IT WAS VERY COLD. THE SOLAR WAS THE WARMEST ROOM BECAUSE IT FACED
SOUTH. IN THE FLOOR BELOW THEM WAS THE GREAT HALL AND ALL THE REALLY
IMPORTANT BANQUETS WERE HELD THERE. IT HAD TWO HUGE OPEN FIRES AND
LARGE TAPESTRIES HUNG ON THE WALLS. SOLDIERS ALSO SOMETIMES SLEPT
THERE. IN THE SUMMER THEY ORGANISED TOURNAMENTS. OCCASIONALLY, THE
LORD HAD TO ACT AS A JUDGE AND THE COURT WAS HELD IN THE GREAT HALL.
THEY HAD DUNGEONS IN THE BASEMENT OF THE KEEP AND SOMETIMES PRISONERS
WERE HELD THERE. VERY SERIOUS CRIMES WERE PUNISHED BY DEATH.