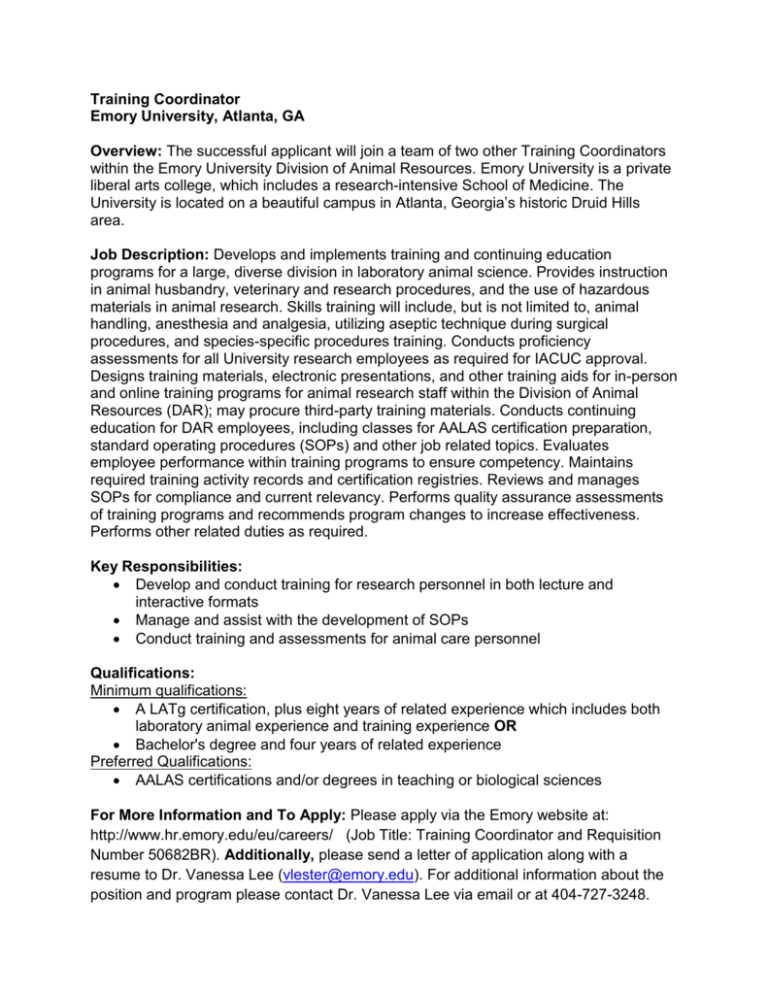 Training Coordinator
Emory University, Atlanta, GA
Overview: The successful applicant will join a team of two other Training Coordinators
within the Emory University Division of Animal Resources. Emory University is a private
liberal arts college, which includes a research-intensive School of Medicine. The
University is located on a beautiful campus in Atlanta, Georgia's historic Druid Hills
area.
Job Description: Develops and implements training and continuing education
programs for a large, diverse division in laboratory animal science. Provides instruction
in animal husbandry, veterinary and research procedures, and the use of hazardous
materials in animal research. Skills training will include, but is not limited to, animal
handling, anesthesia and analgesia, utilizing aseptic technique during surgical
procedures, and species-specific procedures training. Conducts proficiency
assessments for all University research employees as required for IACUC approval.
Designs training materials, electronic presentations, and other training aids for in-person
and online training programs for animal research staff within the Division of Animal
Resources (DAR); may procure third-party training materials. Conducts continuing
education for DAR employees, including classes for AALAS certification preparation,
standard operating procedures (SOPs) and other job related topics. Evaluates
employee performance within training programs to ensure competency. Maintains
required training activity records and certification registries. Reviews and manages
SOPs for compliance and current relevancy. Performs quality assurance assessments
of training programs and recommends program changes to increase effectiveness.
Performs other related duties as required.
Key Responsibilities:
 Develop and conduct training for research personnel in both lecture and
interactive formats
 Manage and assist with the development of SOPs
 Conduct training and assessments for animal care personnel
Qualifications:
Minimum qualifications:
 A LATg certification, plus eight years of related experience which includes both
laboratory animal experience and training experience OR
 Bachelor's degree and four years of related experience
Preferred Qualifications:
 AALAS certifications and/or degrees in teaching or biological sciences
For More Information and To Apply: Please apply via the Emory website at:
http://www.hr.emory.edu/eu/careers/ (Job Title: Training Coordinator and Requisition
Number 50682BR). Additionally, please send a letter of application along with a
resume to Dr. Vanessa Lee (vlester@emory.edu). For additional information about the
position and program please contact Dr. Vanessa Lee via email or at 404-727-3248.