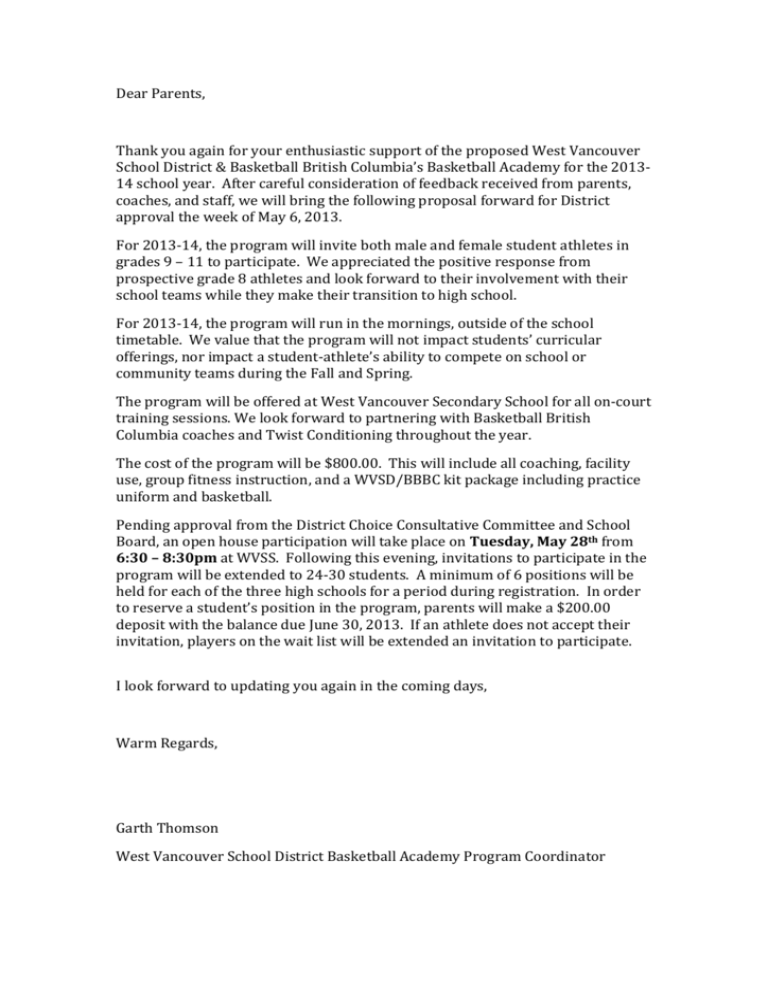 Dear Parents,
Thank you again for your enthusiastic support of the proposed West Vancouver
School District & Basketball British Columbia's Basketball Academy for the 201314 school year. After careful consideration of feedback received from parents,
coaches, and staff, we will bring the following proposal forward for District
approval the week of May 6, 2013.
For 2013-14, the program will invite both male and female student athletes in
grades 9 – 11 to participate. We appreciated the positive response from
prospective grade 8 athletes and look forward to their involvement with their
school teams while they make their transition to high school.
For 2013-14, the program will run in the mornings, outside of the school
timetable. We value that the program will not impact students' curricular
offerings, nor impact a student-athlete's ability to compete on school or
community teams during the Fall and Spring.
The program will be offered at West Vancouver Secondary School for all on-court
training sessions. We look forward to partnering with Basketball British
Columbia coaches and Twist Conditioning throughout the year.
The cost of the program will be $800.00. This will include all coaching, facility
use, group fitness instruction, and a WVSD/BBBC kit package including practice
uniform and basketball.
Pending approval from the District Choice Consultative Committee and School
Board, an open house participation will take place on Tuesday, May 28th from
6:30 – 8:30pm at WVSS. Following this evening, invitations to participate in the
program will be extended to 24-30 students. A minimum of 6 positions will be
held for each of the three high schools for a period during registration. In order
to reserve a student's position in the program, parents will make a $200.00
deposit with the balance due June 30, 2013. If an athlete does not accept their
invitation, players on the wait list will be extended an invitation to participate.
I look forward to updating you again in the coming days,
Warm Regards,
Garth Thomson
West Vancouver School District Basketball Academy Program Coordinator
Please view the draft course calendar here
For the website:
Students – athletes entering grades 9 – 11 will be considered for the program.
The Basketball Academy will remain a morning / weekend program for the
2013-14 school year.
Pending Choice Consultative Committee and School Board approval an openhouse participation will take place on Tuesday, May 28th from 6:30 – 8:30pm
All Student-athletes interesting in attending the May 28th evening need to
provide a copy of their term 2 report card and complete this survey.