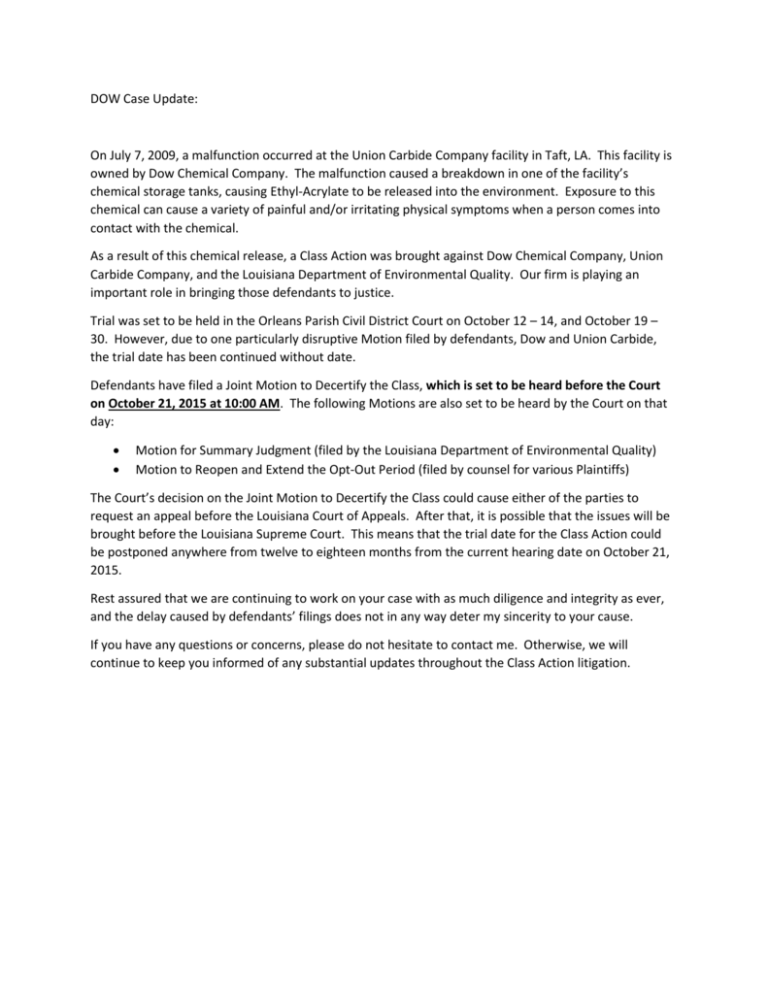 DOW Case Update:
On July 7, 2009, a malfunction occurred at the Union Carbide Company facility in Taft, LA. This facility is
owned by Dow Chemical Company. The malfunction caused a breakdown in one of the facility's
chemical storage tanks, causing Ethyl-Acrylate to be released into the environment. Exposure to this
chemical can cause a variety of painful and/or irritating physical symptoms when a person comes into
contact with the chemical.
As a result of this chemical release, a Class Action was brought against Dow Chemical Company, Union
Carbide Company, and the Louisiana Department of Environmental Quality. Our firm is playing an
important role in bringing those defendants to justice.
Trial was set to be held in the Orleans Parish Civil District Court on October 12 – 14, and October 19 –
30. However, due to one particularly disruptive Motion filed by defendants, Dow and Union Carbide,
the trial date has been continued without date.
Defendants have filed a Joint Motion to Decertify the Class, which is set to be heard before the Court
on October 21, 2015 at 10:00 AM. The following Motions are also set to be heard by the Court on that
day:


Motion for Summary Judgment (filed by the Louisiana Department of Environmental Quality)
Motion to Reopen and Extend the Opt-Out Period (filed by counsel for various Plaintiffs)
The Court's decision on the Joint Motion to Decertify the Class could cause either of the parties to
request an appeal before the Louisiana Court of Appeals. After that, it is possible that the issues will be
brought before the Louisiana Supreme Court. This means that the trial date for the Class Action could
be postponed anywhere from twelve to eighteen months from the current hearing date on October 21,
2015.
Rest assured that we are continuing to work on your case with as much diligence and integrity as ever,
and the delay caused by defendants' filings does not in any way deter my sincerity to your cause.
If you have any questions or concerns, please do not hesitate to contact me. Otherwise, we will
continue to keep you informed of any substantial updates throughout the Class Action litigation.