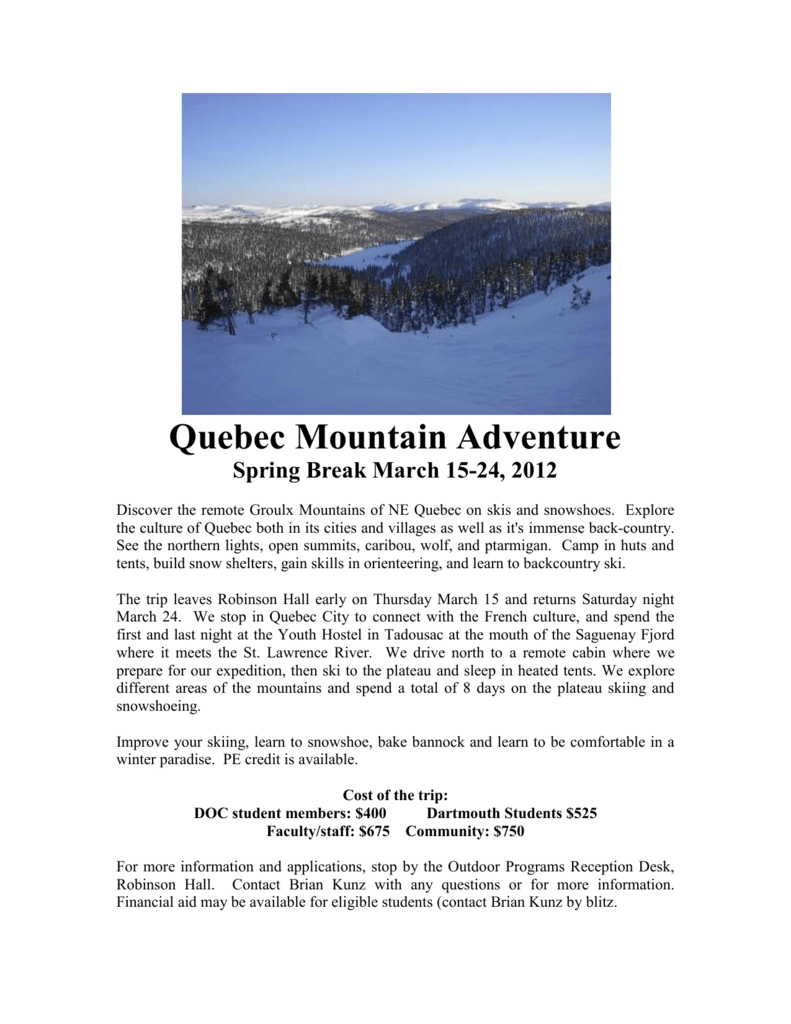 Quebec Mountain Adventure
Spring Break March 15-24, 2012
Discover the remote Groulx Mountains of NE Quebec on skis and snowshoes. Explore
the culture of Quebec both in its cities and villages as well as it's immense back-country.
See the northern lights, open summits, caribou, wolf, and ptarmigan. Camp in huts and
tents, build snow shelters, gain skills in orienteering, and learn to backcountry ski.
The trip leaves Robinson Hall early on Thursday March 15 and returns Saturday night
March 24. We stop in Quebec City to connect with the French culture, and spend the
first and last night at the Youth Hostel in Tadousac at the mouth of the Saguenay Fjord
where it meets the St. Lawrence River. We drive north to a remote cabin where we
prepare for our expedition, then ski to the plateau and sleep in heated tents. We explore
different areas of the mountains and spend a total of 8 days on the plateau skiing and
snowshoeing.
Improve your skiing, learn to snowshoe, bake bannock and learn to be comfortable in a
winter paradise. PE credit is available.
Cost of the trip:
DOC student members: $400
Dartmouth Students $525
Faculty/staff: $675 Community: $750
For more information and applications, stop by the Outdoor Programs Reception Desk,
Robinson Hall. Contact Brian Kunz with any questions or for more information.
Financial aid may be available for eligible students (contact Brian Kunz by blitz.