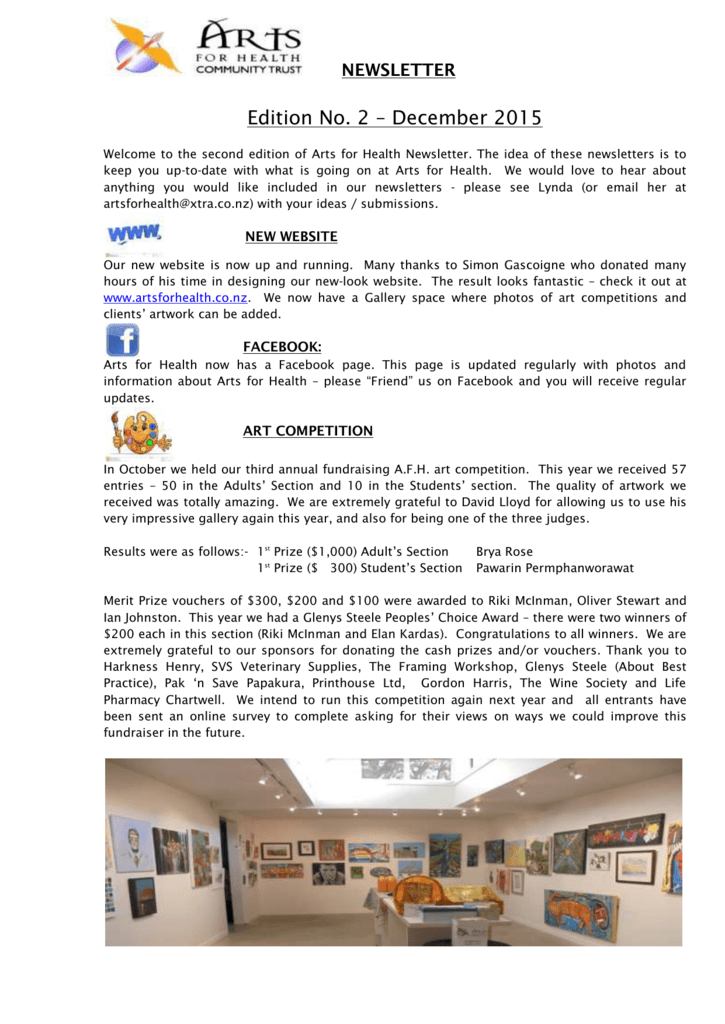 NEWSLETTER
Edition No. 2 – December 2015
Welcome to the second edition of Arts for Health Newsletter. The idea of these newsletters is to
keep you up-to-date with what is going on at Arts for Health. We would love to hear about
anything you would like included in our newsletters - please see Lynda (or email her at
[email protected]) with your ideas / submissions.
NEW WEBSITE
Our new website is now up and running. Many thanks to Simon Gascoigne who donated many
hours of his time in designing our new-look website. The result looks fantastic – check it out at
www.artsforhealth.co.nz. We now have a Gallery space where photos of art competitions and
clients' artwork can be added.
FACEBOOK:
Arts for Health now has a Facebook page. This page is updated regularly with photos and
information about Arts for Health – please "Friend" us on Facebook and you will receive regular
updates.
ART COMPETITION
In October we held our third annual fundraising A.F.H. art competition. This year we received 57
entries – 50 in the Adults' Section and 10 in the Students' section. The quality of artwork we
received was totally amazing. We are extremely grateful to David Lloyd for allowing us to use his
very impressive gallery again this year, and also for being one of the three judges.
Results were as follows:- 1st Prize ($1,000) Adult's Section
1st Prize ($ 300) Student's Section
Brya Rose
Pawarin Permphanworawat
Merit Prize vouchers of $300, $200 and $100 were awarded to Riki McInman, Oliver Stewart and
Ian Johnston. This year we had a Glenys Steele Peoples' Choice Award – there were two winners of
$200 each in this section (Riki McInman and Elan Kardas). Congratulations to all winners. We are
extremely grateful to our sponsors for donating the cash prizes and/or vouchers. Thank you to
Harkness Henry, SVS Veterinary Supplies, The Framing Workshop, Glenys Steele (About Best
Practice), Pak 'n Save Papakura, Printhouse Ltd, Gordon Harris, The Wine Society and Life
Pharmacy Chartwell. We intend to run this competition again next year and all entrants have
been sent an online survey to complete asking for their views on ways we could improve this
fundraiser in the future.
GARAGE SALE
On Saturday 10th October we held a Garage Sale in conjunction with an Open Day at Ward Park.
Although it was fairly quiet, we have still managed to raise about $450 and there are some items
still for sale in the end room. Many thanks to everyone who donated goods for our Garage Sale.
EVALUATION SURVEY
Over the next month all clients and other stakeholders will be contacted either by mail or phone
to complete a survey form and/or interview evaluating the services Arts for Health offers. The
mailed survey will include a stamp addressed envelope for you to return to us. This survey is
completely anonymous and will be completed by a team of independent evaluation researchers
sourced from Volunteering Waikato. They are Jacqueline Beaton Co-ordinator, Steph Howser and
Sutapa Adihikary, with the final report to Board of trustees. This report will be invaluable to the
Board of Trustees strategic planning process. This information will give us feedback on ways in
which we could improve on the services we provide to our clients. Thank you in advance for
providing the feedback to make our services even better.
NEW TRUSTEES
Presently we have 8 members on our Board of Trustees - Jolanda Lemow, Jay Spencer, Melanie
Odey, Ailsa Rasmussen, Kate Peterson, Marianne Schreven, Tanvi Paranjpe and Maria Edgar. We
are always looking for more trustees – please contact Jules or Lynda for more information about
what is involved in becoming a trustee of Arts for Health.
"'FRIENDS OF ARTS FOR HEALTH"
Would you like to join "Friends of Arts for Health"? The idea of this group is to have members we
can call on at times when we need help (e.g. sausage sizzles, art competition, etc). Anyone can
be a member – you don't have to be a past trustee or volunteer. The more in the group the
merrier! It is not all work and no play of course, as we have regular "Sunday Fundays" where we
get together at Ward Park and play with the paints etc, plus we have social get-togethers as well.
If you would like to be join our group, just contact Lynda or Jules.
"PERSPECTIVES" EXHIBITION
John Tilling, Ian Johnston and Riki McInman recently held an exhibition at Creative Waikato
entitled "Perspectives". What a great opportunity for these three talented artists to display their
artworks to the public. We look forward to seeing more exhibitions in the future.
CHRISTMAS HOURS
Ward Park will be closing Wednesday 23rd December and re-opening on Tuesday 5th January. Can
you please confirm your expected 2016 start date back with our staff.
From us all at Arts for Health we wish you a very Merry Christmas and a
Happy New Year and look forward to seeing you all again in 2016.