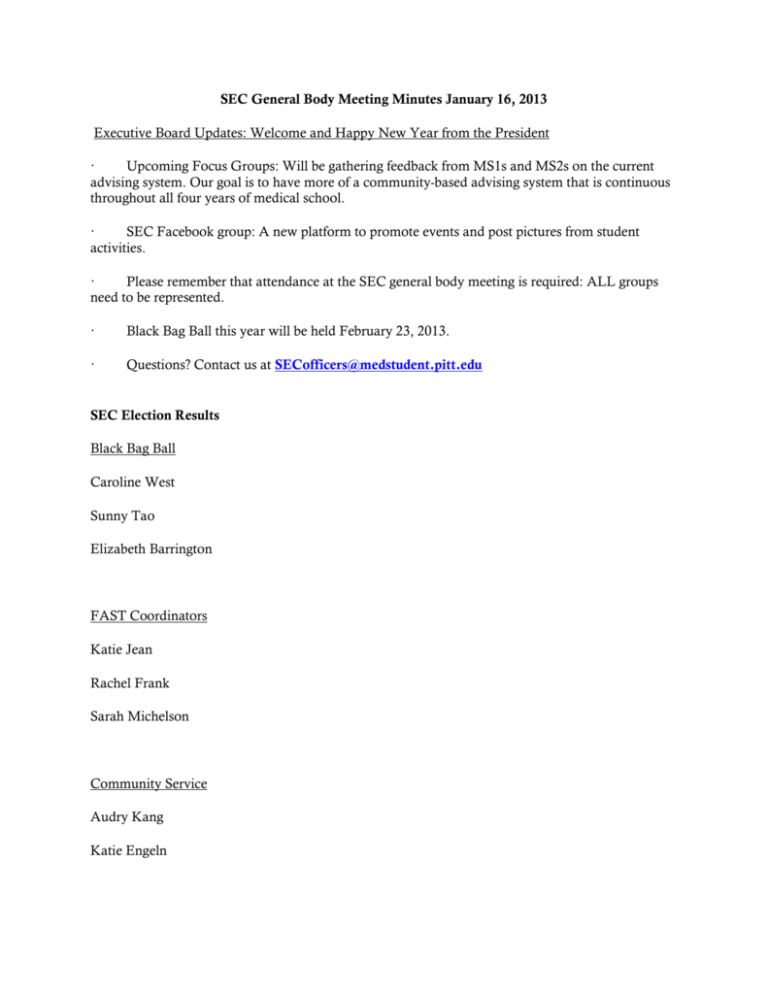 SEC General Body Meeting Minutes January 16, 2013
Executive Board Updates: Welcome and Happy New Year from the President
·
Upcoming Focus Groups: Will be gathering feedback from MS1s and MS2s on the current
advising system. Our goal is to have more of a community-based advising system that is continuous
throughout all four years of medical school.
·
SEC Facebook group: A new platform to promote events and post pictures from student
activities.
·
Please remember that attendance at the SEC general body meeting is required: ALL groups
need to be represented.
·
Black Bag Ball this year will be held February 23, 2013.
·
Questions? Contact us at SECofficers@medstudent.pitt.edu
SEC Election Results
Black Bag Ball
Caroline West
Sunny Tao
Elizabeth Barrington
FAST Coordinators
Katie Jean
Rachel Frank
Sarah Michelson
Community Service
Audry Kang
Katie Engeln
SARC Manual
Neeti Patel
Kayllie Wang
James Bohnhoff
OSR
Gabrielle Langmann
Survival Guide Editors
Priyanka Amin
Katie Engeln
Murmurs Editors
Divya Keerthy
Mohini Dasari
Joyce Kim
Student Orientation Committee
Amanda Aninwene
Sarah Michelson
Talent Show Committee
Sunny Tao
Amanda Brase
Financial Member at Large
Amardeep Dhaliwal
Scholarship/ Loans Chair
Humza Shaikh
Salla Rapakko
If you are a newly elected SEC Committee Member, please plan to attend all SEC general body
meetings held the second Tuesday of every month, 6pm at the 11th floor conference room. A list
of upcoming SEC general body meeting dates are below:
2/13
3/20
4/10
5/8
Student of the Month: Isabela Negrin
Thanks!