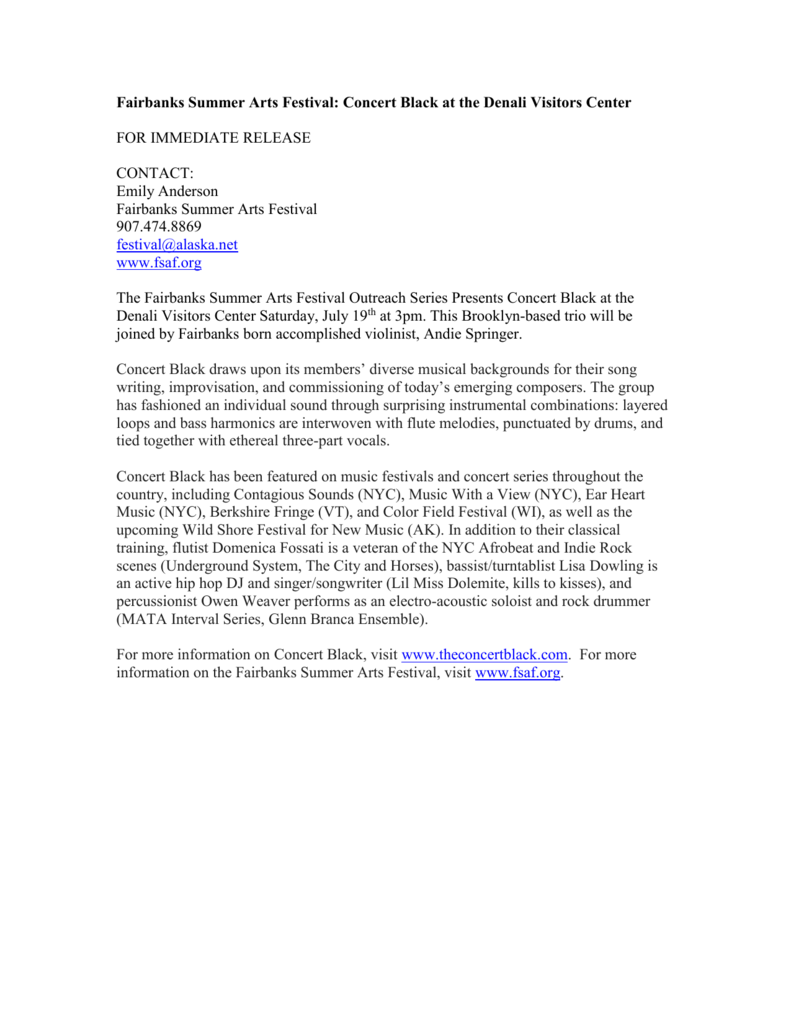 Fairbanks Summer Arts Festival: Concert Black at the Denali Visitors Center
FOR IMMEDIATE RELEASE
CONTACT:
Emily Anderson
Fairbanks Summer Arts Festival
907.474.8869
[email protected]
www.fsaf.org
The Fairbanks Summer Arts Festival Outreach Series Presents Concert Black at the
Denali Visitors Center Saturday, July 19th at 3pm. This Brooklyn-based trio will be
joined by Fairbanks born accomplished violinist, Andie Springer.
Concert Black draws upon its members' diverse musical backgrounds for their song
writing, improvisation, and commissioning of today's emerging composers. The group
has fashioned an individual sound through surprising instrumental combinations: layered
loops and bass harmonics are interwoven with flute melodies, punctuated by drums, and
tied together with ethereal three-part vocals.
Concert Black has been featured on music festivals and concert series throughout the
country, including Contagious Sounds (NYC), Music With a View (NYC), Ear Heart
Music (NYC), Berkshire Fringe (VT), and Color Field Festival (WI), as well as the
upcoming Wild Shore Festival for New Music (AK). In addition to their classical
training, flutist Domenica Fossati is a veteran of the NYC Afrobeat and Indie Rock
scenes (Underground System, The City and Horses), bassist/turntablist Lisa Dowling is
an active hip hop DJ and singer/songwriter (Lil Miss Dolemite, kills to kisses), and
percussionist Owen Weaver performs as an electro-acoustic soloist and rock drummer
(MATA Interval Series, Glenn Branca Ensemble).
For more information on Concert Black, visit www.theconcertblack.com. For more
information on the Fairbanks Summer Arts Festival, visit www.fsaf.org.