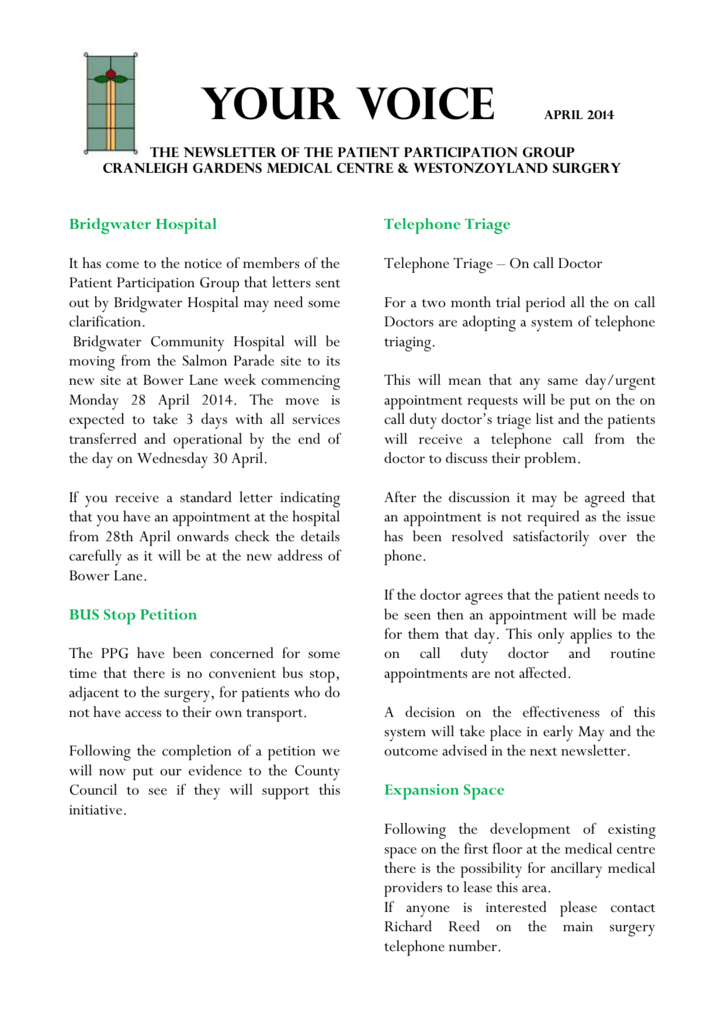 Your Voice
April 2014
The Newsletter of the Patient Participation Group
Cranleigh Gardens Medical Centre & Westonzoyland Surgery
Bridgwater Hospital
Telephone Triage
It has come to the notice of members of the
Patient Participation Group that letters sent
out by Bridgwater Hospital may need some
clarification.
Bridgwater Community Hospital will be
moving from the Salmon Parade site to its
new site at Bower Lane week commencing
Monday 28 April 2014. The move is
expected to take 3 days with all services
transferred and operational by the end of
the day on Wednesday 30 April.
Telephone Triage – On call Doctor
If you receive a standard letter indicating
that you have an appointment at the hospital
from 28th April onwards check the details
carefully as it will be at the new address of
Bower Lane.
After the discussion it may be agreed that
an appointment is not required as the issue
has been resolved satisfactorily over the
phone.
BUS Stop Petition
The PPG have been concerned for some
time that there is no convenient bus stop,
adjacent to the surgery, for patients who do
not have access to their own transport.
Following the completion of a petition we
will now put our evidence to the County
Council to see if they will support this
initiative.
For a two month trial period all the on call
Doctors are adopting a system of telephone
triaging.
This will mean that any same day/urgent
appointment requests will be put on the on
call duty doctor's triage list and the patients
will receive a telephone call from the
doctor to discuss their problem.
If the doctor agrees that the patient needs to
be seen then an appointment will be made
for them that day. This only applies to the
on call duty doctor and routine
appointments are not affected.
A decision on the effectiveness of this
system will take place in early May and the
outcome advised in the next newsletter.
Expansion Space
Following the development of existing
space on the first floor at the medical centre
there is the possibility for ancillary medical
providers to lease this area.
If anyone is interested please contact
Richard Reed on the main surgery
telephone number.
Water Damage
On Monday 21st March there was an
internal water failure which resulted in
three treatment rooms being affected.
Thanks to the quick actions of Dr Upton
who isolated the leak damage was kept to a
minimum. We apologise for anyone that
may have been affected to date. There will
be running repairs to the communication
area and corridor to treatment rooms in
May. We will keep this interruption to a
minimum and appropriate notices will be
on display in those areas that will be
affected.
Hay Fever
Before visiting your GP, you could
first visit your pharmacist and try
treating your symptoms with overthe-counter medications, such as
antihistamines.
If these fail to improve your symptoms,
make an appointment to see your GP as you
may need treatment with prescription
medications such as steroid medication
(corticosteroids).
Treatment options are discussed below.
Antihistamines
Antihistamines treat hay fever by blocking
the action of the chemical histamine, which
the body releases when it thinks it is under
attack from an allergen. This prevents the
symptoms of the allergic reaction from
occurring.
Antihistamines are usually effective at
treating itching, sneezing and watery eyes,
but they may not help with clearing a
blocked nose.
They are available in tablet form and also as
nasal sprays.
Corticosteroid
drops
nasal
sprays
and
Corticosteroids (steroids) are used to treat
hay fever because they have an antiinflammatory effect.
When the pollen triggers your allergic
reaction, the inside of your nose becomes
inflamed.
Corticosteroids
can
reduce
this
inflammation and prevent the symptoms of
hay fever.
Your GP may prescribe corticosteroid nasal
sprays or drops instead of antihistamines if:
you have persistent hay fever that does not
respond to antihistamines
your main symptom is a blocked nose
you are pregnant or breastfeeding
Nasal decongestants
Hay fever can cause a blocked nose. A
decongestant, in the form of a nasal spray,
can relieve this. Decongestants reduce the
swelling of the blood vessels in your nose,
which opens your nasal passage and makes
breathing easier.
Nasal decongestants shouldn't be used for
longer than seven days. They may cause
dryness and irritation in your nasal passage,
and can make the symptoms of congestion
worse (this is known as rebound
congestion).
Eye drops
Eye drops are available from your
pharmacist to treat the hay fever symptoms
that affect your eyes, such as redness,
itchiness
and
watering
(allergic
conjunctivitis). These drops contain
antihistamine to reduce the inflammation in
your eyes, which will relieve the
symptoms.
.