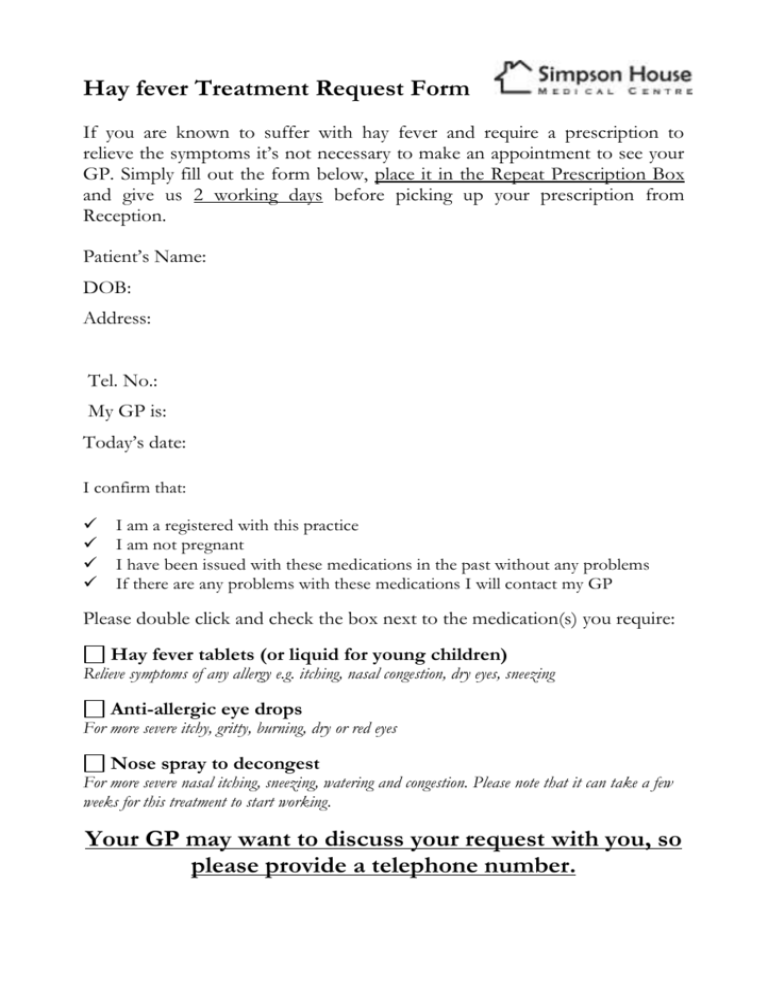 Hay fever Treatment Request Form
If you are known to suffer with hay fever and require a prescription to
relieve the symptoms it's not necessary to make an appointment to see your
GP. Simply fill out the form below, place it in the Repeat Prescription Box
and give us 2 working days before picking up your prescription from
Reception.
Patient's Name:
DOB:
Address:
Tel. No.:
My GP is:
Today's date:
I confirm that:




I am a registered with this practice
I am not pregnant
I have been issued with these medications in the past without any problems
If there are any problems with these medications I will contact my GP
Please double click and check the box next to the medication(s) you require:
Hay fever tablets (or liquid for young children)
Relieve symptoms of any allergy e.g. itching, nasal congestion, dry eyes, sneezing
Anti-allergic eye drops
For more severe itchy, gritty, burning, dry or red eyes
Nose spray to decongest
For more severe nasal itching, sneezing, watering and congestion. Please note that it can take a few
weeks for this treatment to start working.
Your GP may want to discuss your request with you, so
please provide a telephone number.