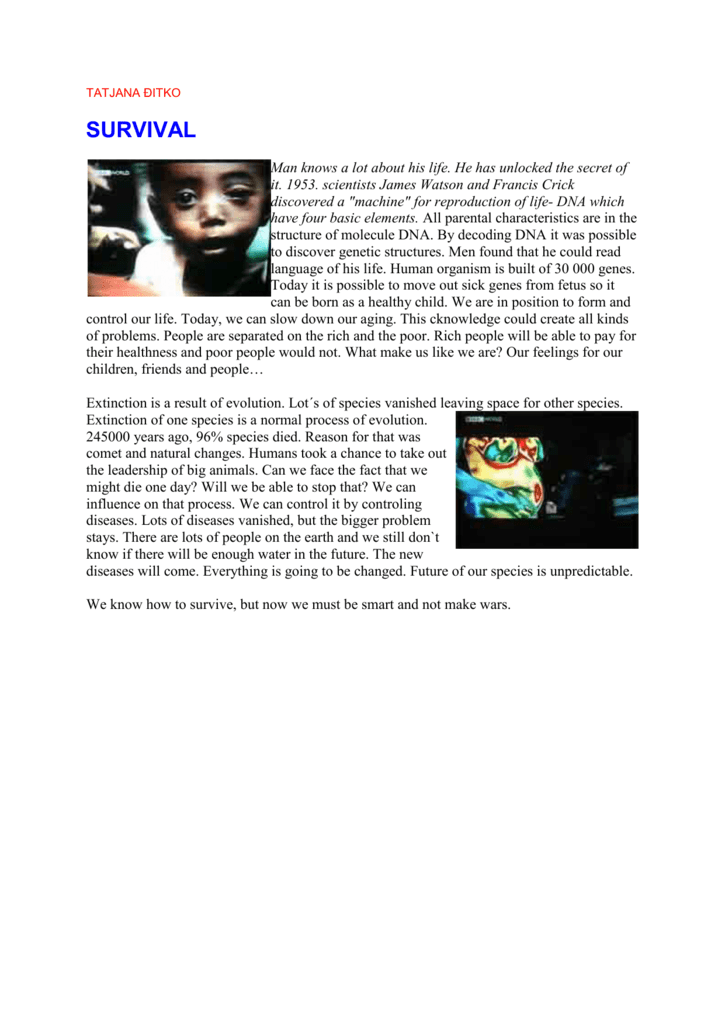 TATJANA ÐITKO
SURVIVAL
Man knows a lot about his life. He has unlocked the secret of
it. 1953. scientists James Watson and Francis Crick
discovered a "machine" for reproduction of life- DNA which
have four basic elements. All parental characteristics are in the
structure of molecule DNA. By decoding DNA it was possible
to discover genetic structures. Men found that he could read
language of his life. Human organism is built of 30 000 genes.
Today it is possible to move out sick genes from fetus so it
can be born as a healthy child. We are in position to form and
control our life. Today, we can slow down our aging. This cknowledge could create all kinds
of problems. People are separated on the rich and the poor. Rich people will be able to pay for
their healthness and poor people would not. What make us like we are? Our feelings for our
children, friends and people…
Extinction is a result of evolution. Lot´s of species vanished leaving space for other species.
Extinction of one species is a normal process of evolution.
245000 years ago, 96% species died. Reason for that was
comet and natural changes. Humans took a chance to take out
the leadership of big animals. Can we face the fact that we
might die one day? Will we be able to stop that? We can
influence on that process. We can control it by controling
diseases. Lots of diseases vanished, but the bigger problem
stays. There are lots of people on the earth and we still don`t
know if there will be enough water in the future. The new
diseases will come. Everything is going to be changed. Future of our species is unpredictable.
We know how to survive, but now we must be smart and not make wars.