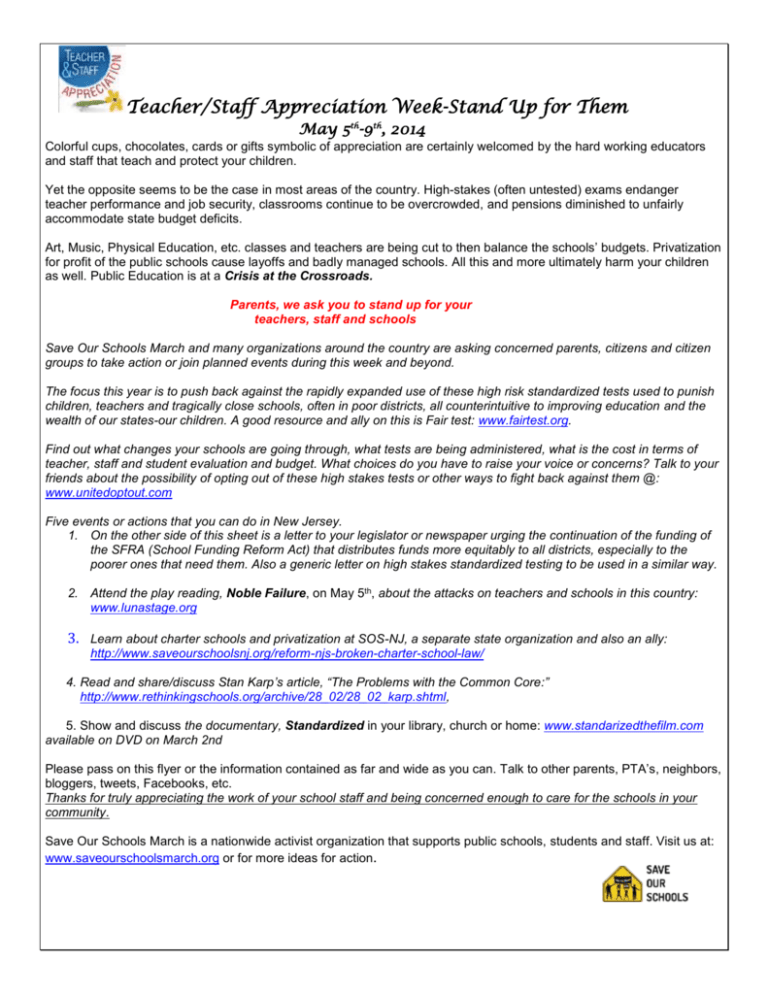 Teacher/Staff Appreciation Week-Stand Up for Them
May 5th-9th, 2014
Colorful cups, chocolates, cards or gifts symbolic of appreciation are certainly welcomed by the hard working educators
and staff that teach and protect your children.
Yet the opposite seems to be the case in most areas of the country. High-stakes (often untested) exams endanger
teacher performance and job security, classrooms continue to be overcrowded, and pensions diminished to unfairly
accommodate state budget deficits.
Art, Music, Physical Education, etc. classes and teachers are being cut to then balance the schools' budgets. Privatization
for profit of the public schools cause layoffs and badly managed schools. All this and more ultimately harm your children
as well. Public Education is at a Crisis at the Crossroads.
Parents, we ask you to stand up for your
teachers, staff and schools
Save Our Schools March and many organizations around the country are asking concerned parents, citizens and citizen
groups to take action or join planned events during this week and beyond.
The focus this year is to push back against the rapidly expanded use of these high risk standardized tests used to punish
children, teachers and tragically close schools, often in poor districts, all counterintuitive to improving education and the
wealth of our states-our children. A good resource and ally on this is Fair test: www.fairtest.org.
Find out what changes your schools are going through, what tests are being administered, what is the cost in terms of
teacher, staff and student evaluation and budget. What choices do you have to raise your voice or concerns? Talk to your
friends about the possibility of opting out of these high stakes tests or other ways to fight back against them @:
www.unitedoptout.com
Five events or actions that you can do in New Jersey.
1. On the other side of this sheet is a letter to your legislator or newspaper urging the continuation of the funding of
the SFRA (School Funding Reform Act) that distributes funds more equitably to all districts, especially to the
poorer ones that need them. Also a generic letter on high stakes standardized testing to be used in a similar way.
2. Attend the play reading, Noble Failure, on May 5th, about the attacks on teachers and schools in this country:
www.lunastage.org
3. Learn about charter schools and privatization at SOS-NJ, a separate state organization and also an ally:
http://www.saveourschoolsnj.org/reform-njs-broken-charter-school-law/
4. Read and share/discuss Stan Karp's article, "The Problems with the Common Core:"
http://www.rethinkingschools.org/archive/28_02/28_02_karp.shtml,
5. Show and discuss the documentary, Standardized in your library, church or home: www.standarizedthefilm.com
available on DVD on March 2nd
Please pass on this flyer or the information contained as far and wide as you can. Talk to other parents, PTA's, neighbors,
bloggers, tweets, Facebooks, etc.
Thanks for truly appreciating the work of your school staff and being concerned enough to care for the schools in your
community.
Save Our Schools March is a nationwide activist organization that supports public schools, students and staff. Visit us at:
www.saveourschoolsmarch.org or for more ideas for action.