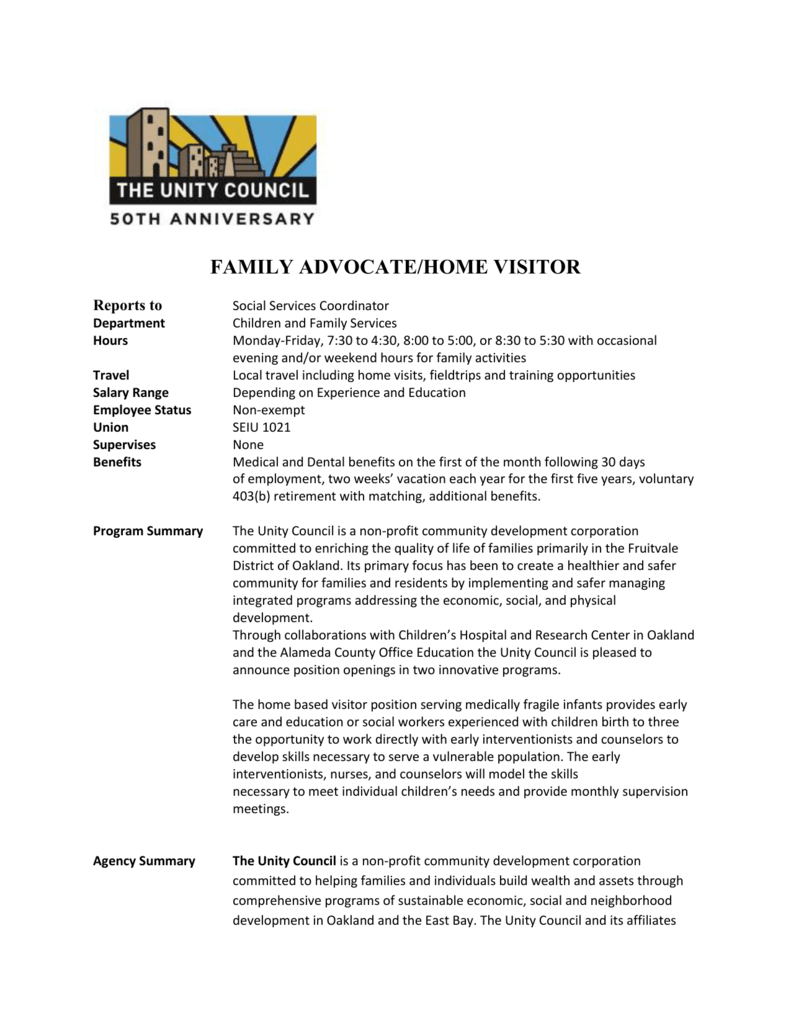 FAMILY ADVOCATE/HOME VISITOR
Reports to
Department
Hours
Travel
Salary Range
Employee Status
Union
Supervises
Benefits
Program Summary
Social Services Coordinator
Children and Family Services
Monday-Friday, 7:30 to 4:30, 8:00 to 5:00, or 8:30 to 5:30 with occasional
evening and/or weekend hours for family activities
Local travel including home visits, fieldtrips and training opportunities
Depending on Experience and Education
Non-exempt
SEIU 1021
None
Medical and Dental benefits on the first of the month following 30 days
of employment, two weeks' vacation each year for the first five years, voluntary
403(b) retirement with matching, additional benefits.
The Unity Council is a non-profit community development corporation
committed to enriching the quality of life of families primarily in the Fruitvale
District of Oakland. Its primary focus has been to create a healthier and safer
community for families and residents by implementing and safer managing
integrated programs addressing the economic, social, and physical
development.
Through collaborations with Children's Hospital and Research Center in Oakland
and the Alameda County Office Education the Unity Council is pleased to
announce position openings in two innovative programs.
The home based visitor position serving medically fragile infants provides early
care and education or social workers experienced with children birth to three
the opportunity to work directly with early interventionists and counselors to
develop skills necessary to serve a vulnerable population. The early
interventionists, nurses, and counselors will model the skills
necessary to meet individual children's needs and provide monthly supervision
meetings.
Agency Summary
The Unity Council is a non-profit community development corporation
committed to helping families and individuals build wealth and assets through
comprehensive programs of sustainable economic, social and neighborhood
development in Oakland and the East Bay. The Unity Council and its affiliates
employ more than 250 culturally and ethnically diverse people in a variety of
program lines, ranging from early childhood education to jobs placement to
low-income senior housing.
Responsibilities
The duties and responsibilities include, but are not limited to the following:
• Provide comprehensive services to pregnant women, infants, toddlers and
families through home visits, socializations, child screens, referrals and
child/family goal setting
• Assist pregnant women to access prenatal care, learn about fetal development
and growth, prepare for delivery and obtain postpartum care
• Assist parents in planning and implementing activities that promote bonding,
attachment and sustained positive parenting
• Responsible for assembling child files in accordance with agency policies
• Assist with recruitment and enrollment of children and families for the EHS
Program.
Qualifications
• BA in Sociology, Social Welfare or related field preferred;
• Minimum of one year experience working with low-income children and
families;
• Bilingual Spanish/English required;
• Ability to lift children, up to 40lbs, and get up and down from the floor
without injury.
• Awareness of safe lifting techniques for lifting children, supplies and
furnishings and commitment to using preventive health measures in the
classroom to prevent the spread of disease.
• Caring, compassionate approach to working with children and families;
• Ability to teach others the importance of play based curriculum;
• Ability to work harmoniously in a multi-cultural team;
• Valid California Driver's license, good driving record (DMV check will be
conducted); access to a car to use at work daily, and proof of automobile
insurance;
Pre-employment
Requirements
Physical exam, TB test, background/fingerprint clearance
Application Process
Mail, email, or fax cover letter, resume, and copy of unofficial transcripts
Attention: Human Resources Department
1900 Fruitvale Avenue, Suite 2A
Oakland, CA 94601
Fax 510-535-6923
E-mail: [email protected]
Interview Process
Because of the volume of anticipated responses, only those applicants
who meet the required qualifications will be contacted for an interview.
The Unity Council is an Equal Opportunity Employer.
Women and minorities are encouraged to apply.