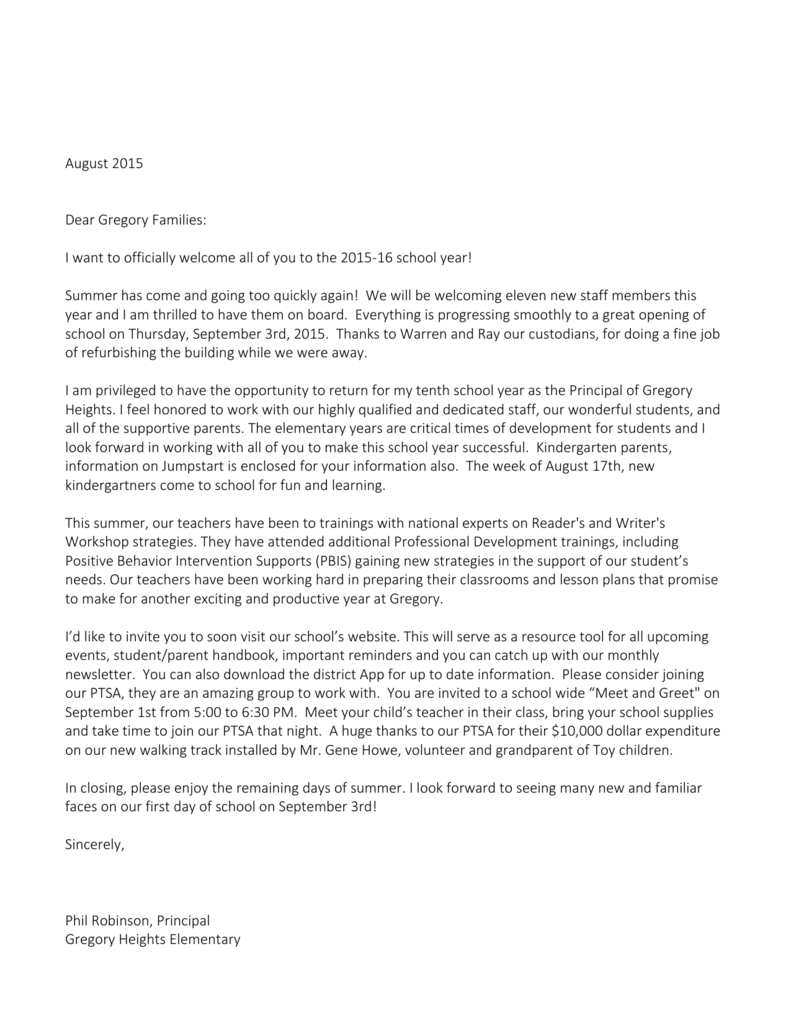 August 2015
Dear Gregory Families:
I want to officially welcome all of you to the 2015-16 school year!
Summer has come and going too quickly again! We will be welcoming eleven new staff members this
year and I am thrilled to have them on board. Everything is progressing smoothly to a great opening of
school on Thursday, September 3rd, 2015. Thanks to Warren and Ray our custodians, for doing a fine job
of refurbishing the building while we were away.
I am privileged to have the opportunity to return for my tenth school year as the Principal of Gregory
Heights. I feel honored to work with our highly qualified and dedicated staff, our wonderful students, and
all of the supportive parents. The elementary years are critical times of development for students and I
look forward in working with all of you to make this school year successful. Kindergarten parents,
information on Jumpstart is enclosed for your information also. The week of August 17th, new
kindergartners come to school for fun and learning.
This summer, our teachers have been to trainings with national experts on Reader's and Writer's
Workshop strategies. They have attended additional Professional Development trainings, including
Positive Behavior Intervention Supports (PBIS) gaining new strategies in the support of our student's
needs. Our teachers have been working hard in preparing their classrooms and lesson plans that promise
to make for another exciting and productive year at Gregory.
I'd like to invite you to soon visit our school's website. This will serve as a resource tool for all upcoming
events, student/parent handbook, important reminders and you can catch up with our monthly
newsletter. You can also download the district App for up to date information. Please consider joining
our PTSA, they are an amazing group to work with. You are invited to a school wide "Meet and Greet" on
September 1st from 5:00 to 6:30 PM. Meet your child's teacher in their class, bring your school supplies
and take time to join our PTSA that night. A huge thanks to our PTSA for their $10,000 dollar expenditure
on our new walking track installed by Mr. Gene Howe, volunteer and grandparent of Toy children.
In closing, please enjoy the remaining days of summer. I look forward to seeing many new and familiar
faces on our first day of school on September 3rd!
Sincerely,
Phil Robinson, Principal
Gregory Heights Elementary
Welcome New Staff:










We have Holly Nies coming to us from Renton School District and will teach Kindergarten.
Ms. Melanie Shaw will teach our vocal music and band classes. She comes to us from University of
Cincinnati.
Elizabeth Hanna has been hired as a 4th grade teacher, recently graduating from SPU.
We have Denise Lund and Emily Fiorito who are coming to us from Seahurst Elementary and both
will teach 6th grade classes.
We have Jodi Herring who recently graduated from Central Washington University and will teach
our Primary IAC class.
Jamie Baits is returning to us (was an intern here in 2013/14) from Chinook Middle School and will
teach the Intermediate IAC program.
We have Sarah Hoff who has been in the district and will fulfill our SLP position here.
Another new staff member is Alyssa McCaslin coming to us from Kent School District and will work
as our support to staff with ELL and Literacy instruction.
Morgan Beale will be our new Psychologist here at Gregory Heights.
Our Counseling Intern this year will be Esther Choe, who is in the Counseling program at SPU.
Parents you will find important information for the start of school below and on attached pages:







Kindergarten Jumpstart will take place the week of August 17th – 21st, from 8:40 – 11:40. Bus
information is enclosed for kindergartners (enrolled by June) riding buses to and from the
program that week. We also will have a parent meeting on Monday, August 17th at 9:00 AM in the
Multipurpose room to share about Kindergarten and the year ahead for your children.
The first day of school is September 3rd, 8:35 AM – 3:10 PM.
The first three days of school our kindergartners won't attend and will start on Wednesday,
September 9th. This will make it so our teachers can have conferences with all of our parents prior
to their child starting school. On the first day of school for our kindergartners, September 9th we
will have a brief welcome meeting for our kindergarten parents and new families in the Multipurpose room. Please plan on attending this meeting for you, introducing you to the principal and
PTSA. Also this will be an opportunity to answer your questions and meet other families.
Preschool begins after September 3rd and your child's teacher will share more information on start
date. Morning Preschoolers begin at 8:35 and their day ends at 11:15 AM. Afternoon
Preschoolers begin at 12:35 PM, and their day ends at 3:10 PM.
Our school office opens on August 11th with 8:00 AM – 4:00 PM for the hours.
Bus schedules will be posted on the district website www.highlineschools.org and at the school
office. Knowing when and where to catch the school bus will help get everyone to school on time
and ready to learn. Make sure to be at your stop at least five minutes early! Please also complete
the attached from and turn this into office or your child's teacher sharing how your child goes
home, what bus route, if they are walking or who and where is someone picking up your child.
There is a parent drop-off and pick-up area in the front of the school off of 16th Avenue and on the
back side of the school aligned with 19th Avenue. Please remember these areas are never used for
parking and if you use this area please remain in your vehicle. Also during arrival and dismissal of
students it is extremely important that you drive very slowly and use extreme caution making sure
our children, families and staff are safe! Please also remember vehicles are never allowed in the
bus zone area and that no one can walk across there while buses are in place. It is very difficult for
buses to see children walking in-between them making this unsafe for our students!









You may pay lunch money (checks made out to Gregory Heights) on your child's account on
Tuesday evening at the "Meet and Greet", September 1st from 5:00 PM to 6:30 PM or on the first
day of school. You may also pay on your child's account online at the district website using the
Lunch Schedule link, and then on My Mealtime link. If you pay online please plan ahead since it
takes one day to enter into your child's account. You can apply for Free/Reduced meals online on
the district website if you believe you qualify and your child will benefit from this program. You
need to complete this right away so your child's application is in place at the start of school. If you
don't have access to a computer to apply online we have forms available in the school office.
Prices have gone up for meals are priced as listed:
Elementary Lunch
$2.75
Breakfast
$1.50
Milk $ .50
Please make sure all required information (i.e. immunizations, proof of residency, and medications
with plans) is turned into the office before the first day of school. This will help your child start
his/her school year with a smooth start. All kindergarten students need to have turned in all
required information. Our 6th grade students must have proof they received the Varicella vaccine
or a written statement from the parent verifying the child had Chicken Pox at one time, along with
the required Tdap booster shot.
You can locate the Student Supply list on the district website, under schools, Gregory Heights and
by clicking on the title for School Supplies. Lists also may be located outside on the window of the
school entry and in the office. Supply lists include everything your child will need for a successful
start this year.
Class lists will be posted on the main entry windows on Friday, August 28th at 4:00 PM.
We will have a "Meet and Greet" here at school on Tuesday, September 1st from 5:00 – 6:30 PM.
This give our students and parents the opportunity to visit their classroom, meet their teacher and
drop off their school supplies. Also our PTSA will be here sharing how you can get involved in your
child's school. Please drop by and take advantage of this opportunity so this can help your child
start the year more at ease.
Please look for the packet of important information that will be coming home on the first day of
school. The student/parent handbook will be in this packet or sent home the following week
sharing important information: School calendar, attendance procedures, dress codes, emergency
information, etc…
Students need to be on campus by 8:30 AM every morning for school, so they are ready to join
their class and seated on time at the start of learning. Students may not be on campus earlier
than 8:15 AM when supervision is in place.
The district is finding the state is closely auditing our attendance. Because of the expectations put
on us we must hear from every parent/guardian when your child is absent on the day of their
absence. Please make sure to call the school office at (206) 631-3800. All absences must be
followed up with a written note (email not accepted by the state) on the return of the student if
we didn't receive communication prior to their return. Also if you plan on going on vacation and
your child will be absent, please make the office aware of this prior to your departure so your
child's absence can be excused.
Please also make sure to complete your child's emergency card from their first day packet, right
away and send it back the next day with your child. This is a vital piece of information we use in
the office whenever someone is there to pick up your child and/or when we need to contact you
right away! Also the district as a new app. We will be sending home information on how to get
this app and keep informed. We also will share opportunities on how to access your child's school
information. Please watch for this information that we will have available in the office and/or at
Open House.

Please share with us on the form below how your child goes home from school (i.e. rides the
school bus, daycare van, parent pick-up). Listed below is a form we would like you to complete
and drop by the school office or send it in the first day of school to your child's teacher. This will
help us get your child in the right place at dismissal and headed home in the manner you have
planned for.
Please be very specific and share how your child is going home the first day, first week, and throughout the year! Make sure
there is a working number we can contact you in case we may have a question.
Child's Name
Teacher's Name
Grade
Home Address
Home Phone
Parent Name
Parent Phone
The first week (day) my Child is going to
Home
Daycare
Other
Name/Address
My Child will go home on
the School Bus
the daycare vehicle
In a car with
walking home
Throughout the year my Child is going to
Home
Daycare
Other
Name/Address
My Child will go home on
the School Bus
the daycare vehicle
In a car with
walking home
Comments____________________________________________________________________________
_____________________________________________________________________________________
__________________________________________________________________________________
Please return this completed form to the school right away!