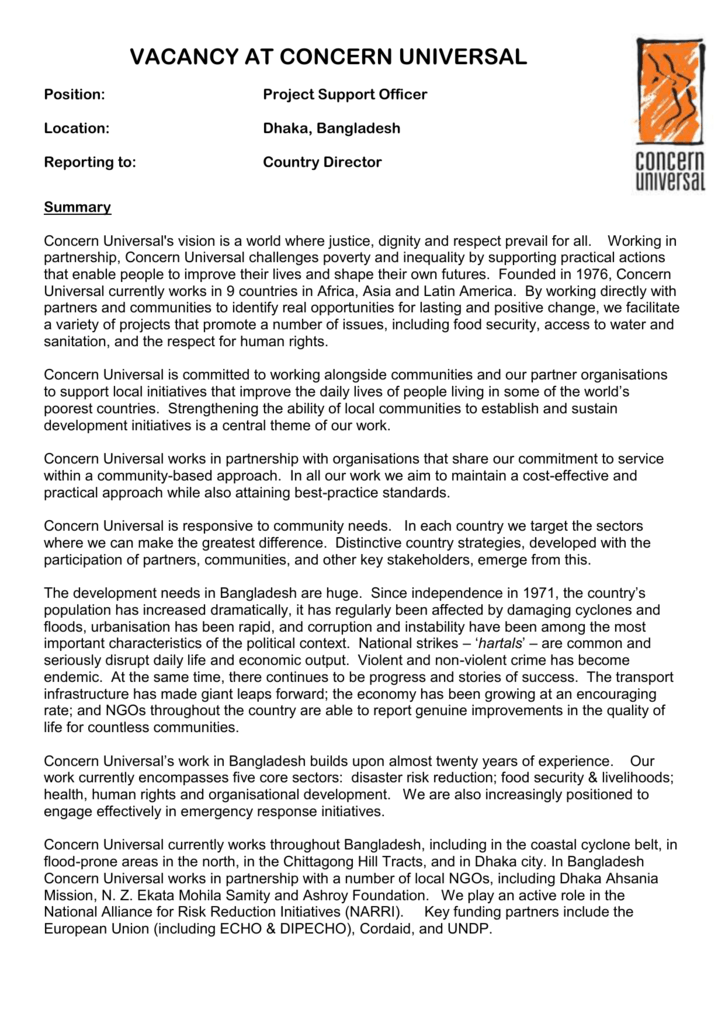 VACANCY AT CONCERN UNIVERSAL
Position:
Project Support Officer
Location:
Dhaka, Bangladesh
Reporting to:
Country Director
Summary
Concern Universal's vision is a world where justice, dignity and respect prevail for all. Working in
partnership, Concern Universal challenges poverty and inequality by supporting practical actions
that enable people to improve their lives and shape their own futures. Founded in 1976, Concern
Universal currently works in 9 countries in Africa, Asia and Latin America. By working directly with
partners and communities to identify real opportunities for lasting and positive change, we facilitate
a variety of projects that promote a number of issues, including food security, access to water and
sanitation, and the respect for human rights.
Concern Universal is committed to working alongside communities and our partner organisations
to support local initiatives that improve the daily lives of people living in some of the world's
poorest countries. Strengthening the ability of local communities to establish and sustain
development initiatives is a central theme of our work.
Concern Universal works in partnership with organisations that share our commitment to service
within a community-based approach. In all our work we aim to maintain a cost-effective and
practical approach while also attaining best-practice standards.
Concern Universal is responsive to community needs. In each country we target the sectors
where we can make the greatest difference. Distinctive country strategies, developed with the
participation of partners, communities, and other key stakeholders, emerge from this.
The development needs in Bangladesh are huge. Since independence in 1971, the country's
population has increased dramatically, it has regularly been affected by damaging cyclones and
floods, urbanisation has been rapid, and corruption and instability have been among the most
important characteristics of the political context. National strikes – 'hartals' – are common and
seriously disrupt daily life and economic output. Violent and non-violent crime has become
endemic. At the same time, there continues to be progress and stories of success. The transport
infrastructure has made giant leaps forward; the economy has been growing at an encouraging
rate; and NGOs throughout the country are able to report genuine improvements in the quality of
life for countless communities.
Concern Universal's work in Bangladesh builds upon almost twenty years of experience. Our
work currently encompasses five core sectors: disaster risk reduction; food security & livelihoods;
health, human rights and organisational development. We are also increasingly positioned to
engage effectively in emergency response initiatives.
Concern Universal currently works throughout Bangladesh, including in the coastal cyclone belt, in
flood-prone areas in the north, in the Chittagong Hill Tracts, and in Dhaka city. In Bangladesh
Concern Universal works in partnership with a number of local NGOs, including Dhaka Ahsania
Mission, N. Z. Ekata Mohila Samity and Ashroy Foundation. We play an active role in the
National Alliance for Risk Reduction Initiatives (NARRI). Key funding partners include the
European Union (including ECHO & DIPECHO), Cordaid, and UNDP.
Purpose
The purpose of this post is to support the Country Director and team to ensure that the
Bangladesh Country Programme is adequately funded.
Main Duties and Responsibilities
Objectives
1. To ensure timely reporting and communication on donor contracts and internal monthly
reporting within CU;
2. To lead on building an institutional real-time knowledge of donors and various funding
opportunities relevant to the needs of the programme;
3. To lead in developing funding strategies for the various thematic and strategic areas requiring
funding within the programme;
4. To work with project managers, partners and the finance manager in preparing and submitting
proposals in line with the specific funding strategies.
5. To ensure that co-funding gaps are closed.
Responsibilities:
1. To communicate and coordinate work relating to donor funding within the Bangladesh
programme.
2. To advise and when necessary support managers on donor guidelines and contractual
obligations, particularly on reporting, co-funding, procurement and visibility requirements.
3. To provide support on building an institutional real-time knowledge of donors and various
funding opportunities relevant to the needs of the programme;
4. To ensure that the submission of proposal submissions for all projects is coordinated with the
relevant staff at project specific levels and with the Country Director as appropriate.
5. To monitor Bangladesh specific funding opportunities and provide Team Units with access to
and support on donor funding guidelines and application processes;
6. Assist the Country Director in building donor relations and in attending meetings with donors as
appropriate and required, and maintaining timely communication with donors in conjunction
with Heads of Team and Country Director
7. To produce appropriate communications, including brochures and website contents, as
necessary.
8. To build the capacity of other CU staff in proposal writing, project reporting and profile
documentation.
9. To support partners in development of proposals, donor linkages and grant management.
10. To be a member of the Senior Management Team and contribute to organisational
management decisions
11. Other tasks as agreed with the Country Director.
Person Specification
This is a pivotal position with significant responsibility that is mainly office-based but with
opportunities for in-country travel and exposure to field work. The ideal candidate is wellorganised, motivated and methodical with a strong understanding of development issues and the
passion to make a difference.
Required
BA/BSc in International Development (or other
relevant subject)
2 years' experience in a relevant field/position
Excellent report writing & faultless attention to
detail
Proven experience in proposal writing and
understanding of project budgets
Strong IT, communication & problem solving
skills
Good interpersonal skills with a patient, flexible &
responsive disposition
Ability to meet tight deadlines and manage
multiple priorities with minimal supervision
Interest/experience in communication
(journalism, graphic design, website and social
media content)
Desirable
MA/MSc in International Development (or
other relevant subject)
Experience in international NGO/donor
sector
Record of published writing in print or online
Proven experience in grant and donor
contract administration and management
Experience in strategic communications and
advocacy in an INGO/donor organization
Experience of training others
Demonstrated skills in graphic design,
photography, photo editing, video editing, or
publishing software
What we offer
This position offers the right candidate the opportunity to gain meaningful overseas experience
with an international NGO. Above all, we offer a respectful and empowering working environment
and the opportunity to make a real impact.
Terms and Conditions
Salary:
income equivalent of a UK taxed salary of £16,000
Benefits:
Flights to home country, secure accommodation, emergency medical and
travel insurance, annual check-ups and 25 days annual leave
Contract type:
A permanent contract subject to 3 month probationary appraisal
Location:
Dhaka, Bangladesh, with occasional travel to rural Bangladesh
Application Process




To apply for this position, candidates must submit a completed Application Form to
Olivia Sawyer at [email protected] 16th August 2015 (midnight)
Please visit www.concern-universal.org to download the Application Form. If you have
difficulty accessing them, then contact Olivia at the above e-mail address.
Shortlisted candidates will be contacted in mid-August for initial telephone interviews.
Please note that only shortlisted candidates will be contacted.
The successful candidate will be expected to take up the post in September 2015.