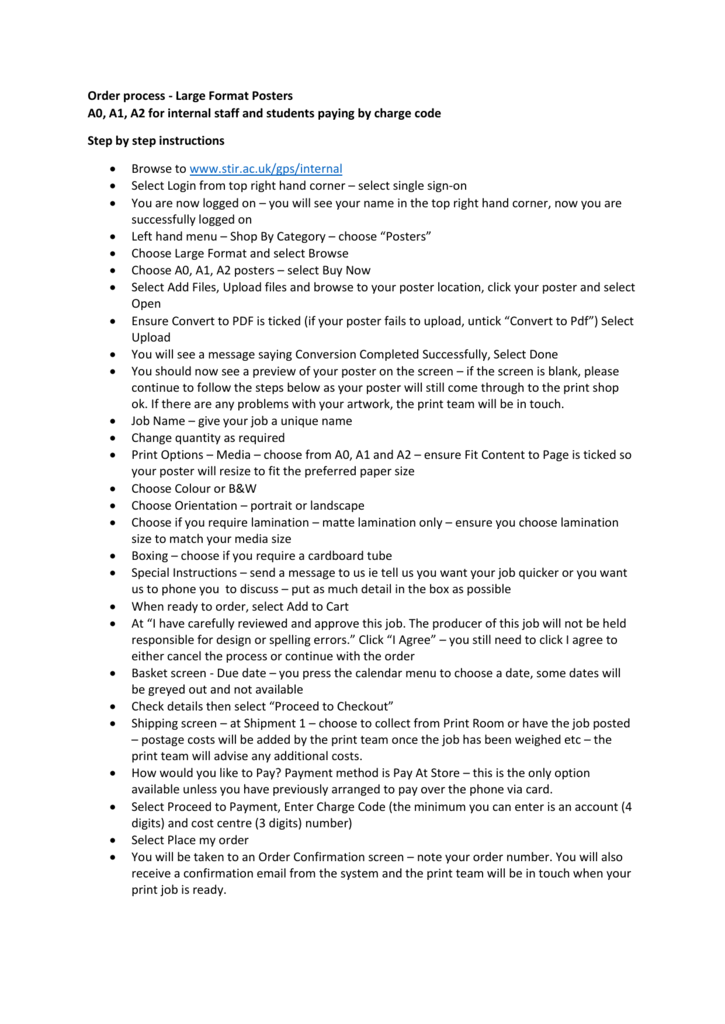 Order process - Large Format Posters
A0, A1, A2 for internal staff and students paying by charge code
Step by step instructions



























Browse to www.stir.ac.uk/gps/internal
Select Login from top right hand corner – select single sign-on
You are now logged on – you will see your name in the top right hand corner, now you are
successfully logged on
Left hand menu – Shop By Category – choose "Posters"
Choose Large Format and select Browse
Choose A0, A1, A2 posters – select Buy Now
Select Add Files, Upload files and browse to your poster location, click your poster and select
Open
Ensure Convert to PDF is ticked (if your poster fails to upload, untick "Convert to Pdf") Select
Upload
You will see a message saying Conversion Completed Successfully, Select Done
You should now see a preview of your poster on the screen – if the screen is blank, please
continue to follow the steps below as your poster will still come through to the print shop
ok. If there are any problems with your artwork, the print team will be in touch.
Job Name – give your job a unique name
Change quantity as required
Print Options – Media – choose from A0, A1 and A2 – ensure Fit Content to Page is ticked so
your poster will resize to fit the preferred paper size
Choose Colour or B&W
Choose Orientation – portrait or landscape
Choose if you require lamination – matte lamination only – ensure you choose lamination
size to match your media size
Boxing – choose if you require a cardboard tube
Special Instructions – send a message to us ie tell us you want your job quicker or you want
us to phone you to discuss – put as much detail in the box as possible
When ready to order, select Add to Cart
At "I have carefully reviewed and approve this job. The producer of this job will not be held
responsible for design or spelling errors." Click "I Agree" – you still need to click I agree to
either cancel the process or continue with the order
Basket screen - Due date – you press the calendar menu to choose a date, some dates will
be greyed out and not available
Check details then select "Proceed to Checkout"
Shipping screen – at Shipment 1 – choose to collect from Print Room or have the job posted
– postage costs will be added by the print team once the job has been weighed etc – the
print team will advise any additional costs.
How would you like to Pay? Payment method is Pay At Store – this is the only option
available unless you have previously arranged to pay over the phone via card.
Select Proceed to Payment, Enter Charge Code (the minimum you can enter is an account (4
digits) and cost centre (3 digits) number)
Select Place my order
You will be taken to an Order Confirmation screen – note your order number. You will also
receive a confirmation email from the system and the print team will be in touch when your
print job is ready.