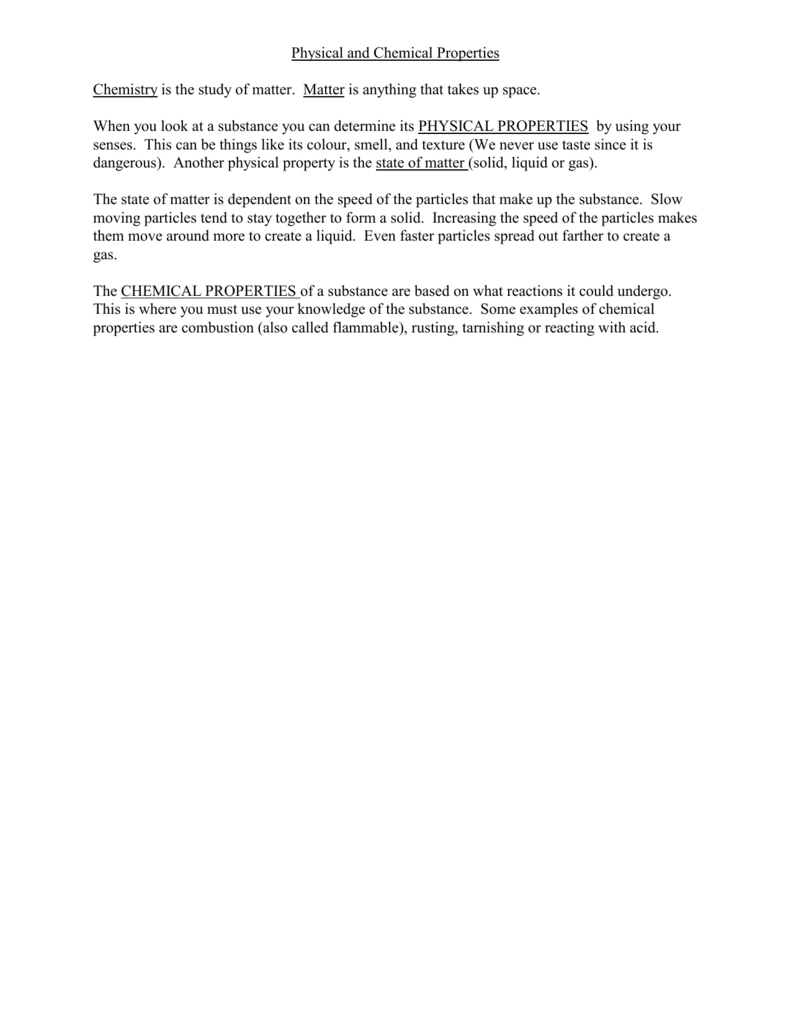 Physical and Chemical Properties
Chemistry is the study of matter. Matter is anything that takes up space.
When you look at a substance you can determine its PHYSICAL PROPERTIES by using your
senses. This can be things like its colour, smell, and texture (We never use taste since it is
dangerous). Another physical property is the state of matter (solid, liquid or gas).
The state of matter is dependent on the speed of the particles that make up the substance. Slow
moving particles tend to stay together to form a solid. Increasing the speed of the particles makes
them move around more to create a liquid. Even faster particles spread out farther to create a
gas.
The CHEMICAL PROPERTIES of a substance are based on what reactions it could undergo.
This is where you must use your knowledge of the substance. Some examples of chemical
properties are combustion (also called flammable), rusting, tarnishing or reacting with acid.
Physical vs. Chemical Properties
1. Use the information provided on pages 16-18 to fill in the following table.
Table 1: Properties of Matter
Property
Meaning
Examples
Hardness
Malleability
Ductility
Melting & Boiling Points
Crystal Form
Solubility
Viscosity
Density
2. How do you know that the properties defined in the table were all physical and
chemical?
not
3. For each of the following indicate if it is a physical or chemical property by checking off the
correct column.
Table 2: Physical or chemical?
Physical
Chemical
red colour
density
flammability
dissolves in water
reacts with acid to make hydrogen
explodes when heated
bitter taste
melting point
reacts with water to form a gas
reacts with a base to form water
hardness
shiny
smells like rotten eggs
4. Fill in the blanks with the appropriate vocabulary that you learned today!
A.
When you describe a substance you look at its characteristics or _________________
B.
When you say whether a substance is a solid, liquid or gas you are describing the
________________________________
C.
The temperature at which something changes from a solid to a liquid is its
___________________
D.
The temperature at which something changes from a liquid to a gas is its
______________________
E.
If a solid mixes into a liquid so well that you can't see it anymore we say the solid
____________________
F.
How well a liquid flows is also called its __________________
G.
A millilitre of lead has more mass then a millilitre of Styrofoam. The lead has a greater
_____________
H.
________________ describes a material that can be bent or shaped easily.