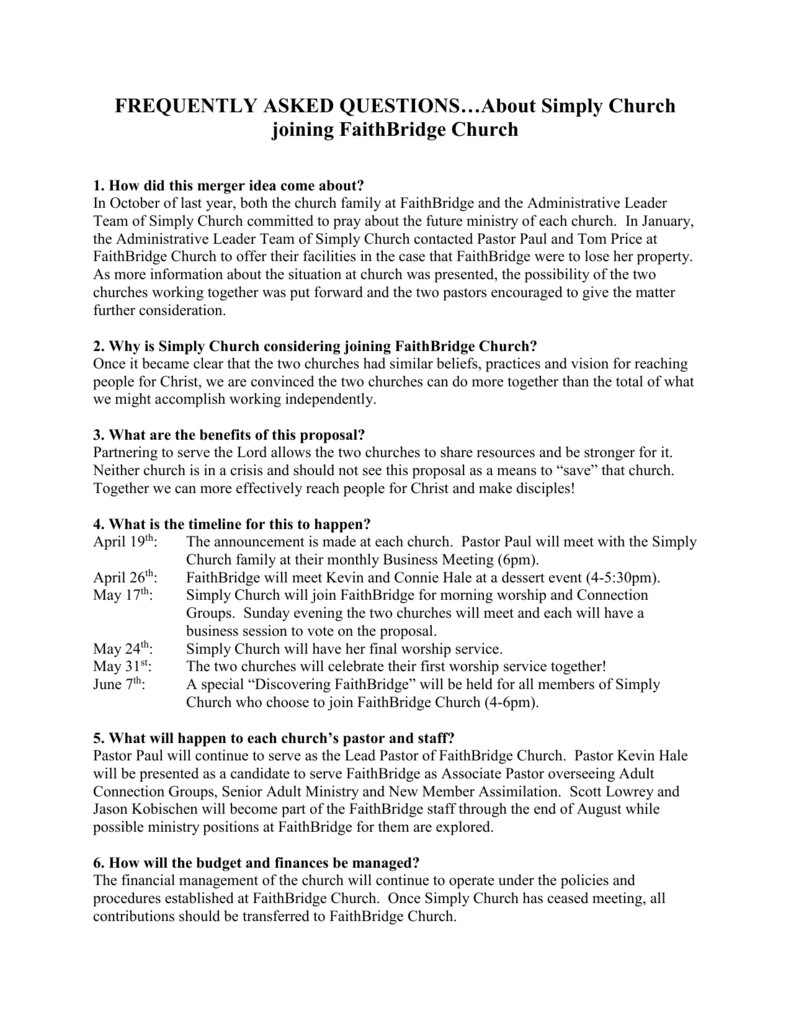 FREQUENTLY ASKED QUESTIONS…About Simply Church
joining FaithBridge Church
1. How did this merger idea come about?
In October of last year, both the church family at FaithBridge and the Administrative Leader
Team of Simply Church committed to pray about the future ministry of each church. In January,
the Administrative Leader Team of Simply Church contacted Pastor Paul and Tom Price at
FaithBridge Church to offer their facilities in the case that FaithBridge were to lose her property.
As more information about the situation at church was presented, the possibility of the two
churches working together was put forward and the two pastors encouraged to give the matter
further consideration.
2. Why is Simply Church considering joining FaithBridge Church?
Once it became clear that the two churches had similar beliefs, practices and vision for reaching
people for Christ, we are convinced the two churches can do more together than the total of what
we might accomplish working independently.
3. What are the benefits of this proposal?
Partnering to serve the Lord allows the two churches to share resources and be stronger for it.
Neither church is in a crisis and should not see this proposal as a means to "save" that church.
Together we can more effectively reach people for Christ and make disciples!
4. What is the timeline for this to happen?
April 19th:
The announcement is made at each church. Pastor Paul will meet with the Simply
Church family at their monthly Business Meeting (6pm).
April 26th:
FaithBridge will meet Kevin and Connie Hale at a dessert event (4-5:30pm).
th
May 17 :
Simply Church will join FaithBridge for morning worship and Connection
Groups. Sunday evening the two churches will meet and each will have a
business session to vote on the proposal.
May 24th:
Simply Church will have her final worship service.
May 31st:
The two churches will celebrate their first worship service together!
th
June 7 :
A special "Discovering FaithBridge" will be held for all members of Simply
Church who choose to join FaithBridge Church (4-6pm).
5. What will happen to each church's pastor and staff?
Pastor Paul will continue to serve as the Lead Pastor of FaithBridge Church. Pastor Kevin Hale
will be presented as a candidate to serve FaithBridge as Associate Pastor overseeing Adult
Connection Groups, Senior Adult Ministry and New Member Assimilation. Scott Lowrey and
Jason Kobischen will become part of the FaithBridge staff through the end of August while
possible ministry positions at FaithBridge for them are explored.
6. How will the budget and finances be managed?
The financial management of the church will continue to operate under the policies and
procedures established at FaithBridge Church. Once Simply Church has ceased meeting, all
contributions should be transferred to FaithBridge Church.
7. How will current membership be transferred?
Simply Church members will be encouraged to go through a Discovering FaithBridge (New
Member) class at FaithBridge. The next regularly scheduled class is Sunday, May 3rd, and the
specially planned one for the Simply Church family is on June 7th.
8. Who will decide if this merger happens?
For the FaithBridge family, the decision being considered is whether or not to call Kevin Hale to
serve on our staff as Associate Pastor. For Simply Church members, the decision is whether or
not to disband as a church and become part of the FaithBridge family.
9. What will happen to the ministry leaders and small groups from Simply Church?
FaithBridge has a strong culture of small groups which we call "Connection Groups." The
majority of these meet on Sunday mornings although there are four that meet on different nights
of the week. Simply Church members are encouraged to try several of the existing Connection
Groups at FaithBridge before choosing one. Simply Church small groups will take the summer
off officially and may resume in the fall as the church ministry develops.
10. How does this affect FaithBridge's position with our Bond?
In the short run, it does not change anything. Our Bond Company is still entertaining an offer to
purchase the property. If that deal does not go through then the addition of the Simply Church
members to FaithBridge will strengthen our position to negotiate to purchase the property back.
Simply Church does not have any debt and is bringing financial and ministry assets to
FaithBridge. If the sale does go through then we are still in a stronger position to purchase a new
location to house our ministry. Part of what makes this such an amazing story is that the people
of Simply Church are considering joining knowing FaithBridge may still be relocating!
11. What will happen to "Simply Church" as an organization?
Simply Church will have her last worship service on Sunday, May 24th then during the summer
the 501(c)(3) will be shut down. Once the remaining financial obligations have been met,
Simply Church will transfer her financial assets to FaithBridge Church.
12. How can we make the most of this opportunity?
First, we must keep a top priority on our mission to reach our community and the world for
Christ. Reaching others for Christ must always be our first ambition. Use this event as a chance
to tell everyone of the amazing miracle God is doing in these two churches! Second,
FaithBridge has a strong commitment to spread the gospel and a clear strategy to do so.
Everyone needs to embrace the FaithBridge strategy for personal growth and ministry explained
in the new member class called Discovering FaithBridge. Then, our influence will increase and
expand in God-sized proportions! Finally, we must love one another with the kind of love we
only learn from Jesus himself. This love looks like open-hearted hospitality, loyalty,
commitment, kindness and genuine regard.